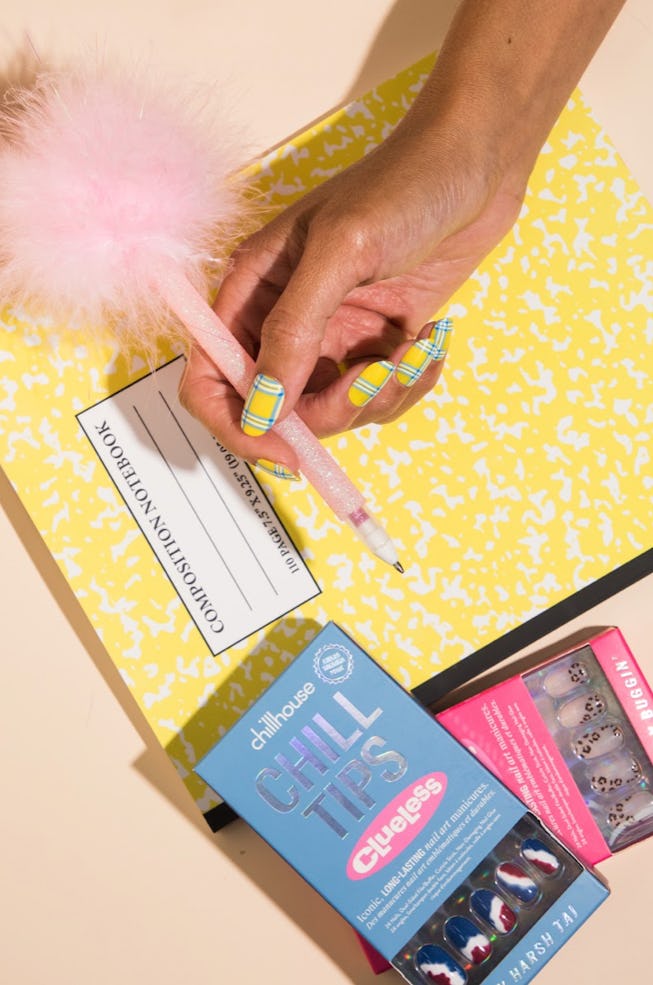 Chillhouse Is Bringing You 'Clueless'-Inspired Back-To-School Manis
Channel your inner Cher, Dionne, or Tai, with the Chillhouse x 'Clueless' collab.
Each year Cher and Dionne's tartan two-piece mini skirt suits from the 1995 movie Clueless spring back into the public consciousness as Halloween approaches. The iconic teen movie inspired not only nearly 20 years of costumes, but also influenced the everyday fashion choices of the movie fans. Now, nostalgic Clueless lovers don't have to wait until October to channel their inner Cher, Dionne, or Tai. Today, New York nail salon and body and nail care brand Chillhouse released their latest collaboration with one of the most iconic (and quotable) movies of the '90s—you guessed it, Clueless.
For the ultimate back-to-school beauty moment, Chillhouse just released three Clueless-inspired new designs of their Chill Tips press-on nails sets, featuring signature patterns from the movie channeling the '90s. The three designs include the ever-memorable yellow and blue tartan plaid—fittingly called "Ugh, As If", a blue, red, and white tie-dye design called "Way Harsh Tai" and "Totally Buggin", a subtle leopard-print on a neutral base. The new designs cost $16 a set and come in the same easy press-on format that the brand is known for, with 24 nails, a double sided buffer, a cuticle stick and glue. In mere minutes you can give yourself a manicure that look and feel like a classic gel, so it's easier than ever to add some Clueless energy into your life.
Ugh, As IfCourtesy of Chillhouse
Way Harsh TaiCourtesy of Chillhouse
Chillhouse Founder Cyndi Ramirez-Fulton says she is totally buggin' over the latest collab. "As the office 'elder millennial', I grew up quoting Clueless like it was my Bible," she said in a press release. "It was the first rated R movie I saw in theaters, and it kick-started my obsession with fashion, beauty, and personal style. I remember loving Cher & Dionne's style so much while equally relating to Tai's general 'Clueless-ness' around becoming a woman."
For Ramirez-Fulton, it seems like the latest drop from Chillhouse is a full-circle moment. It's also one that, she says, "feels like a homecoming to my womanhood". With the new Clueless prints for the Chill Tips available now on the chillhouse.com, as well as Urban Outfitters, the collab is sure to evoke nostalgic emotions for many — whether you're going back to school this month or simply reminiscing on your own "clueless" high school adolescence.