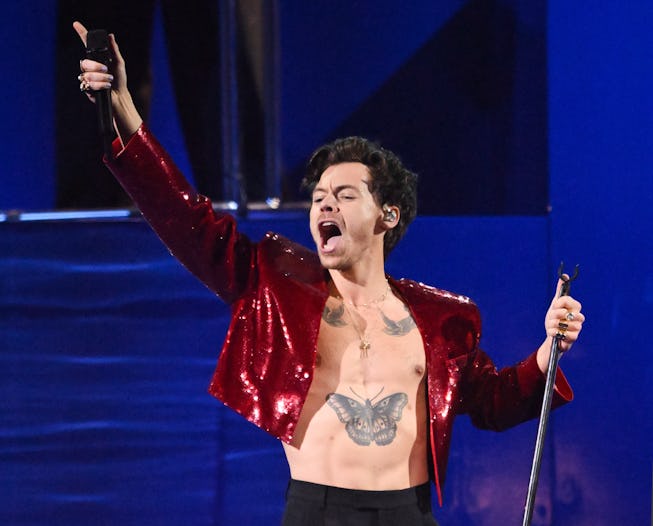 Harry Styles Is Releasing A "Sex-Themed" Fragrance Collection
The three scents will be the first fragrance release from his beauty brand, Pleasing.
Since Harry Styles entered the celebrity-to-beauty entrepreneur pipeline with the launch of his boundary-blurring line Pleasing in 2021, the brand has given us nail polish kits, skincare, and limited-edition makeup drops. Now, he's entering the celebrity fragrance market with announcement of three upcoming Pleasing scents: Closeness, Rivulets, and Bright, Hot. The three perfumes were made in partnership with natural fragrance maker Robertet.
Last month, word of the fragrance collection spread along with the details that the scents will be "sex-inspired" (with the released names confirming the theme). The brand has also been teasing the launch with peel-off fragrance strip samples in customers' e-commerce orders for the last month. The scents will launch in October and will be available for purchase on the brand's website, with plans to bring the scents to physical retail currently "in progress".
"Being a brand that is deeply rooted in the exploration of color, emotional storytelling, and sensory experiences… it is a strategic move for us to expand into this category," Shaun Kearney, Pleasing chief executive, told The Business of Beauty.
The brand is yet to post about the upcoming launch, but Pleasing's nail polish was recently spotted on the likes of Iris Law and Cara Delevingne at Vogue World in London. According to Kearney, the collection is just the beginning of a complete "olfactory universe" for the brand, which is great for his fans who eat, sleep, breathe—and now smell Harry Styles.