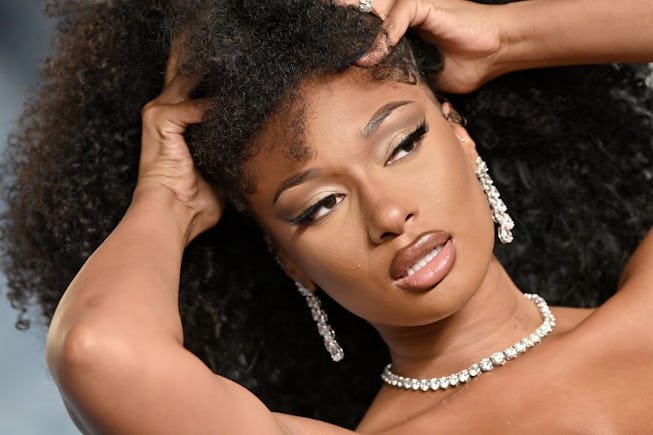 Axelle/Bauer-Griffin/FilmMagic/Getty Images
Megan Thee Stallion's Barbie Pink Aura Nail Art Is the Ultimate Vacation Mani
The manicure shade of the summer.
It seems that every time Megan Thee Stallion blesses us with a new feed photo dump on Instagram, she has another innovative and elaborate manicure (or two). From pumpkin nails for Halloween to her light-up manicure in Japan, the star is always a source of nail art inspiration, and her latest post was no different.
Last night, Megan posted a photo dump of summer fun photos with the caption, "Recents 📸". The first image of the carousel shows the back of her head, with her hair in an elaborate bun with flower hair clips decorating it, also showing off her new lipstick-shaped nails painted with a Barbie pink aura design. The ultra-long set has a baby pink base from moon to tip and a bright pink aura design at the center. She completed the look with pink and blue glass cocktails rings and orange geometric earrings.
In the photo dump, alongside phone camera lipgloss touchup selfies and gym photos, Megan showed off a number of her recent manicures. Staying consistent to the same lipstick shape, she also wears differently colored manicures throughout the photos. She also shows off a multi-colored, detailed analog clock design (worn with miniature clock rings on every finger), a simple baby pink manicure, and a classic set of long French tips.
With the Barbie movie releasing in July, there's no doubt that Barbie doll signature pink nails are set to be everywhere this summer. There's also no doubt that no one pulls off nail art quite like Megan. Whether you're a clock enthusiast or a Barbie fanatic, her latest post has enough nail art inspo to go around.