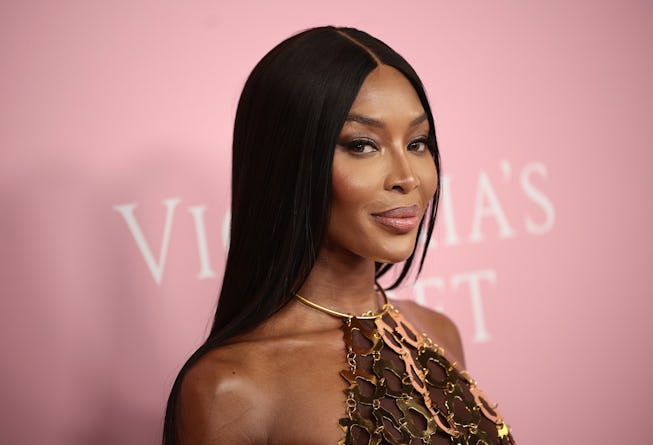 Naomi Campbell Brought Back Sweeping Side Bangs At London Fashion Week
The supermodel's '90s blowout bangs are back.
When it comes to bangs, supermodel Naomi Campbell might just be the queen of them. Over her years working as a model, the icon has often rocked full blunt-cut bangs. She's even had choppy micro-bangs back in 1990. Although as of the past few years she's been best known for her waist-length super straight, center-parted hair, over the past few days, at London Fashion Week, Naomi has been spotted bringing back a different '90s hairstyle—sweeping side bangs. The look is reminiscent of her in the mid-nineties, à la the Laura Biagiotti Spring 1996 show in Milan and the 1995 Met Gala.
Naomi first stepped out with her new sweeping fringe on September 16, when Naomi attended the Mains Show By Skepta. She's since attended the Burberry show and the Perfect X Valentino LFW party with her hair in the same shiny, blown-out style. Her new bangs brush over her eyebrows, with face-framing layers that blend in her long layers with bent ends.
Laura Biagiotti Spring 1996 showImages Press/Archive Photos/Getty Images
1995 Met GalaNew York Daily News Archive/New York Daily News/Getty Images
It seems like Naomi might be rocking side bangs for all of London Fashion Week (and perhaps beyond) and we're here for it. Once again proving herself to pull off every single iteration of bangs, the supermodel is having fun with this nostalgic hairstyle, and she's not the only one. We've already seen Kim Kardashian and Bella Hadid sweeping their bangs to the side over the past year, so it's safe to say we're in the midst of a full-scale Y2K beauty revival.