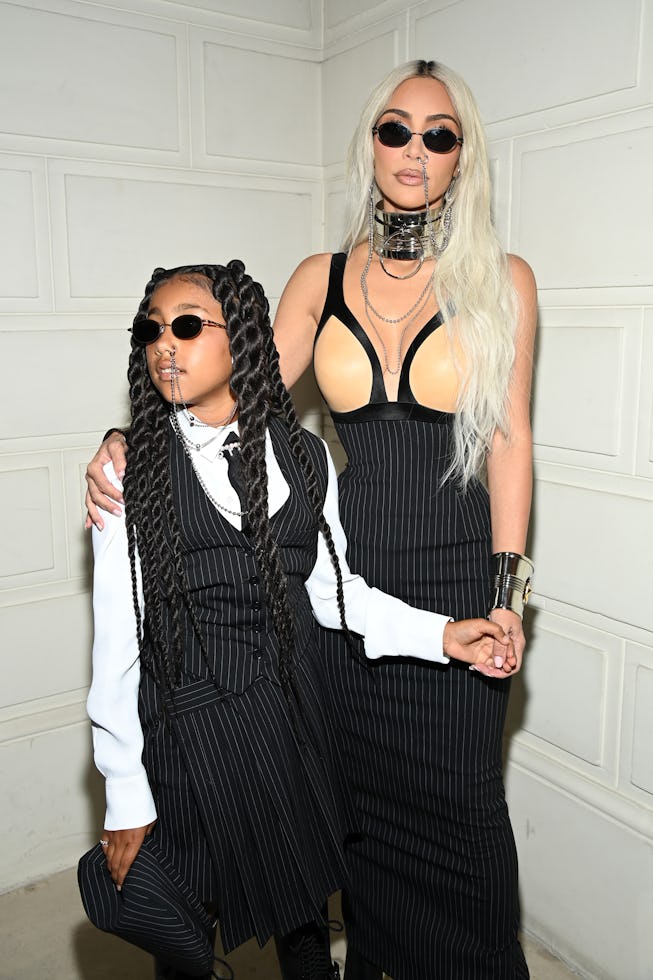 Pascal Le Segretain/Getty Images Entertainment/Getty Images
North West Is Allegedly Getting Her Own Skin Care Line
The nine-year-old TikTok star might be the next Kardashian to get into the beauty business.
At just nine years old, North West is already more iconic on TikTok than any of us can ever hope to be. From Ice Spice impersonation videos (and later, dancing with the rapper herself) to wholesome videos of her and sister Chicago laying each other's edges, several of North's most viral TikTok's have been watching her dabble—and sometimes adorably fail—in the beauty space. It should then come as little surprise, considering that she's in the business-minded Kardashian clan, that she's already looking to start her own beauty brand. North's mom Kim has allegedly already filed to obtain four trademarks on behalf of her daughter—one of which includes a skincare line, according to several reports.
The skincare trademark is listed as "non-medicated skin preparations, skin moisturizers, skin lotions, skin creams, skin cleansers", which is in line with North's previous inclination to throw products on her face (and purposely not washing off her cleanser). Alongside the skincare trademark, there's also an apparent trademark for a toy line and a third one related to advertising. The fourth is described (albeit very vaguely) as "entertainment in the nature of providing information in means of a global computer network in the fields of entertainment and pop culture". These four trademarks come after the report that North has already allegedly obtained a trademark for a clothing line in 2019.
It's not uncommon for the Kardashian-Kenners to file trademarks for their children, long before the businesses get formally announced. In 2021 Kylie Jenner originally teased Kylie Baby way ahead of the launch, saying all the products are "Stormi tested and approved". However, they've also proven susceptible to changing their minds. After a TikTok user went viral last year for revealing she discovered the name "Kristan" trademarked by Kylie just 13 days after her son was born, Kylie later revealed his name is actually Aire. But better copyright safe than sorry, we suppose.
While the alleged new North West trademarks lead us to believe that a skin care line and toy line are probably already in the works for the nine-year-old entrepreneur, we'll have to stay tuned for confirmation from Kim Kardashian, herself to know what's coming and when. Until then, I'm sure North will continue to keep us entertained on TikTok with chaotic skincare tutorials and pranks on her mom.