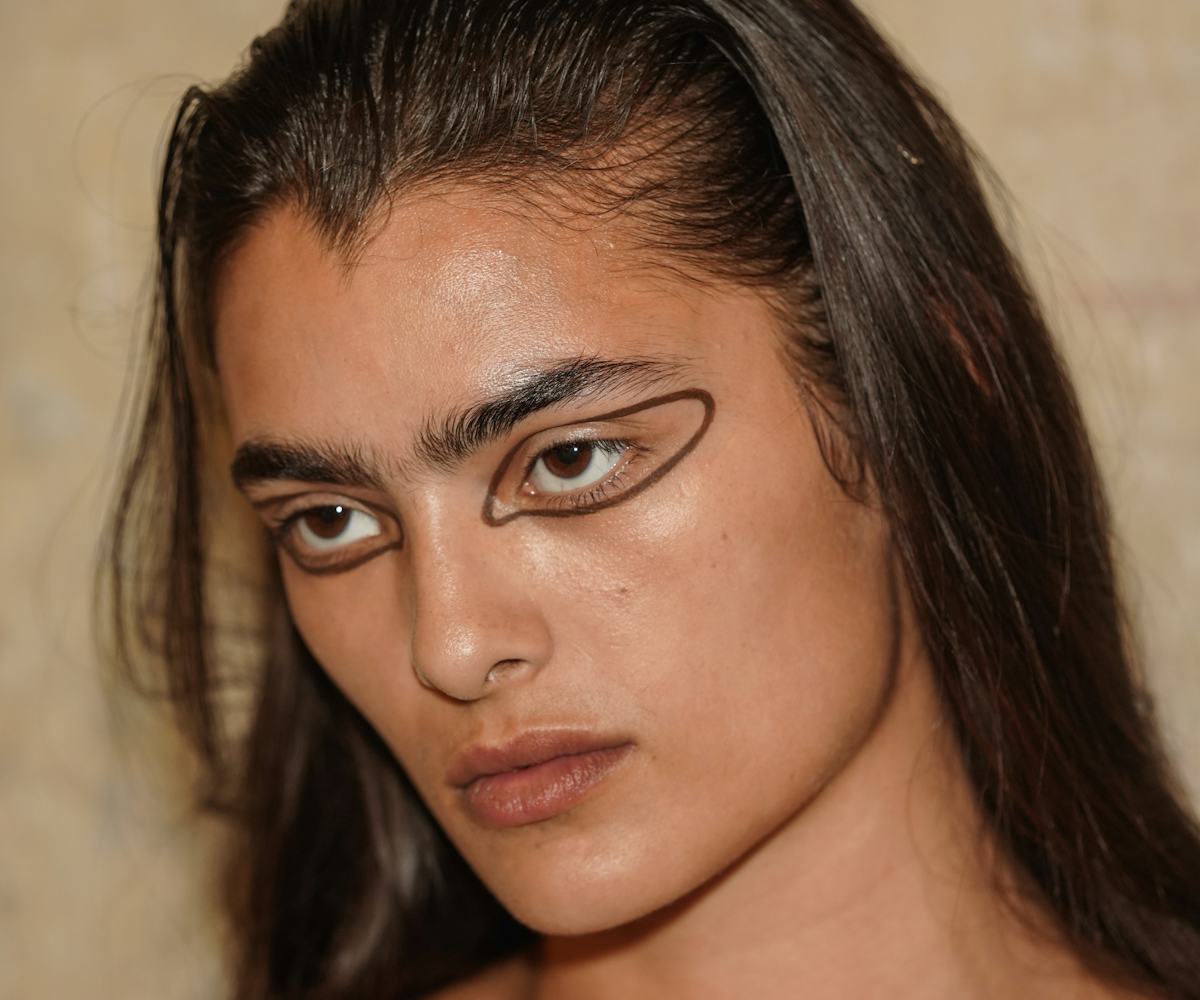 George Chinsee/WWD/Getty Images
The Next Big Thing In Eye Makeup Is Coloring Outside The Lines
NYFW has declared a cut-crease rebellion.
When it comes to eyeshadow, the most intimidating makeup look to master is the art of the "cut crease". For many years in the 2010s, slews of YouTube videos were made dedicated to teaching the very technical technique. It requires serious precision to perfectly "cut" your blended eyeshadow, blocking out the eye lid with a lighter shade with totally symmetrical strokes creating an etched-out eye shape. In the recent years, the "siren eye" has picked up where the cut crease left off— requiring a steady hand to folow your eye shape flawlessly using shadow and black liquid liner to create an elongated look. However, now those who have never caught on to the tricky techniques can rejoice. New York Fashion Week's spring 2024 runways just proved that throwing out the rulebook altogether totally works.
At Eckhaus Latta, models walked down the runway with permanent-marker thick, rich brown wavy ovals of eyeliner drawn around their eyes. Makeup artist Daniel Sallstrom using MAC Cosmetics keyed the look consisting of lines drawn on free-hand in MAC's potted Chromaline gel eyeliner and a skinny brush. The freeform shapes accent the eyes, but completely miss the crease, some looks even were accompanied by some line-drawn eyebrows. The result channeled kindergarten craft time, in the best possible way.
Eckhaus LattaGeorge Chinsee/WWD/Getty Images
Also among the legion for the the cut-crease rebellion was makeup artist Diane Kendal at Phillip Lim's SS24 show. She used a thick brush to paint swipes of bright blue and green eyeshadow across the model's eyelids. Posting the artistic process in videos on Instagram, Kendal used quick and asymmetric brush strokes to create a look that turned the whole face into a canvas— not just the eyelids. "The inspiration for the eye look was the self-expression of the countless individuals in New York City," Kendal told NYLON. She used cream colors from the brand In to You to create a soft wash of color on the lids.
Even were there were more classic lines, the placement and shapes seemed to disregard any eye makeup "rules" you might find in a tutorial. It's eye liner, sure, but you could hardly say it was lining the eyes. Sallstrom also created Helmut Lang's abstract winged eyeliner which mostly ignored the eyelid altogether, with loosely freehanded and rounded in black or red. While at Khaite, Kendal showed models wearing mostly imperceptible makeup, save for a few flicks of eyeliner under the brows.
While "siren eyes" have been all the rage over the past year (thank you, TikTok), New York Fashion Week has made room for more playful and rebellious alternatives. For those who can't hold their eyeliner pencil or eyeshadow brush straight, this comes as a great relief. You'll be more on trend by simply grabbing your pencil and drawing away.