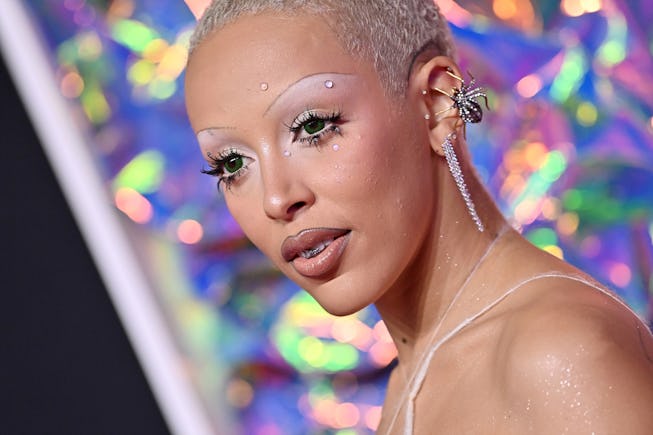 Axelle/Bauer-Griffin/FilmMagic/Getty Images
"Spider Lashes" Have Been Crawling All Over
The coolest new trend in lashes is worth conquering your arachnophobia for.
We may receive a portion of sales if you purchase a product through a link in this article.
Long, spidery lashes have recently been crawling their way into the beauty zeitgeist and onto your social media feeds. Experimental beauty icons might be the first ones sporting the look, but it's only so long before even the makeup shy follow suit. First, Iris Law wore asymmetric eyelashes at the Givenchy's FW23 fashion show. Then, just last week, Doja Cat attended the MTV VMAs in a head-to-toe arachnid-inspired look. Her outfit for the awards show included a custom white MONSE hand-knitted spider web gown, inspired by the iconic 'Maman' spider sculpture by artist Louise Bourgeois and was accessorized with a long, spiky red manicure, pencil-thin eyebrows, and long, spider leg lashes with white face gems around her eyes.
According to the makeup artist Ernesto Casillas, Doja's VMAs makeup was "directly inspired by a spider". Casillas explained on Instagram, "I went for clumpy, spidery lashes and used Maybelline's Color Tattoo Eye Stix in the shades 'I Am Confident' (a matte beige) and 'I Am Shining' (a shimmering champagne) to create a whimsical, iridescent eyeshadow look." The pale, shimerring shadows made the dark lashes stand out even more stalkly in contrast. The spider lashes have already had the approval of Ice Spice, who commented "obsessed" on Doja's Instagram post breaking down the look details.
Iris Law's spidery moment was created by makeup artist Isamaya Ffrench using Lashify lash extensions and framed the look by shaping geometric brows with her own ISAMAYA Beauty BrowLacq gel. To mimic the look, Ffrench recommends, first planning your look out with various clusters of lashes ("Choose a variety of individual lashes that best suit your look or cut up a pair of normal false lashes into smaller sections"). Then, apply "using tweezers to hold your eyelash pieces, apply a thin coat of eyelash glue directly onto the pieces" Ffrench continues. "Wait for a few seconds until the glue becomes tacky, and finally apply them as close to your lash line as possible."
We've also already seen spider leg lashes on the runway, like at the Kiko Kostadinov show in March, where models sported long black and white striped lashes that reached down to their cheekbones and reached up past their eyebrows. On the less literally spider-y side, even Zendaya jumped on the (itsy-bitsy) spider lashes trend with clumpy bottom lashes for the SAG Awards in February. So, it's safe to say that we're about to see a lot more bug-themed lashes — those with arachnophobia beware.
Get the look: