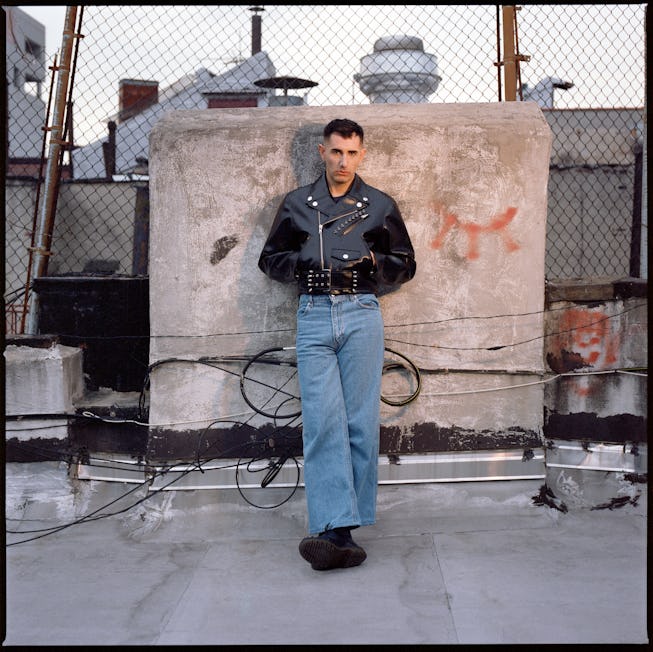 Hudson Bohr
Alex Anwandter's "Ahora Somos Dos" Summons The Euphoria Of Pride
Watch the Chilean singer's new video, exclusively on NYLON.
In Alex Anwandter's "Ahora somos dos," he sings about the moment he came alive. Not his birth, though it is a birth of some kind. Rather, it's the moment he first met another queer person like himself — and "when you finally meet someone like you and fall in love, it's liberating in a uniquely powerful way," he says.
The celebrated Chilean singer's song — off his first record in over four years, El diablo en el cuerpo — explodes in the jubilance of that meeting, an incandescent '80s-tinged dance pop song that's equal parts euphoric and achingly tender. That's partially due to pure yearning of his vocals, lightly distorted among the mass of firework synths, as well as his lyrics which are sung completely in Spanish and written astoundingly bare. "Leave it all behind, cursed boy," he sings on the chorus. "I can't fathom how something so beautiful can feel pain/ You don't have a family or at least you never had til you said to me/ I want you to love me the way I am... and now there's two of us."
NYLON premieres its stunning Luke Abby-directed music video below, in which Anwandter translates this meeting cinematically, as he crosses paths with a stranger/friend/lover in the striking desert of New Mexico. They fight, dance, embrace, are drawn to each other like magnets, unable to comprehend the meaning behind their meeting — only that it's monumental and life-changing. There are cowboy boots and jeans; there are flecks of West Side Story and Brokeback Mountain and Call Me By Your Name; it's an homage to machismo and gay culture and finding oneself, and community, amidst it all.
"The video Luke Abby created together with dancer/choreographer Max Cookward evokes longing," says Anwandter. "And how it feels to live trapped by this idea of what a 'man' is supposed to be and act like."
El diablo en el cuerpo is Anwandter's sixth studio album, a luminous celebration of queer existence soundtracked to a technicolor backdrop of dance music. Watch the video for standout "Ahora somos dos," and read on for a short conversation with Anwandter.
What are you up to right now — describe your surroundings.
I'm in my apartment in Brooklyn, playing some piano with my dog Lázaro sleeping next to me.
What was your favorite part of shooting the music video for "Ahora somos dos" — it's so cinematic and gorgeous.
Two things: First, I fell in love with New Mexico. It's unbelievably gorgeous. There's something truly magical about it, it really took me by surprise. Second, was watching Max (Cookward, choreographer) at work. I'm always in awe of people who work with their body in such a beautiful way.
"Ahora somos dos" is about this moment of community and liberation when you finally find someone like you as a queer person. What was that moment for you?
Oddly enough, I think I found that in a place, rather than a person. It was the queer clubs, for me. I'm happily partnered and very much in love these days, but I think that first moment for me was being in a room full of queer people that were somehow both welcoming and oblivious to my presence at the same time. I felt allowed to be myself. It's a powerful moment, for sure. I think that's also why a dance pop track makes so much sense musically for the story I'm telling with "Ahora somos dos."
Your new album is your first in four years — how has your ear changed as an artist since 2018?
I think I'm appreciating minimalism more and more. For my next project, I want to really explore negative space. My new album is very exuberant and maximalist though.
How are you celebrating PRIDE this year?
I don't know! Maybe I'll go to the beach. I like going to Riis Beach (which is pretty much a day party always).
Directed by Luke Abby @lukeabby
Co directed and choreographed by Max Cookward @maxcookward
Featuring Max Cookward, Alex Anwandter
Director of photography: Sonja Madani @sonjamadani
Edited by Alex Anwandter
Color grade by: Will Colacito @revpooch
Produced by Future Systems Production
Production assistant: Sita Ross @ssoratis
Special thanks to: Production Outfitters New Mexico