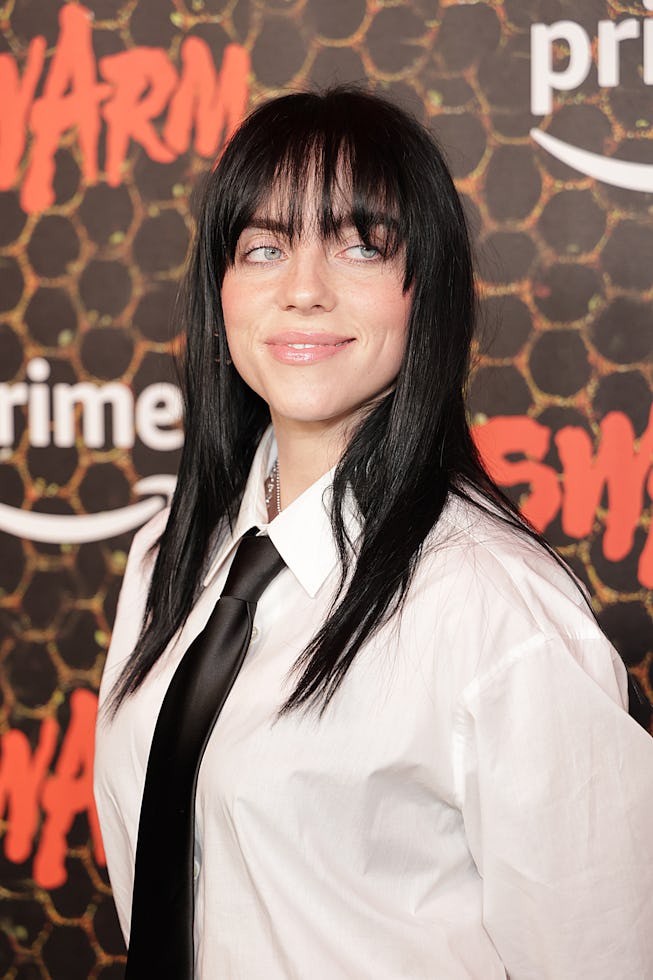 Momodu Mansaray/WireImage/Getty Images
Billie Eilish To Make Acting Debut In Donald Glover's 'Swarm'
Watch the artist show off her creepy acting chops in an early clip.
In addition to fashion icon, book author, perfume guru, and international megastar, you can now add actress to Billie Eilish's long and growing resume. The Grammy winner will be making her acting debut in Donald Glover's highly anticipated new Amazon Prime horror series, SWARM, and on Thursday, March 17, she offered the world its first sneak peek at her impressive (and kind of terrifying) acting chops.
There aren't many official details of who exactly Eilish will be playing on the show — though her character's name is rumored to be Eva — but if there's anything this early teaser makes clear it's that she was made for the horror genre.
In a clip posted to her Instagram, Eilish can be seen talking to the main character, Dominique Fishback's Dre, in what appears to be a twisted therapy session of sorts, with a chilling smile on her face and a dead but very alluring look in her eyes. "Did you hurt someone," Eilish asks just a little too sweetly. "Yes," Fishback says. "Very good," Eilish responds.‌
Rumors that Eilish landed a role on the show have been circling since early February, though her inclusion wasn't officially confirmed until now.
SWARM is Glover's first release since he wrapped the fourth and final season of his award-winning show Atlanta in 2022. The seven-episode series, co-created with showrunner Janine Nabers, centers around Dre, a young woman who becomes obsessed with a pop star whose discography, style, and place in pop culture are akin to that of Beyoncé. The show follows Dre as she becomes increasingly wrapped up in the world of the singer's fandom, called The Swarm, which takes her to dark and unexpected places. It's about time stan culture was horror-fied!
Early reviews for the show are rolling in, and critics seem to be loving it, with a lot of praise being heaped on the performances by Fishback and the rest of the cast.
Speaking of which, Eilish isn't the only real-life musician who has a role on the show. Chloe Bailey, famously a Beyoncé protogé, plays a prominent role as Marissa, Dre's sister, and can be seen in the show's trailer gushing that if she ever had the chance to do the superstar's makeup she "wouldn't be able to touch her face, [her] hands would be shaking."
Paris Jackson, Michael Jackson's daughter, is also credited in the cast, as is popular influencer Ricky Thompson, Rory Culkin (Signs), Kiersy Clemons (Dope), Damson Idris (Snowfall), and Byron Bowers (The Chi).
Watch the trailer for SWARM below, and catch Eilish's cameo when the show airs on March 17 via Amazon Prime: