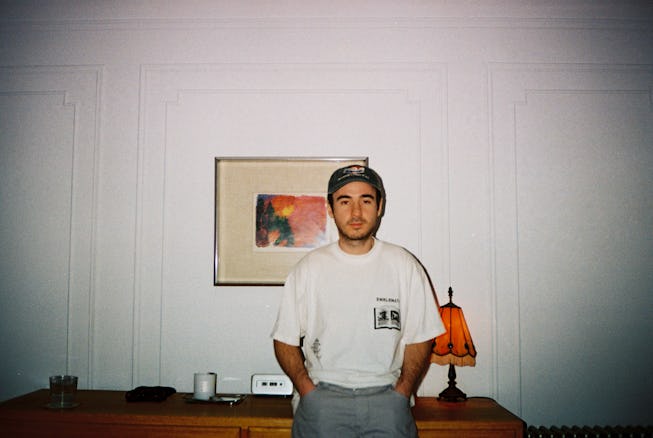 Elijah Wolf's "Was It All Just a Dream" Captures the Feeling of Not Knowing Anything
The Brooklyn-based singer-songwriter premieres his raw new song on NYLON.
Five years ago, Brooklyn-based musician Elijah Wolf was in his studio late at night piecing together what would become his second album Brighter Lighting. A relationship had just ended and he was feeling a little lost. One night, he started strumming and a raw, existential ballad poured out of him. He recorded "Was It All Just A Dream" that same night, with all the lights off except for a small lamp. Now, for the first time, Wolf is releasing a recording of his performance — a performance so raw it was impossible to capture again.
"This song became a vehicle for existential questions about past choices I'd made and what the future held for me," Wolf tells NYLON. "The process felt instinctive and cathartic. Later, when it came time to record my album Brighter Lighting, I gave this demo another pass and tried arranging it with a band. It didn't feel right anymore. New versions weren't capturing the honesty of the original take. So I put the song away for years. It wasn't until now, five years later, that I'm identifying with it again. It feels like the right time to share the original version."
The song's beauty is in its lo-fi production, its mumbly minor-key drawl that captures an artist in a time of not knowing, at a time late in the night when the sky is the color that helps you tell the truth. Its repetitive verses feel like how a story you tell yourself again and again changes a little bit with each retelling — until it crescendos into a swell of raw and raucous feeling, a place where emotion takes over vocal imperfections, carrying the song into the dimensions of the therapeutic. By the end, it returns to simple strums that are all the lighter for what we've been through with Wolf.
Wolf, whose earnest lyrics place him squarely in Brooklyn's rising dirtybag twee scene, is fresh off the release of his third album Forgiving Season, which was released this summer via his label Mtn Laurel Recording Co.
You can watch the lyric video for "Was It All Just A Dream" below: