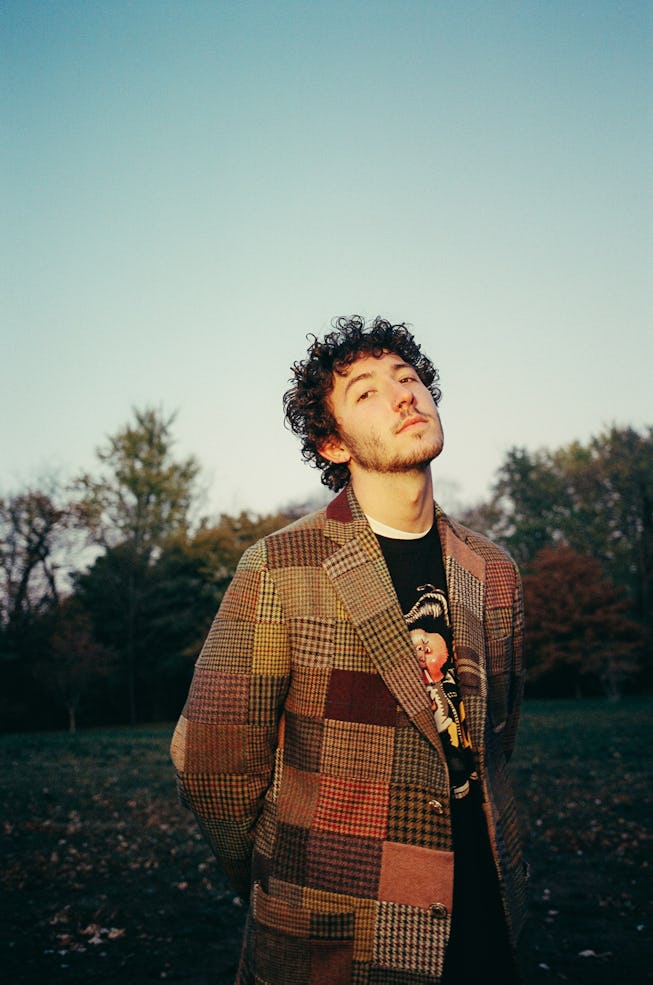 Henry Kornaros
Franklin Jonas Can't Keep It To Himself Anymore
The youngest Jonas on his debut album 'Sewer Rat' and his new musical identity.
Franklin Jonas had quit music.
It was 2020, in the middle of lockdown in New York City, and the New Jersey native was spending his days playing on a friend's modded Minecraft server, tinkering on Logic with weird samples he found on the internet. He was also churning out songs since he'd met with a record label and was working on putting some sort of project together. First came "Grow Up," then a song called "Cocaine," then more demos and reworks of old songs he'd written years before in 2018, 2019. But he wasn't feeling any of them.
"I was like, 'This is terrible and I don't want anyone to hear any of this,' and sort of threw it all away," he says. "And then I just disappeared from that world."
It wasn't until much later, after he shared a love song he'd written inspired by his girlfriend called "Hoboken" and she told him she really liked it, that he thought he should maybe pick music back up again. "I couldn't really not do it," he says. "Because finally it felt like someone was telling me, 'You have to do it.'"
Thus birthed the 22-year-old's debut EP Sewer Rat, a five-track package of jangly, Weezer-influenced rock songs about growing up, doing drugs, and falling in love — and the youngest Jonas' official entrance into the family business.
He knows what you're thinking. Over Zoom on a Monday in late June, as he's currently on tour opening for Hobo Johnson, his curls loosely mopped on his head, the actor, TikTok star, notable public figure, and now musician is keenly self-aware of what this sudden foray looks like from the outside. He opens our conversation by calling himself a "tortured artist" who also happens to be co-hosting a reality show on ABC.
"Do you categorize yourself as a tortured artist?" I ask.
"No, no, no," he quickly and kindly corrects. "I say that sort of facetiously."
Jonas isn't trying to put on a front. If anything, he's the first in the room to acknowledge his "little nepo baby" status, and admit to how much he didn't initially like the music he was making. His tactical mode for this project, instead, is to be extremely earnest. He calls Sewer Rat "very autobiographical," and confesses that he doesn't yet know "how to promote it" as an artist, but that "honesty and transparency is just as important."
The honest story is that the EP stems from the rocky but extremely formative years he experienced in NYC during lockdown. In many ways, the city is a major character on the project; its life and grime and hard lessons to be learned looming as ominously over the songs as its skyscrapers.
Jonas moved to the city in early 2020 and was working at Madewell Men's in Brooklyn when the pandemic struck and became the impetus of a cascade of changes in his life. He suddenly surged as a micro-celebrity on TikTok as viewers began flocking to his goofy and uber-relatable videos; his love of music began slowly knitting itself into an actual career when a peer connected him with Diplo's Pizzaslime record label, to which he would eventually sign; he began recording his songs at Greenpoint's Diamond City studio; he found new love. All the while, he was growing as a young adult in a city that was going through one of its weirdest phases yet. ("What a f*cking core memory of ... it's the day that the BLM protests are starting, and me and my friend, we get to bike down Fifth Avenue in the middle of the street.")
Not long after finishing his EP, Jonas decided to leave NYC and move back to Los Angeles. Inadvertently, through the process of making it, he realized that he'd grown out of the "New York identity" he'd been singing about in his songs. "It was a realization moment where I was like, Oh, the whole record is a goodbye," he recalls. "I really found myself and then realized that wasn't who I am, probably 10 times over the course of living in New York."
A visit to Los Angeles and hike in Runyon Canyon with his girlfriend, where they immediately ran into five people he knew, solidified that was his real home. "I want to say Dallas. I want to say New York, but no, it's probably here."
"I'm not going for stadiums. I just hope to make whatever room I'm honored enough to play in happy with whatever experience I'm able to give."
Now, Jonas is finding out who he is as a performing musician. While his first-ever live shows were played to a rapturous audience who all knew his name, on tour with Hobo Johnson, he's now playing for crowds who aren't already on his side. On stage, he performs in a full-on rat costume, and the first night he ever walked under those stage lights he felt "like [he] was going to have a full on heart attack," he says. But he didn't, and the show ended up going as smoothly as one can for a young artist who's playing for people they didn't pay to see. "I didn't necessarily win over an audience, but they liked it enough to make a noise."
It probably would've humbled him if he wasn't already so well-adjusted in his position. He's taking it as another growing opportunity.
During our interview, Jonas keeps bringing up a quote his dad used to tell him: "You work on the music on your own until you can't keep it to yourself anymore, and it sort of explodes out of you." That's how Jonas feels about making music right now: it's exploding out of him "in a really cathartic way, and it really just found its own voice out of just me experimenting and enjoying the process of experimentation," he says.
You can hear it in the way he talks about Weezer's Pinkerton, the ultimate inspiration for the EP, all giddily, comparing the first time he heard the album to the Van Gogh episode in Doctor Who, in which the painter sees the brush strokes forming in the night sky as he's looking at it. To bring his own paintings to life and maybe get the opportunity to share that with others, that's ultimately why he's doing this.
"I'm not going for stadiums," he says. "I just hope to make whatever room I'm honored enough to play in happy with whatever experience I'm able to give."