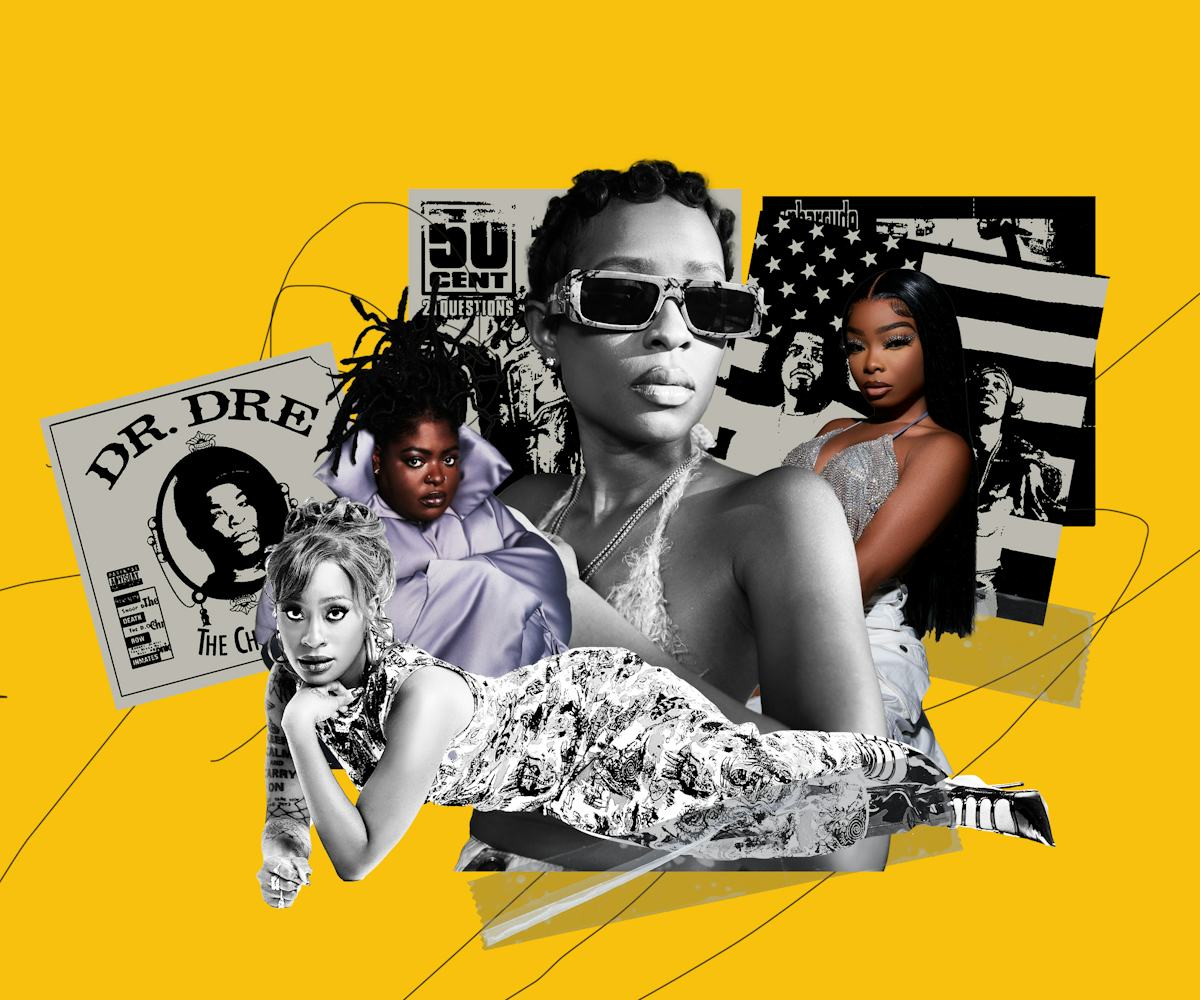 Nylon; Randijah Simmons, Felicia Abban; Tosin Gbadmosi; Roderick Ejuetami
20 Of Hip Hop's Most Influential Songs, According To Indie Rappers
A celebration of the wide breadth of the genre, on the heels of its 50th birthday.
On August 11, 1973, at a house party in the Bronx in New York City, hip hop was born.
Or so they say. Though the exact origin story of hip hop has become a somewhat debated topic among music historians, experts, and critics in recent years (it's worth noting a better alternative hasn't surfaced), what can't be refuted is the massive, living force the genre has ballooned into today.
Now, 50 years later, hip hop is its own encyclopedia — of founding fathers, important players, dates, places, art, fashion, culture, customs, and of course, music. In 2023, the hip hop sound has evolved and shifted to encompass countless different genres, subgenres, offshoots, eras, and generations of artists. It's a living identity that continues to be edited and interpreted by every new incoming class of rappers today. What ties all of these new players together is the vast and endless lineage of music that precedes them, influences them, and ultimately, shapes them — from old-school boom bap to gangsta rap, to the more modern cracks of trap, drill, and commercial rap.
Below, NYLON asked some of our favorite and indie-leaning rappers to pick one hip hop song that most influenced and inspired them. Their answers ranged from instrumental regional figures like Mac Dre to contemporary titans like Drake and J. Cole — a celebration of the wide breadth of hip hop.
"Feelin' Myself" by Mac Dre, picked by Saweetie‌
"Growing up in The Bay taught me the beauty of being unique and always being in your own lil vibe. One of my favorite rappers that captures this essence is the legendary Mac Dre. He was always played at school dances, garage parties and the family functions. One of my favorite songs by him is 'Feeling Myself.' I understood the power of music and how it can unify a community when his song was played at a sporting event... All ages and all skin colors was turning up to his song, making a thizz face and doing they own lil dance. It was such a beautiful sight to see and is a moment I would remember forever. Hip hop truly is one of the glues that stick humanity together." —Saweetie
"Roses" by Outkast, picked by CHIKA
"'Roses' by Outkast was one of the first songs that made me actually stop and listen to hip hop. I hadn't heard much of it in the house growing up because my parents aren't from America and hip hop hadn't made the global splash that it has now." —CHIKA
"Sprinkle Me" by E-40 ft. Suga-T, picked by Dej Loaf
"[The] very first hip hop song that inspired me was probably E-40's 'Sprinkle Me' which featured his sister Suga-T. I heard a woman's voice on a track rapping and loved the energy of that style/song ever since. My dad had many records as he'd sit me on his lap and play them all. I was born into hip hop." —Dej Loaf
"Nuthin' But A G Thang" by Dr. Dre & Snoop Dogg, picked by Kari Faux‌
"I just remember being a kid going through my brother's CDs to listen to 'The Chronic.' It's probably the first rap song I knew every word to." —Kari Faux
"Aston Martin Music" by Rick Ross ft. Drake & Chrisette Michelle, picked by Lakeyah
‌
"The first song that made me want to rap the way I do was 'Aston Martin Music.' I remember it being summer driving around with my mom and it was in HEAVY rotation. It's still my favorite song til this day. It was so luxurious, arrogant, and it felt good." —Lakeyah
"Wanksta" by 50 Cent, picked by Lola Brooke
"I remember exactly where I was and how I felt when I saw the video and heard 50 Cent's 'Wanksta.' The video was relatable to me because it showed everything I saw when I walked outside. One thing about living in New York, we all see the same things and sometimes experience the same things regardless of what borough you come from. That's still one of my favorite songs from 50 — it was so raw, so gangsta, and that song was one of the first rap songs that made me fall in love with hip hop." —Lola Brooke
"Love Yourz" by J. Cole, picked by Monaleo
"The most influential/inspiring song I've ever heard is 'Love Yours' by J Cole. When I first heard it, it made me want to appreciate the life I was given. It made me realize there will always be someone with a bigger, better life as well as someone who has it worse, so it's important I appreciate mine." —Monaleo
"I'm Really Hot" by Missy Elliott, picked by Maiya The Don
"That was the first time I heard a song that made me want to rap. The first person that made me feel like I could. Funny enough, the song and I are the same age (lol) but it was my aunt's favorite song so I heard it all the time. It'd probably still make her get out her seat to this day if she were alive." —Maiya The Don
"Good Life" by Kanye West ft. T-Pain, picked by Mercury
"The first influential song I ever remember hearing is 'Good Life' by Kanye West. My mom would have all her friends over at the house and I remember just seeing the video come on the TV and seeing my mom and her friends get lit and sing it and it made me think this is what I want from my life. Just to be happy and have nice shit lmfao." —Mercury
"Try Me" by Dej Loaf, picked by Big Boss Vette
‌"As soon as I heard the single I gravitated towards it! Dej's approach to storytelling, empowering lyrics, and unapologetic authenticity really moved me at a young age. Even more so, my admiration stemmed from witnessing her fearlessness in breaking societal norms, paving the way for a new generation of female artists to find their voice and express themselves with unwavering confidence. Her sound was so unique and different. She is also a fellow Midwest rapper ... we tend to be the hidden gems who come from harsher environments and try to find our way. My first-ever cover that went viral was to this song, and it changed the trajectory of my rap career. Her resilience and dedication to her craft was so inspirational and encouraged me to embrace my unique identity and push the boundaries of the 'bad b*tch' Big Boss Vette is." —Big Boss Vette
Illmatic by Nas and Graduation by Kanye West, picked by Midwxst
"I'd have to say 'Illmatic' and/or 'Graduation' were the albums which really made me listen to music for more than the surface level of what the songs were. I actually started examining things I never really did before due to the enhanced level of wordplay both MC's brought to the table. Especially considering how young both Kanye and Nas were when these projects released, that was really inspiring." —midwxst
"Runnin'" by The Pharcyde and "Fallen'" by Mya, picked by Bktherula‌
"My dad played The Pharcyde 'Runnin' while cutting my brother's hair in the bathroom one time. That was the first time I heard him play it. He played the song over and over in the car, when he would take us to school, at the family cookouts, it became a staple song in my life. As a response, my mom would play Mya's 'Fallen' right after which brought more of an emotional aspect to it because my mom and I used to scream the song at the top of our lungs.
"Both songs became my favorites to play on a late-night drive, one right after the other, and I still play them to this day. Both songs remind me of my childhood and how it was a smooth sail for me. One reminds me heavily of my mom, and the other my dad; they both have similar beats, yet execute different emotions, but both are all one in the same to me. The soundtrack to my childhood." —Bktherula
"The Show" by Slick Rick & Doug E. Fresh, picked by Jody Fontaine of AG Club
"I heard it really young, it was one of the coolest things I'd heard to that point. It felt really theatrical, like a play. The bars were also really funny, and the cadences were so player. Also, the beatboxing was insane. It instantly became my favorite thing." —Jody Fontaine of AG Club
"Buy U A Drank (Shawty Snappin')" by T-Pain ft. Kanye West (Remix), picked by Baby Boy of AG Club
"When I was a kid, I used to love singing along to T-Pain songs in the car even though I had no clue what he was saying. I honestly thought he was saying "Ima buy you a train," and I thought that was great. I aspired to one day be able to buy someone a train as well, but a drink works just fine now." —Baby Boy of AG Club
"21 Questions" by 50 Cent ft. Nate Dogg, picked by Bandmanrill
"My first influential hip hop song was 50 Cent - '21 Questions.' It's the first song that showed me that people actually rock with real emotions in music. It showed me that music is relatable and we honestly go through the same sh*t, rapper or not." —Bandmanrill
"Children's Story" by Slick Rick, picked by Bobbi of Flyana Boss
"My brother showed me this song when I was little and I really love it and how it's a whole story. It's so fun and it doesn't take it self too seriously! And I'm always inspired by music like that." —Bobbi of Flyana Boss
"So Fresh, So Clean" by Outkast, picked by Folayan of Flyana Boss
"I always looked up to my brothers' musical taste and they were always listening to Outkast! This song in particular caught my attention because of their perfect mix of melody, swag, and charismatic bars!" —Folayan of Flyana Boss
"Paranoia" by Chance the Rapper ft. Nosaj Thing, picked by Amindi
"My oldest cousin put me on to all the rap artists I liked growing up; when I was 13, he'd play 'Acid Rap' by Chance the Rapper a lot. Every song was amazing to me, but the hidden track, 'Paranoia,' rocked my world — I can still recite every word." —Amindi