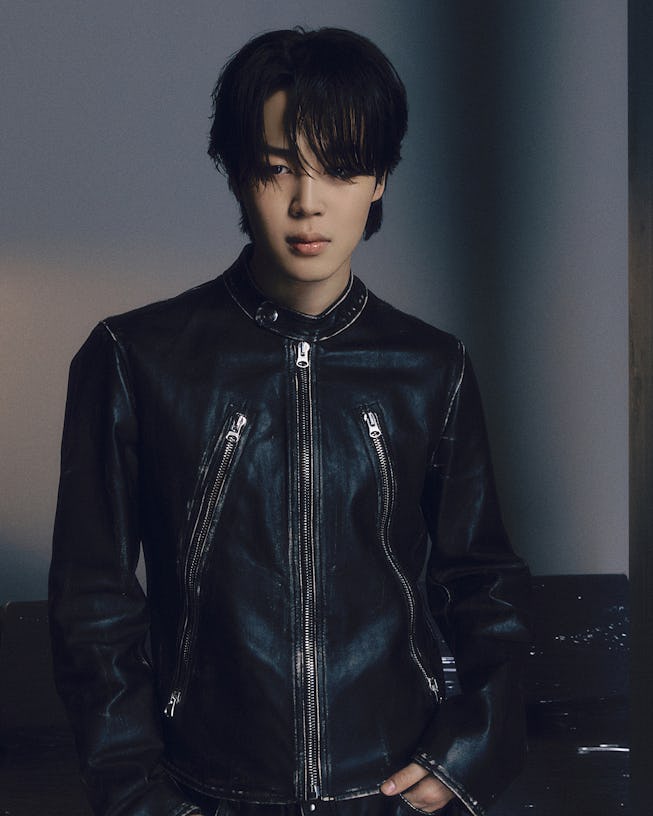 BigHit
On 'Face,' Jimin Battles His Bleakest Thoughts — And Emerges Triumphant
The singer's debut album is the first time he's getting vulnerable, and even nihilistic, about his angst.
Jimin opens the music video of "Like Crazy" with a gaze that looks more lost than ever. Taking place at a party thrown for himself, the 3-minute clip follows him around as he tries to quite literally dance the pain away. The music video ends with him coming back to a table in the early hours of the morning before hunching over in exhaustion and smearing the camera in mud.
Since BTS' debut in 2013 and over the course of its historic and record-breaking career thus far, Jimin has always been known by ARMY for his infectiously upbeat and charismatic persona. While we've seen sneak peeks into his inner solo life in the past on songs like "Promise," "Lie," "Serendipity," and his latest collaboration with BigBang's Taeyang, "Vibe" — this is the first time he's getting vulnerable, and at times even nihilistic, about his angst.
Following previous releases from fellow bandmates RM and j-hope — projects that, one by one, invite fans into the depths of their psyches — Jimin has launched his first-ever solo album titled Face. Over 20 minutes, the full-fledged project peels back his layers and unlocks his full potential beyond the BTS label.
Face's production began in early 2022, and arrives in a six-track package including the pre-release song, "Set Me Free Pt.2," and its main title, "Like Crazy." With help from a crew of producers and musicians – BTS bandmate RM, Ghstloop, Pdogg, Evan, Chris James, Blvsh, and Supreme Boi – the multi-hyphenate leans in both lyrically and sonically as he also holds songwriting and producing credits on nearly all of the songs.
Face introduces a rare and candid glimpse into Jimin's unexposed wounds, and faces the deeper parts of himself that he wishes to forget. The album kicks off with "Face-off," which opens with trumpets blaring and distortion before his vocals pour in. The trap-soul track doesn't shy from showcasing his bleakest inner thoughts and it immediately grabs you to go down the spiral of his mind: "I guess the blame is on me/ Look at me right now/ Living like stupid, Believing in people/ It's the beginning of this terrible nightmare," he sings in English and Korean, confronting feelings of doubt and disappointment. "It's a beautiful night/ I think you found me/ Tonight, I don't wanna be sober/ Pour it up, it's all fucking over."
Those thoughts continue on "Alone," a softer and slower ballad that reveals Jimin's fear of falling behind during the pandemic. "The same day/ It flows again/ How long do I have to endure it?/ Can I go back to where I am from?/ This cold and lonely night/ Without thinking, I walk in my dark room alone/ I said it was okay/ I feel like I'm losing myself slowly," he sings over a mellow guitar melody. It's somehow comforting to know that even one of the world's biggest sensations also feels, and can unapologetically express, this repetitive feeling of lack and loneliness.
One thing Jimin includes on Face that makes it feel like an immersive dive into his psyche is audio snippets of events and pieces of media that have importance to him. "Interlude: Dive" begins with reverse instrumentals of "Face-off" before launching into everyday sounds that churn up happy and sad memories. The dreamy and hypnotic intermission weaves in recordings of the singer's opening remarks from BTS' Busan 2022 concert, the roar of a sold-out crowd, and the sounds of more mundane aspects of life, like water filling a glass and distant chatter in the background.
If Jimin's previous works were bubbling whispers, Face is an honest scream into the void.
On the album's main track, "Like Crazy," dialogue from one of Jimin's favorite films starring Anton Yelchin and Jennifer Lawrence (after which the song is named) is woven in. "I think we could last forever," Lawrence says at the song's start. "I'm afraid that everything will disappear," Yelchin replies. Jimin uses this clip as a launch pad into lyrics about the painful realization of losing someone he loves, and refusing to wake up from that dream. "A cliché story like a drama/ I'm getting used to it/ Did I come too far to find the me you used to know," he sings in Korean. "I'd rather be/ Lost in the light / Lost in the lights/ I'm outta my mind/ Please hold onto the end of this night." (The English version of "Like Crazy," in contrast, touches on the burden of stardom and the fear that he might lose himself once again.)
Despite the gloom and chaos, Face is ultimately a project of resilience and triumph. Jimin breaks free from his mental confines on the hip-hop pre-release track "Set Me Free Pt.2" (a nod to Suga's "Interlude: Set Me Free" from his D-2 mixtape under his second alias Agust D). On it, he overcomes his internal battles and feels confident in newly-found freedom as he repeats lyrics like "Set me free" and "Finally free." He also tells the critics to get lost while he enjoys this "prime time" revelation, saying, "F*ck all the opps" and "Look at me now/ I won't stop, even if they mock me/ Going insane to stay sane/ Raise your hands for the past me."
If Jimin's previous works were bubbling whispers, Face is an honest scream into the void. The album wrestles with self-inflicted torment but ends on a new beginning as an artist as he shows off a previously unseen creativity through his use of personal snippets and clips. Listeners now meet Jimin as he stands in unfamiliar territory, one that exhibits his desire to evolve beyond the BTS title, at the cusp of something even greater to come.