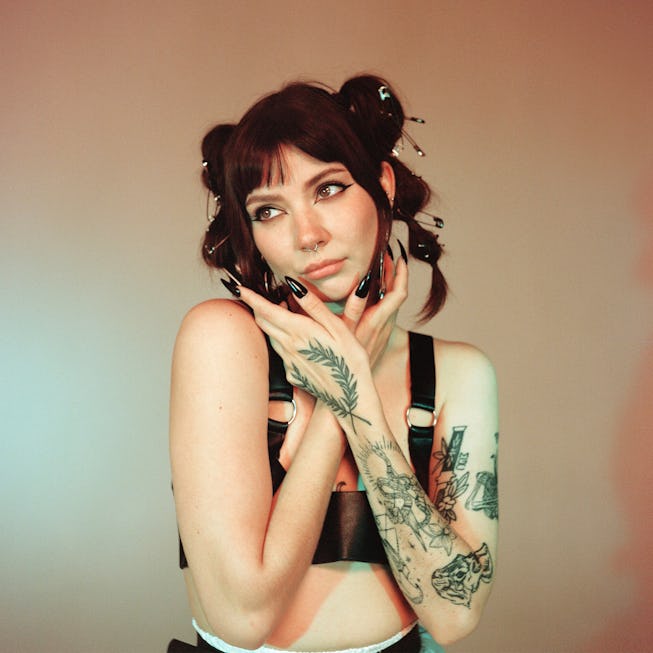 Conner Sorense
King Mala's "Sunny Side Up" Will Help You Break Up With Your Boyfriend
Watch the Los Angeles singer's new video, exclusively on NYLON.
There comes a time in every relationship when things start to turn routine. It might be routine in activity, communication, or, yes, even arguing (a red flag). That's the topic KiNG MALA's new single "sunny side up" confronts, cleverly comparing duking it out with her boyfriend to eating sunny side up eggs every morning.
The bubbly, serrated pop song is the latest in the Los Angeles singer's most recent string of singles, and follows the release of her music video for "dirty dishes," released just last week. On Thursday, NYLON exclusively premieres the music video to "sunny side up," which you can watch below. The track is the epitome of delivering bad news with a huge dose of honey. Over sweet choruses of lalalas and perky guitar riffs, she croons in a sugary falsetto, "I'm sick of sunny side up eggs/ And mediocre makeup sex."
In its equally symbolic visual, directed by Chelsey d'Adesky, she and Kia Farhad play a couple who are chained to their routine — literally. They sit on the couch watching TV and eating breakfast together; the links that used to be unite them as symbols of security have now become a hindrance. She dreams of leaving the room, spitting in his orange juice, maybe eating him like that ominous painting of a lion preying on a deer hanging behind them suggests — all ideas you could also use to break up with your boyfriend.
"I worked with a woman-led production company (432 Films) who just completely understood the energy I wanted this video to have," KiNG MALA tells NYLON of shooting the visual. "Being on set with them was so exciting and inspiring and the video turned out even better than I could have imagined. I feel like they really captured the feeling of being in this endless routine with someone but in a way that felt artistic and funny. It's a light take on a heavy thing, but that's really the only way to cope sometimes."
KiNG MALA is the project of singer-songwriter and El Paso, Texas-born musician Areli Castro. She broke out in 2021 with her viral queer anthem "she calls me daddy," a slinky pop track that's takes a tongue-in-cheek flip on hetero gender dynamics.
Watch "sunny side up" below and read on to learn more about Castro.
What are you up to right now — describe your surroundings.
I am currently on a flight (middle seat) on my way to Dublin, Ireland to spend the next two-and-a-half weeks traveling across Europe with 10 friends. My boyfriend just spilled a ton of tomato juice on his lap and I'm reading Stephen King's Misery. It's all very exciting!
How did you get started making music?
I think I first got obsessed with writing and it turned from short stories to poetry to lyrics. When I learned how to play piano, I started songwriting. I was also just always obsessed with music and singing, and I never really had a desire to do anything else. I only wanted to do music.
Describe your sound in three words.
"Sick as f*ck," or alternatively, "tight as hell".
I hear you're big on reading Tarot. What's your favorite card and why?
HUGE. I recently got back into it, and it feels amazing. My favorite card is my birth card: the High Priestess. She represents intuition, divine femininity, and seeing beyond the veil of reality.
What's the last album you played in full and really enjoyed, and why did you like it?
I think the last album that really blew me away was Absolutely by Dijon. It was my number one album of last year and probably will be this year, too. The whole thing felt like it was recorded in one day in one room and his voice is so raw and emotive. It gets me every time.