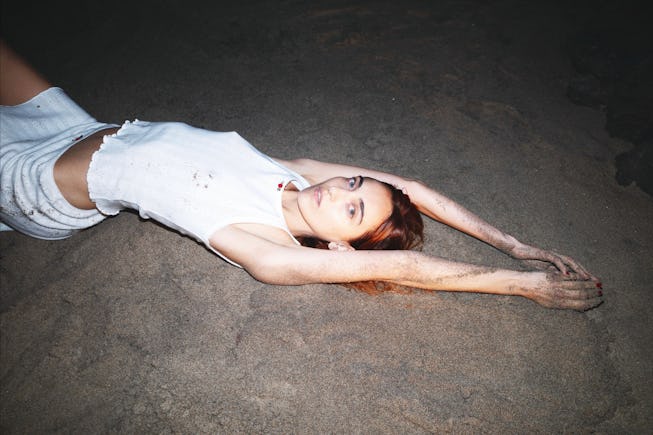 LST & Morgan Maher Capture The End Of Summer In "Everything" Video
The NYC vocalist and photographer premiere their dreamy new video on NYLON.
On LST's new single "Everything," a propulsive club beat is the tune of surrender and salvation. It's a song that sounds like the end of the summer, when the last vestiges of heat cling to the earth and the sky is as sticky as our lingering feelings.
LST is the pseudonym of Lauren Tischler, a Los Angeles by way of Woodstock, New York pop vocalist and songwriter who isn't afraid of obsession. Her debut EP Closer was released on WEDIDIT Records in 2022, and her songs have been remixed by Shlohmo, Evilgiane, Chandler Lucy (The Hellp), and Misogi.
"'Everything' was born out of intense longing, desire, and obsession. I wanted to convey these feelings, which feel very solitary, through the lens of a club banger," LST tells NYLON of her Shlohmo-produced song. "It's an end of summer song to dance to and/or cry to."
The video for the single, out today, was directed by Morgan Maher, who is famous for capturing the playful, raw hearts of girls — often in bed. Her work conjures the easy intimacy of a slumber party, and her photography book "Girls In Bed" released earlier this year by Friend Editions, features photographs of rising stars like Rachel Sennott and Harmony Tividad. In the last few months, she's been directing a slew of music videos, including "Shoplifting at Nike" by Harmony and "I Wish" by Bava — both stylized, high-femme beacons of the beauty of girlishness.
Courtesy of Morgan Maher/Styled by Harper Slate
Courtesy of Morgan Maher/Styled by Harper Slate
Courtesy of Morgan Maher/Styled by Harper Slate
Courtesy of Morgan Maher/Styled by Harper Slate
In the video for "Everything," we see LST — dressed almost entirely in gorgeous Sandy Liang pieces — in lo-fi as she lays on the beach at dusk; we see her under water in a pool and under street lamps walking a Dalmatian in a sports bra and over-the-ear headphones, a familiar act for anyone who has ever tried to walk their way out of a spiral. Lastly, we see her in bed atop white sheets, a signature shot for Maher. Like the song, the hazy, dreamy visuals capture the feeling of an in-between: whether it's a season of Earth, or of life. The propulsive beats feel like the frequency of secrets yelled into each other's ears on the dance floor, forgotten the next day but no less urgent in the moment.
LST plays next on October 16 at El Cid in Los Angeles.
You can watch the music video for "Everything" below: