Molly Gordon, Behind the Scenes and Center Stage
With roles in Season 2 of The Bear and Theater Camp (which she co-directed) hitting screens within the span of a month, the actor is soaking in her big, kooky summer.
Written by Eliza Brooke
Photographs by Hannah Sider
Styled by Stephanie Sanchez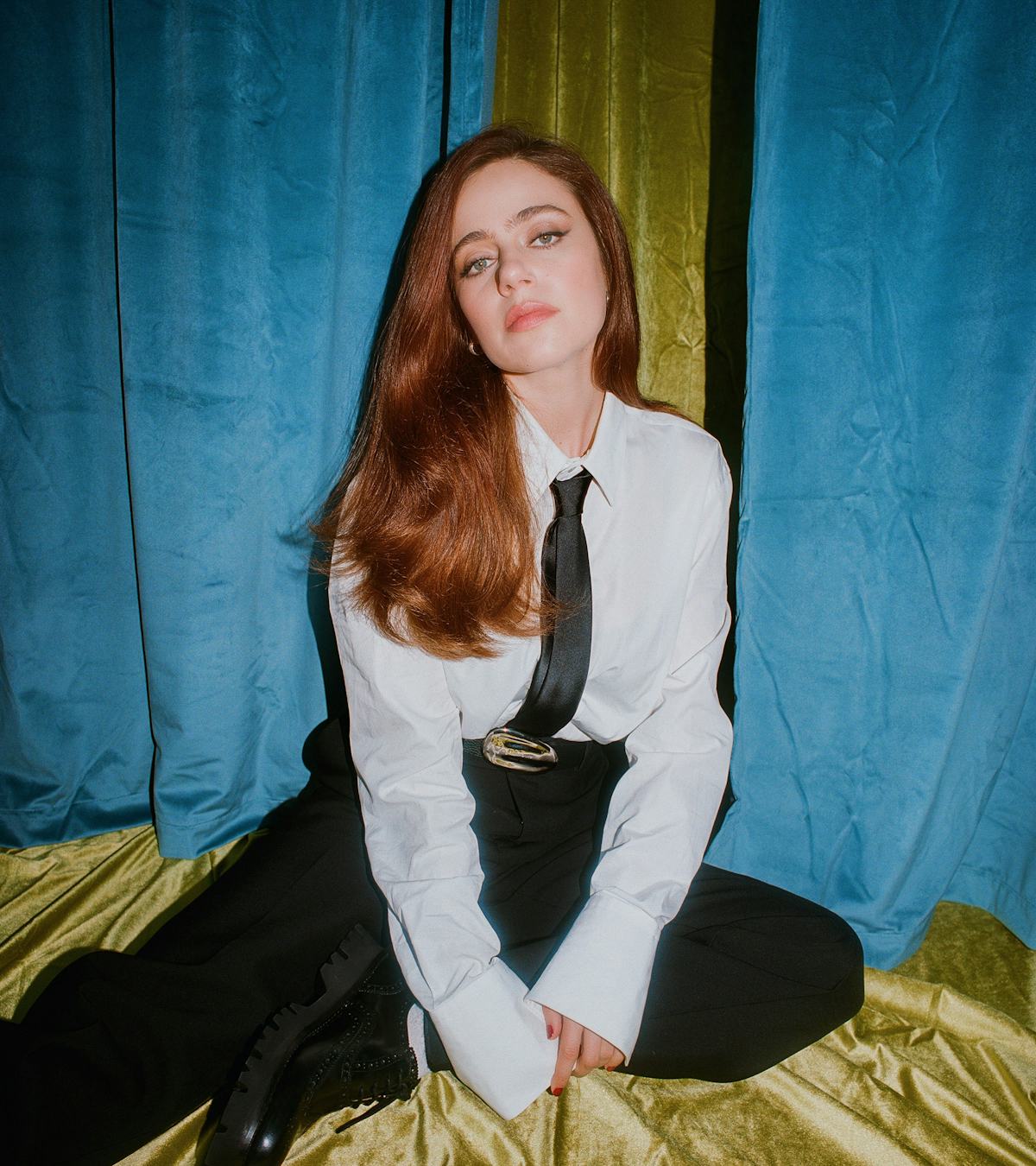 If things had gone according to plan, I would have met Molly Gordon somewhere in the West Village on Friday, July 14 — the same day the actor's directorial debut, Theater Camp, opened in theaters. Gordon moved from New York to L.A. during the pandemic (she grew up near Venice) and has lots of favorite spots in the neighborhood: Joseph Leonard, Cafe Cluny, Little Branch, Bar Pisellino. "In New York, I'm like, 'Let's get a drink! Let's go out!'" says Gordon. "In L.A., I'm like, 'It's 7:30, I have died. No one can talk to me anymore.'"
But instead of convening over an Aperol spritz, Gordon tells me this over Zoom, two days ahead of schedule. When we speak, it's looking increasingly likely that the Screen Actors Guild will be on strike by Friday, at which point Gordon will no longer be able to promote her projects. (That's exactly what happened: At midnight Wednesday, SAG-AFTRA's contract with the Hollywood studios expired without a new deal in place, and on Thursday, the union announced its strike, joining the Writers Guild of America on the picket lines.)
Gordon appears on my screen wearing a loose white T-shirt and red nail polish, her dark hair tucked behind her ears and her bare knees pulled up to her chest. She's calling from a friend's apartment and looks much like any 27-year-old working from home on a sweltering afternoon. I ask how she's doing, given the week's tumult and excitement. "I'm tired and feeling kooky, but I also just feel really grateful. I've gotten to work so much this year on things that I feel so connected to, and now they're coming out or they're out," says Gordon. "Life is so complicated, and you're rarely just happy when things come out. I'm just trying to be present in my manic craziness."
A charismatic and often wry presence in movies like Booksmart and Shiva Baby, Gordon is having a summer deserving of a little kookiness. Within the span of a month, she has appeared in the much-anticipated second season of The Bear — in the juicy and enviable role of chef Carmy's new girlfriend, Claire — and starred as a loony music teacher in Theater Camp, a heartfelt mockumentary about the staff and kids at an insolvent performing arts camp, which she also co-directed and co-wrote. Though her characters in The Bear and Theater Camp couldn't be more different, both projects follow a group of people creating something beautiful in the face of profound practical constraints: crushing finances, oncoming deadlines, power outages, and plumbing disasters.
Gordon seems to have a strong grasp on the impediments to professional creativity and a deep-rooted understanding of why it's worth it to try anyway. When she talks about working with her friends and colleagues, she does so with an earnestness so touching that I begin to regret not pursuing a performance career, which I had never before considered. She's also straightforward about the challenges of an industry where so much is out of one's control. That's partly a product of her upbringing: Gordon is the only child of directors Jessie Nelson and Bryan Gordon. "My mom always was like, 'Have multiple plates spinning. Don't wait around for people to give you opportunities,'" Gordon recalls. "I feel like I never got bored as a kid. Even as an actor, when I wasn't getting jobs, I was finding ways to be creative and wasn't waiting around for someone to go, 'Molly, here's your chance to be creative.' That's what feels so soul-sucking as an artist, that people have to give you permission."
As both a co-writer and co-director of the film, as well as one of its lead actors, Gordon spent six years trying to make Theater Camp, a process she describes as "a meditation on faith." Gordon attended the performing arts camp Stagedoor Manor, and she created the movie with fellow theater kids Ben Platt (a friend and performance partner since preschool), Noah Galvin (they met while workshopping a musical when Gordon was 19), and Nick Lieberman (introduced at 13 by Platt, who did theater with Lieberman as a teen). Theater Camp's actors improvised off of a detailed plot structure, which the four wrote over Zoom during the pandemic after getting a long-awaited green light on the concept. "It was hard to get people to finance a 70-page document and not a full script, with children and first-time filmmakers," says Gordon.
Theater Camp is goofy and light until you find yourself with a lump in your throat. It's evident that Gordon and her collaborators poured their hearts into it, eager to razz and celebrate theater types. Waiting for Guffman is an obvious comparison — it's the foremost mockumentary about an amateur theater company — but Gordon's team also drew on School of Rock's soul and The War Room's grainy, nostalgic look and fly-on-the-wall cinema verité style.
Gordon shares with me the following piece of advice, one of the best her mother has given her: The director is the least experienced person on set. The thinking is that actors and crew members work on many more projects than a director does, given the time it takes to direct a movie and see it through post-production. The takeaway, then, is to lean on your team, rather than trying to be a solo artist. Community is big for Gordon, who says that the friendship of her Theater Camp colleagues gave her the confidence to fail. Directing is about taking big swings and not abandoning your ideas because you're afraid of getting things wrong. "Especially as a woman, I needed to assert myself and not wait for others to give me that, because they're just not going to," Gordon says.
Prada clothing and accessories
With Theater Camp, Gordon was able to give herself something different as a performer. She's well aware that she has a reputation for playing cool young women, like The Bear's Claire, Booksmart's Triple A, and Shiva Baby's Maya. By contrast, Theater Camp's Rebecca-Diane is a self-serious music instructor with clairvoyant pretensions and a bumper sticker that reads "Mom… Dad… I'm a thespian." Gordon based the character on Venice Beach boardwalk psychics and several of her own theater teachers. "I was so excited to get to play something so stupid and silly," says Gordon. "I've always emailed my agents being like, 'Can I play the crazy character?' And they're like, 'They don't see you like that, Molly.'"
Gordon knows a lot of real-life Triple As and doesn't consider herself to be one. In high school, having no passions or extracurriculars was cool, and Gordon recalls some of those kids telling her: "Molly, you have, like, so much energy." But at theater camp, being extra was cool. "All the coolest kids were in this special show with all the talented kids, and we'd all go and watch it, and they'd perform for us," Gordon says, laughing. "And I never got into [that show], which is totally fine."
The characters that Gordon plays often have grains of a coolness that holds up in adulthood. They're self-assured and socially adept, with a better sense of proportion and perspective than the people spinning out around them. (As Claire says when Carmy shares his fear that the other shoe is always about to drop: "Nobody's keeping track of shoes.") "I keep going out for these roles that are more naive. They're amazing characters that I want to play, but I've always gotten 'Molly seems like she gets it,'" she says. "I'm like, 'But I don't always! How am I not showing this?' But you can't lie on camera."
With The Bear, Gordon leapt not only at the opportunity to work with creator Christopher Storer, who directed her on several episodes of Ramy, but to play a character who is thoroughly good-natured. Claire's natural ease sharpens the focus on Carmy's brand of weirdness, revealing that while he may be a hot chef to us, he's always been shy and intense and artistic, drawing trouser designs in algebra class and avoiding parties. Through Claire, we see that Carmy isn't just attractive in an "I can fix him" kind of way but lovable in his specificity.
Claire's goodness felt personally important to Gordon, who describes kindness and communication as a foundation of her upbringing. "My mom lost her mom at a very early age, and she was so excited to be a mother," says Gordon. "Sometimes that can translate into a too-much thing, but in my childhood it was just like, 'I want to enjoy this, and I want my daughter to because I didn't get to enjoy this.'"
Gordon seems determined to seek out this warmth and connection in her professional relationships. She has found it with Storer, who, she says, "treats every single person [on set] like they're the most important person there." She's found it with her Theater Camp collective, and with a cluster of friends that includes Ayo Edebiri (her Theater Camp and The Bear co-star), Rachel Sennott (her Shiva Baby co-star), and Emma Seligman (the director of Shiva Baby, who directed Edebiri and Sennott in the upcoming Bottoms). Gordon says that they offer each other introductions, feedback on ideas, and advice about who to work with (and who to avoid). She's living the message of Theater Camp: It's hard to find your community, but doing so is the luckiest thing on Earth.
When Theater Camp premiered at the Sundance Film Festival in January, people came up to Gordon to ask what she was doing next. "I was shaking, being like, 'I finished the movie yesterday,'" she says, one eyelid drooping in mock delirium. When I ask her that same question, she tells me that she has a show she wants to do and a script that she wants to make. She wants to direct again. "Obviously no one's doing anything right now, and we need to wait until there's a fair deal," she says, referring to the industry's labor negotiations. But when things are up and running again — whenever that may be — we should prepare for Gordon to once again be all over our screens. She has, like, so much energy.
Editors' note: SAG-AFTRA members are currently on strike; as part of the strike, union actors are not promoting their film and TV projects. This interview and photoshoot were conducted prior to the strike.
Top image credits: Ferragamo clothing, tie, and belt, Pamela Love earrings, Grenson shoes
Photographs by Hannah Sider
Styling by Stephanie Sanchez
Hair: Jacob Rozenberg
Makeup: Samantha Lau
Photo Director: Alex Pollack
Editor in Chief: Alyssa Vingan
SVP Fashion: Tiffany Reid
SVP Creative: Karen Hibbert