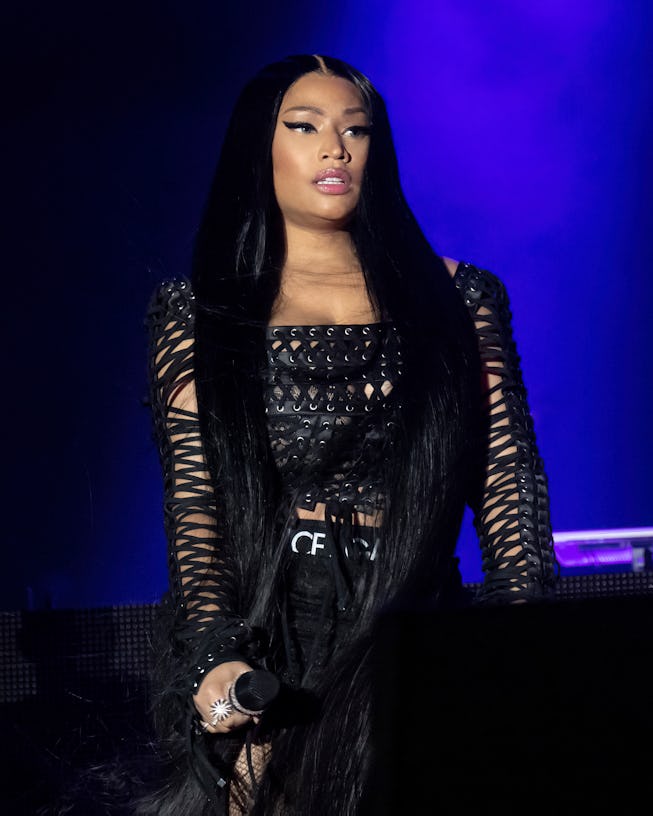 Astrida Valigorsky/Getty Images Entertainment/Getty Images
Nicki Minaj's New Album Will Be A Follow-Up To Her Classic, Pink Friday
Barbz, it's time to dust off the pink wigs: Nicki Minaj is making her return to music.
It's been over five years since the queen of rap and Barbie herself released her last album, Queen. Since then she's gotten married, become a mother, launched her own label, and been embroiled in countless controversies, all the while teasing her fans about the eventual, nebulous arrival of her next studio album during chaotic Queen Radio broadcasts and Instagram live streams.
Now, Barbz can rest easy; the album finally has a concrete release date in November 2023, a proper fall baby. And that's not all — she's resurrecting the iconic Pink Friday title and officially calling the new album Pink Friday 2.
Of course when we say Minaj is making her return to music, it's not like she actually really left. Though it has been years since her last proper album, the rapper's still been exceptionally busy, dropping hit loosies, like "Super Freaky Girl" and the most recent "Red Ruby Da Sleaze," while also making sure to keep her name in the headlines by hopping on a prolific amount of remixes and guest features; it feels not a single week goes by without a new feature from Minaj, with her latest ones being songs for Kim Petras, Ice Spice, and the newly viral Sexyy Red, for her campy and raunchy hit "Pound Town."
As for the new album — there's still very little we know about it: how many tracks it'll be and who will be featured on it, though it's highly likely it'll arrive jam-packed with guest stars. As we lead up to the release, read on for everything we know about the project:
What is the album called?
OG Barbz, rejoice: the follow-up to the iconic Pink Friday is on the way. Minaj confirmed that the new album will be called Pink Friday 2.
What is the album's release date?
Due to some "exciting news," per Minaj, the album's release date was postponed a few weeks. The original release day was scheduled for Oct. 20, 2023, and has now been moved to Nov. 17, 2023.
What is the album's tracklist?
The album's official tracklist isn't out yet but 2022's "Super Freaky Girl" and 2023's "Red Ruby Da Sleaze" are rumored to be the first two official singles off the album.
Who is featured on the album?
Minaj has kept mum on who she's been hitting up the studio with, but it's safe to say that a Lil Wayne feature is probably likely considering he's been on every single one of her albums thus far. As for others? Well, it's a toss up. But we're predicting that Drake could be involved, along with Ariana Grande and Lil Baby, and maybe newer rappers like Kali, Ice Spice, and BIA.
Will there be a tour?
Yes — Minaj officially confirmed that she will be touring the album. There are no concrete dates or shows booked yet but it's expected to kick off sometime in the first quarter of 2024, per the rapper.
"I love you guys so much. I am so grateful for the years of support & love you guys have given me," she tweeted in a heartfelt message to her fans. "At times maybe I didn't even deserve all that you have poured into me. Nonetheless, you. will. love. this. album. I will give tour deets closer to that time, but obviously the tour will start around the first quarter of 2024."
This article was originally published on