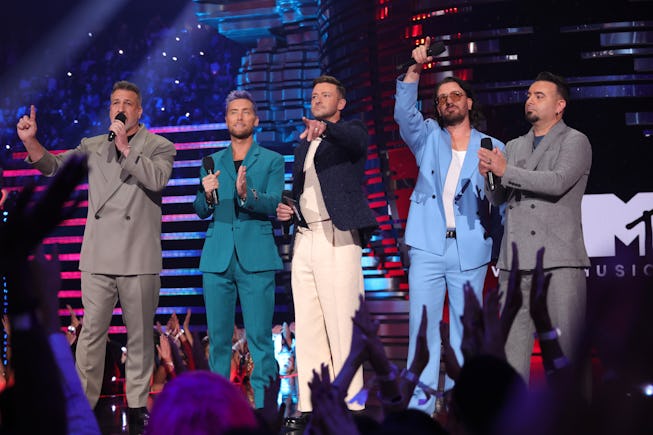 *NSYNC Reunited At The VMAs To Give Taylor Swift An Award
Pop royalty meets pop royalty.
All the rumors are true: *NSYNC is back together.
It was a night of nostalgia and surprises at the 2023 VMAs but perhaps nothing (except the torrent of rumors and industry chatter) could've prepared the crowd for the biggest surprise of all: the return of *NSYNC.
The legendary '90s boy band reunited in full original formation (yes, including JT) on Tuesday night for the first time since appearing together during a 2018 TV episode of Ellen. This time, their reunion was occasioned by — but of course — the upcoming Trolls movie, Trolls Band Together, for which *NSYNC will be releasing their first original song in over two decades, "Take You To A Better Place."
While any other year it would've made sense for them to actually perform the song, the current SAG-AFTRA strike made it impossible for them to do so. Instead the five members, Chris Kirkpatrick, JC Chasez, Lance Bass, Joey Fantone, and JT appeared at the award ceremony as presenters, giving the award of Best Pop to Taylor Swift — who incidentally also had the best reaction to their reunion.
"You're pop personafied so to receive this from your golden pop hands it's really, it's too much," gushed Swift to the band when she went on stage to receive her award.
This is far from the first time *NSYNC has reunited but this is one of the first times where all original members were present since they broke up in 2007.
The band most recently reunited in 2019 when Chasez, Fantone, Bass, and Kirkpatrick came out during Ariana Grande's headlining set at Coachella. The four singers performed "Break Up With Your girlfriend, I'm Bored," and revisited their old hits, "It Makes Me Ill," and "Tearin' Up My Heart," while Timberlake, who was in the middle of his Man of the Woods Tour, was unable to make it. The sole other time the band appeared together was for that Ellen episode, where they celebrated their star on the Hollywood Walk of Fame. In between, various other configurations of the band have gotten together for commercials and other minor appearances, but rarely ever with Timberlake. Though now it seems the "What Comes Around" singer is back to embracing his former group.
Besides the new song in the Trolls movie, all five members are reported to also have acting roles in the film; Timberlake, who's starred in the franchise since the first film, Trolls, in 2016, will reprise his role as Branch, while the other members' roles are still undisclosed. Maybe a Trolls boy band is in our future?