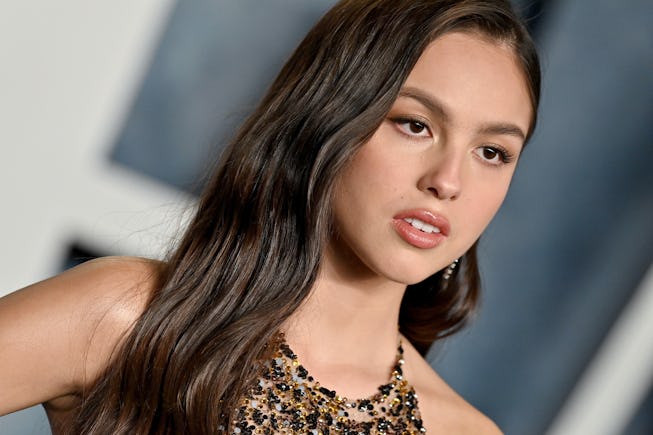 Axelle/Bauer-Griffin/FilmMagic/Getty Images
Olivia Rodrigo's New Album 'GUTS' Arrives Fall 2023
Here's everything we know about the project.
It's been over two years since Olivia Rodrigo dropped her massive debut album, Sour. In the time since, the singer has become a certified superstar, embarking on her first headlining U.S. tour, nabbing her first Grammys, inducting artists Alanis Morissette and Carly Simon into music halls of fame, and amassing a devoted fanbase that's feverishly anticipating her next album.
Now, the singer has officially announced 'GUTS,' her highly-anticipated sophomore album that she says is about "growing pains" and "trying to figure out who I am at this point in my life." A lead single, titled "vampire," is already scheduled to arrive just at the end of June — a sign that we're in for a moodier, and perhaps more mature side to the artist.
Since the end of 2022, Rodrigo has been deftly dropping hints about OR2 but has largely kept mum about what exactly to expect from her new era. Read on for everything we know so far about the album:
What is OR2's title?
Rodrigo's new album is called GUTS, the singer formally announced on June 26. She added that it'll be about "growing pains" and "trying to figure out who I am at this point in my life."
In an Apple Music interview, she revealed that she'd already had the title when she was still making SOUR.
"I had it for a long time," she said. "I had it actually when I was making SOUR. I'm like, 'I want the next one to be GUTS.' I had it in my head. I'm like, 'Four letters, all caps, just like SOUR.' I love it. I just think it's an interesting word. People use it in so many interesting contexts, like spill your guts. Hate your guts, I think is a really interesting term. Means bravery, but it also means intuition, like listen to your gut. I just think it's all of these things that coincidentally were things that I've really been thinking about in this chapter."
When will OR2 be released?
GUTS is out Sept. 8 via Geffen Records. Preorder the record here.
What is first single "Vampire" about?
On June 13, Rodrigo officially announced the project's first single, "Vampire," and later officially released the song on June 30. Per the singer, the song is about the "pent-up anger that you have for a situation." Read our decoding of the song's lyrics here.
The music video was directed by Petra Collins and finds Rodrigo performing the song on stage before she begins fighting off bloodsucking guys who start chasing her through the streets of the city.
What will OR2 sound like?
What to expect sound-wise from OR2 is, of course, the biggest mystery of all. So far, the singer has kept mum about all album details and potential features, but we do know that she's been working on its songs since 2021, post Sour's release — and that she reunited with Sour producer, Dan Nigro, for the followup.
"We have such a good groove together. We are always sharing ideas back-and-forth and have been carving out time to work together in the studio," she told Billboard of Nigro in a 2022 interview as she also confirmed that she's already has an album title and written a few songs. "I trust him so much and really enjoy the music we've been making."
Talking to Apple Music, Rodrigo also said that the music will be a "natural progression" from SOUR. "I feel like musically, we worked really hard to make something that felt fresh and new and exciting to me without completely just diverging from everything that we did on the last album," she said. "And so to me, this new album GUTS and this new song 'vampire' feel like a natural progression, a natural step forward in my life and sound and music."
This article was originally published on