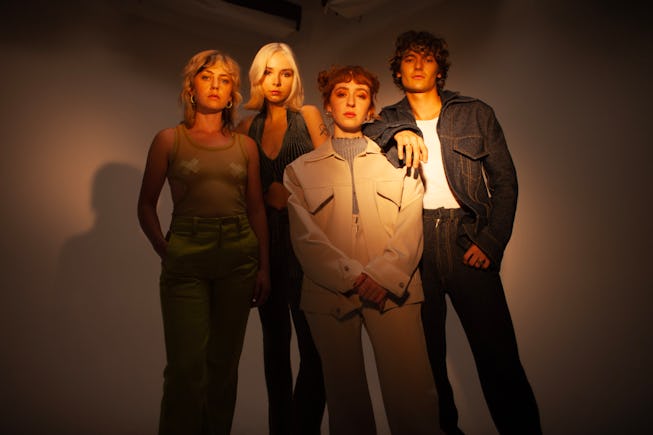 Hear The Regrettes '80s-Fied Cover Robyn's "Dancing On My Own"
It's cavernous, romantic, and grand.
Robyn's "Dancing On My Own" will go down in history as a true club classic. Since its release in 2016, the Swedish pop visionary's yearning, breakup dance-floor pleaser has continued to stay, and has arguably only gotten even more, relevant, experiencing multiple lives and resurgences as new artists continue to release their own covers and interpretations on the track.
The latest band to take on the track is Los Angeles-based punk rock quartet The Regrettes, who inflates the song with a cavernous, '80s-tinged grandness. What made Robyn's original so powerful was her voice, evocative, emotional, filled with micro crags and snares, it added an oomph to her lyrics to make them all the more visceral and intimate. Regrettes frontwoman Lydia Night's voice has the same textural qualities; it's gritty but also glossy, buoying the song into a more euphoric, dreamier, and romantic space. Combined with a sleeker, bigger-sounding rework of the production, this version of "Dancing On My Own" is what would play if HBO's Euphoria ever needed to sync the track (and I obviously mean that in the best way).
Per a press release, the song holds special meaning to the group; it was the what they'd blast while walking out to start their shows on tour. "We wanted to keep that energy going and give it our own creative spin and to make sure that we did the song justice by keeping its special identity with a lil 'Regroots flavaaaa' as we like to say," the add in a press release. They've also shared a visualizer created by the band's own guitarist Genessa Gariano, which features a 3D glittery amorphic man of sorts grooving to the beat.
"'Dancing On My Own' has always been a really special song to me," Night tells NYLON exclusively of the cover. "The euphoric, painful but powerful, crying-in-the-club type of beat is my favorite kind of song. I connect with it in a whole new and personal way now more than ever. Going through a breakup can feel like literal death (lol), but this song makes me feel like I'm not alone. I hope our version can provide the same feeling to all the breakup baddies out there!"
The Regrettes just released the deluxe version of their album Further Joy, which included three new songs. They plan to head out on the road again this June supporting Yung Blud on his headlining North American tour where, presumably, they'll have their own version of "Dancing On My Own" to walk out to.