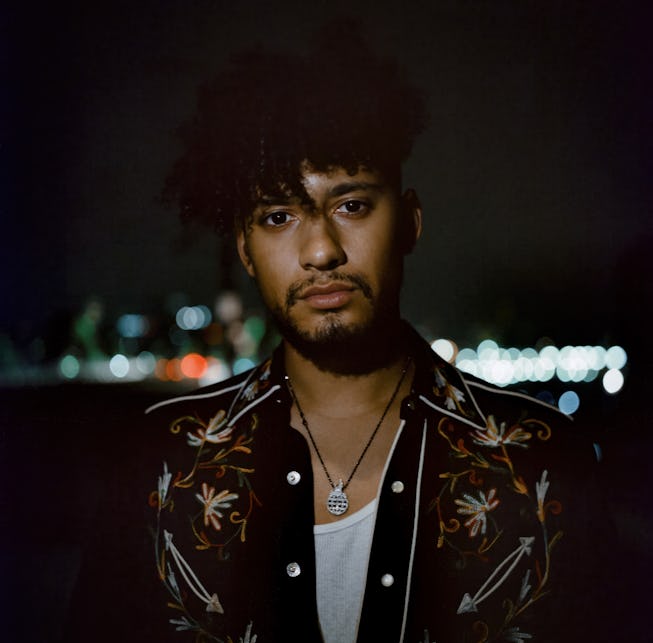 Tyler Cole & Teezo Touchdown Team Up For Playful "Crying In My Car" Video
The Los Angeles-based singer premieres his new video on NYLON.
In 2020, Tyler Cole broke out with his song "Meet Me At Our Spot" with Willow Smith (whom he was also rumored to be dating at the time) after it going wildly viral on TikTok. The Los Angeles singer was releasing music under the name The Anxiety at the time, but has since switched back to using his real name. Now, after a two-ish year break, Cole is back with new music, releasing three songs earlier this summer including another collaboration that could get huge: "Crying in my Car" with Teezo Touchdown.
The cheeky track is a breakaway from the poppy emo of "Meet Me At Our Spot" and instead bops in breezy, soulful trap that's indeed perfect for cruising around in your car and crying. It features lyrics that'll be relatable to any Gen-Z: "Crying in my car all night/ been in bed all day/ I don't wanna go outside." While Teezo Touchdown, the Texas native who's turning heads for his out-there fashion choices and unpredictable song releases, brings a sweet, crooning verse that's serves as an instructional to how best to cry in your vehicle: "Cut your engine and your lights off and make it dark." Noted!
Today, NYLON exclusively premieres the song's music video, which plays off the track's waggish energy and finds Cole and Touchdown as parking valets who get up to trouble. Cole steals a corvette and ends up in a police chase, but after a series of cartoonish events he's back behind the wheel, this time of the police car.
Watch it below and read on for a conversation with Cole about working with Teezo and upcoming new music.
What are you up to right now — describe your surroundings.
I just watched the sunrise this morning from my balcony for the first time in a long time. It was beautiful and pink. I only slept a few hours, but I couldn't fall back asleep so I started writing a song in my bed.
How did you link up with Teezo for "Crying In My Car?" What do you like about his music?
Katie Welle from Sony actually connected us initially. From our very first session, when we started working together on his album, we had a really strong musical connection. Since then, we've made a lot of music that we're both really excited about. I love how Teezo is always taking a risk and he's never afraid to try something new. There are so many sides of him and they are all brilliant. He can sing, rap, and has a natural gift for storytelling. It's amazing to me how he works so hard and yet he doesn't force anything.
You recently made your solo return to music – any other new music coming soon fans can expect?
Yes! They can expect something really soon.
What's the last album you played in full and really enjoyed, and why did you like it?
The truth is it's Teezo's and regardless of my involvement I think it's one of the most exciting records I've heard in a very long time. In addition, the new James Blake album is pretty awesome. What an amazing singer & producer. That dude is a wizard.
Besides music, what have you been up to in your free time?
I play basketball almost every day. My manager & I even have a rec league team that we are very competitive about. We have fun, but we also take it very seriously.