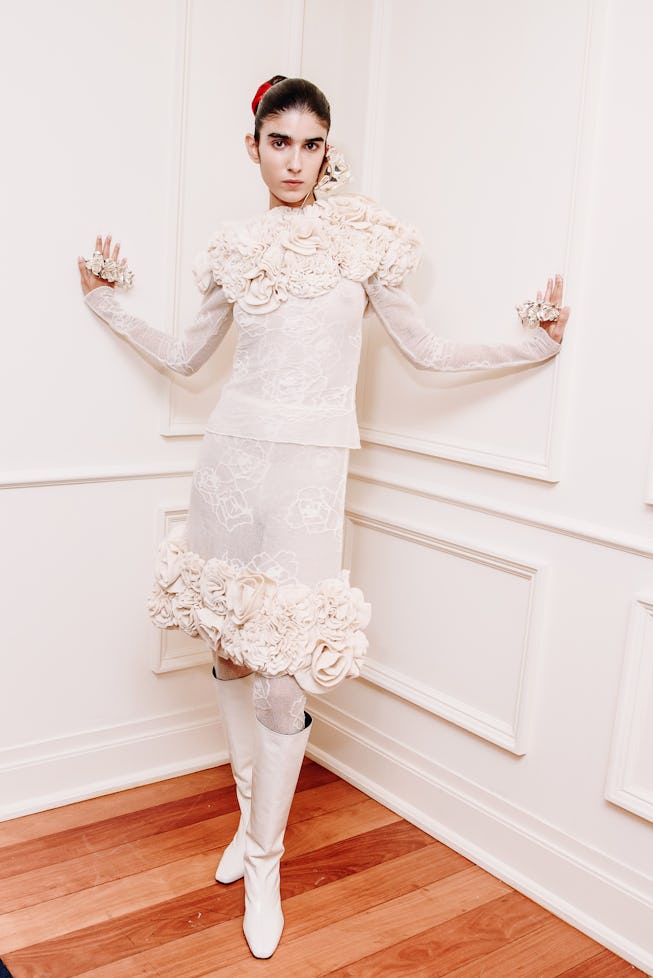 Nina Westervelt/WWD/Getty Images
Cool Brides Were All Over the Spring 2024 Catwalks
These dreamy gowns and embellished suits will make you want to say "I do."
One of the most significant, special times in any person's life their wedding day. While scouring through catalogs in the past, brides-to-be used to rely heavily on traditional codes, but these days, ready-to-wear bridal is seeing a new approach as unconventional looks are the most sought after (See Kourtney Kardashian's gothcore wedding in Italy as proof). At New York Fashion Week, brands didn't hesitate to experiment with new, daring bridal concepts for Spring 2024, reinventing what a modern-day bride looks like.
Today, cool brides are tying the knot by interjecting as much personality and personal style into their looks as possible, whether it's for walking down the aisle or for post-wedding festivities. According to the New York Fashion Week runways, styles like larger-than-life gowns, dreamy mini dresses, and embellished suits are trends emerging on the horizon. Poofy tulle minis were seen in collections like Adeam and Altuzarra, while Tanner Fletcher opted for androgyny with bows and floral-adorned two-piece sets. Palomo Spain and Wiederhoeft offered dramatic silhouettes using corsets, beads, and feathers. Wedding bouquets aren't the only time you'll see florals, either; Sixdo presented a bevy of rosette-studded ensembles that are impossibly romantic.
Check out the latest developments in bridal fashion for Spring 2024, below.
Alice + Olivia
Victor VIRGILE/Gamma-Rapho/Getty Images
Victor VIRGILE/Gamma-Rapho/Getty Images
Altuzarra
Photo: Courtesy of Altuzarra
Adeam
John Lamparski/Getty Images Entertainment/Getty Images
John Lamparski/Getty Images Entertainment/Getty Images
John Lamparski/Getty Images Entertainment/Getty Images
Jason Wu
WWD/WWD/Getty Images
Victor VIRGILE/Gamma-Rapho/Getty Images
Mirror Palais
Photo: Courtesy of Mirror Palais
Palomo Spain
WWD/WWD/Getty Images
WWD/WWD/Getty Images
WWD/WWD/Getty Images
WWD/WWD/Getty Images
Sandy Liang
Photo: Courtesy of Sandy Liang
Sixdo
Dia Dipasupil/Getty Images Entertainment/Getty Images
Dia Dipasupil/Getty Images Entertainment/Getty Images
Dia Dipasupil/Getty Images Entertainment/Getty Images
Dia Dipasupil/Getty Images Entertainment/Getty Images
Tanner Fletcher
Photo: Courtesy of Tanner Fletcher
Wiederhoeft
Photo: Courtesy of Tanner Fletcher