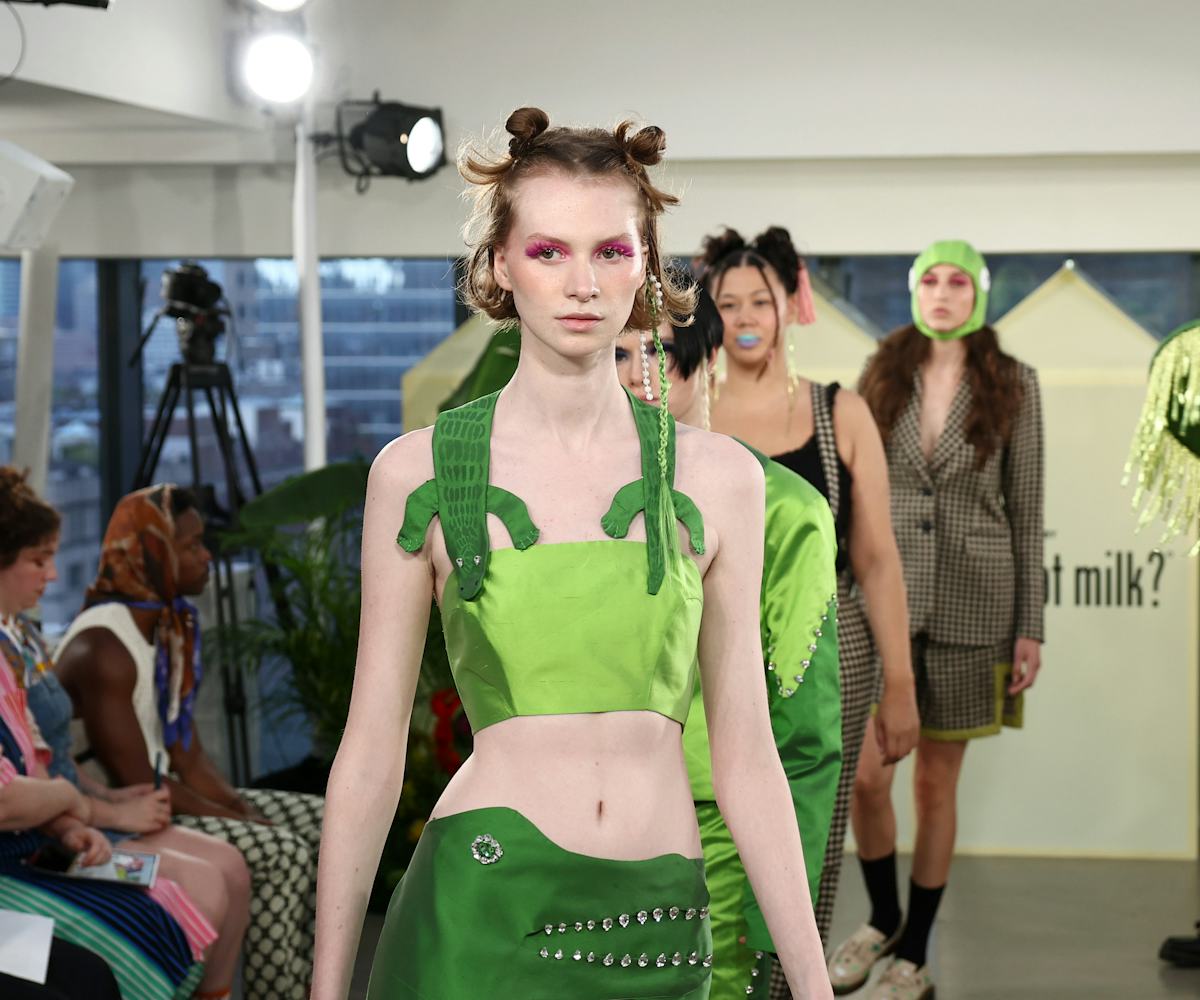 We're Dressing to Delight Our Inner Child for Spring 2024
Giant bows, Polly Pocket-inspired accessories, and more hit big on the runways this season in New York.
New York Fashion Week left some exciting trends to watch out for next spring, and one that continues to stand the test of time is none other than the "kidcore" aesthetic. That's right — while other microtrends have come and gone from the fashion zeitgeist, dressing up to delight your inner child hasn't gone out of style according to designers, and we're diving even deeper into youthful motifs for Spring 2024.
Over the course of the week, brands gave us some sartorial inspiration on how to fall back into our childhood wardrobes, coming from both indie designers and more established names. This season's runway saw Sandy Liang, who's currently leading the movement, revamp her signature styles through frills, rosettes, and giant bows. Colin LoCascio once again presented unapologetically colorful and kitschy designs by reimagining Lisa Frank's rainbow-hued palette, with touches of florals and dolphins, as well as Polly Pocket accessories like chunky handbags. Almost reminiscent of dance recitals, Dauphinette played with peplum silhouettes and chunky beads, while Melke gave us arts-and-crafts via bendy straws and sticker hair barrettes. Even Kim Shui, a brand known to embody sexy, came with a slew of puffy mini dresses and fruit-inspired purses. Finally, at Tanner Fletcher's heartwarming beauty pageant, models wore sweet, sentimental items that evoked the feeling of playing dress-up in your loved ones' closet: think oversized bow-adorned jackets, Laura Ashley-inspired floral dresses, and cozy, chunky cardigans in pastel shades.
If there's anything to take away from NYFW for the Spring 2024 season, it's that designers want to remind us that fashion doesn't have to be so serious all the time. See more examples of how designers are bringing nostalgia and fun to fashion through their interpretation of the "kidcore" aesthetic, below.
Colin LoCascio
Photo: Courtesy of Colin LoCascio
Collina Strada
Victor VIRGILE/Gamma-Rapho/Getty Images
Victor VIRGILE/Gamma-Rapho/Getty Images
Victor VIRGILE/Gamma-Rapho/Getty Images
Dauphinette
Photo: Courtesy of Dauphinette
Kim Shui
Photo: Courtesy of Kim Shui
Melke
Jason Mendez/Getty Images Entertainment/Getty Images
Arturo Holmes/Getty Images Entertainment/Getty Images
Arturo Holmes/Getty Images Entertainment/Getty Images
Arturo Holmes/Getty Images Entertainment/Getty Images
Tanner Fletcher
Photos Courtesy of Tanner Fletcher
Sandy Liang
Photo: Courtesy of Sandy Liang