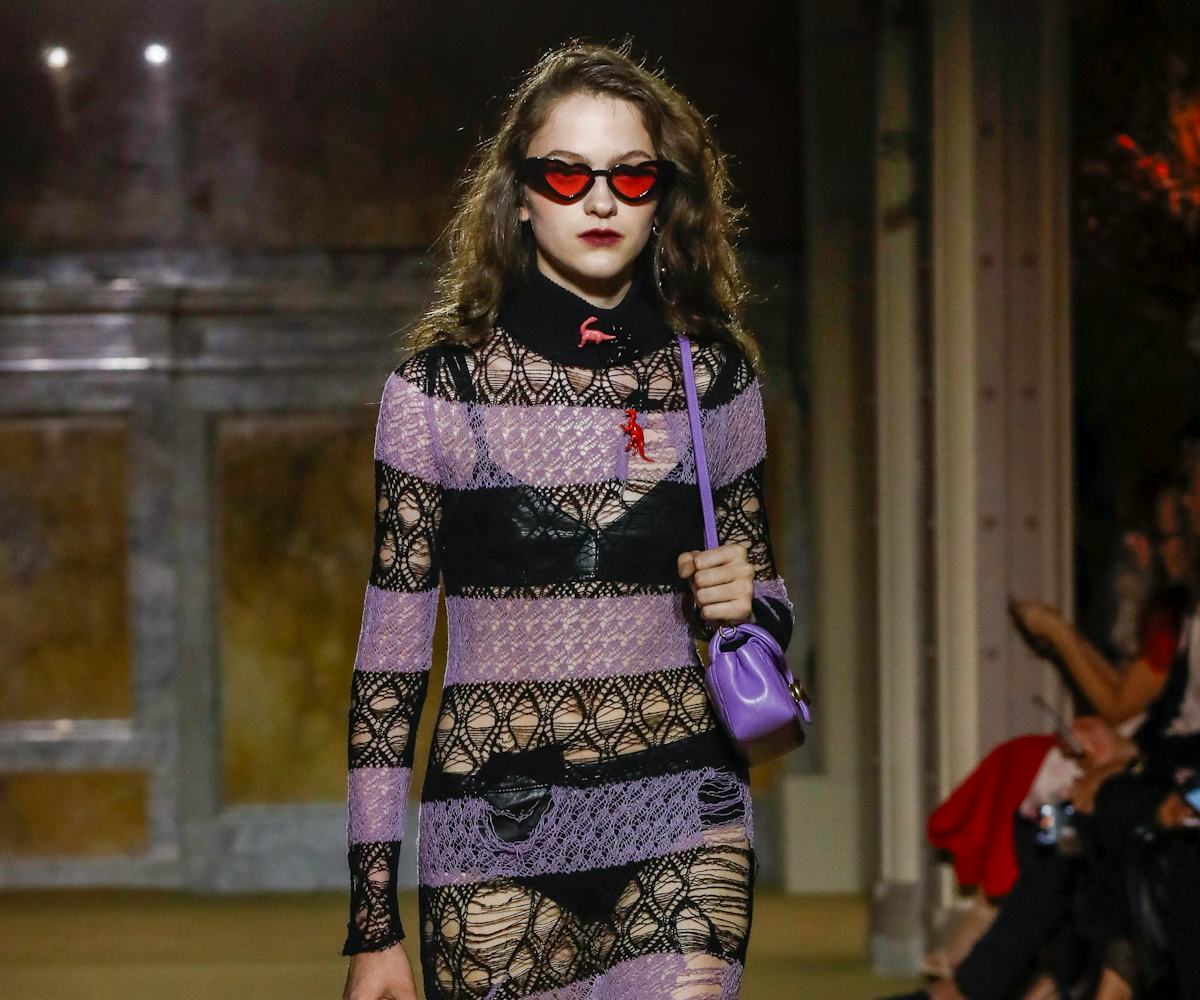 The Buzziest Moments From New York Fashion Week Spring 2024
From PETA protesters to designer debuts, here's everything you missed.
New York Fashion Week may be over and done with, but it sure left some memorable moments behind. Leading the first of four main stops on the international circuit for Spring 2024, NYFW kicked off fashion month with some much-needed entertainment when it came to the star-studded after parties and front row, as well as a slew of ready-to-wear pieces that will definitely take over in the upcoming season.
With the SAG-AFTRA strike leaving many celebrities with a more open schedule, we saw an influx of stars head to New York to attend the biggest shows of the year in style. Though we didn't get many surprise runway cameos this time around, our favorite stars kept us thoroughly entertained with their front row appearances.
The Spring 2024 showcases started with an off-calendar showing from Coach (which saw a few PETA protestors crashing the runway), before launching into Peter Do's anticipated (and for some, disappointing) debut as creative director for Helmut Lang the day after. Legacy names returned to NYFW like 3.1 Phillip Lim and Ralph Lauren, and emerging designers showcased their first, and very promising, collections.
The main takeaway from the catwalk was revamped trends; standouts include the kidcore aesthetic getting a new makeover via nostalgic references, and ready-to-wear bridal being cooler than ever before.
For those who still need to catch up on the past week, and ahead of fashion week's European counterparts, look no further. We've compiled all of the best and buzziest moments from NYFW's Spring 2024, ahead.
Stars Were Sitting in Front Row
It's been a minute since we've seen this many celebrities all in one place. With the SAG-AFTRA strike in effect since July, stars are prohibited from engaging and promoting their newest works (meaning, we haven't gotten red carpet moments in a minute). But it didn't entirely cancel all of their plans for the year. Rather than attending photocalls and premieres, we saw much of Hollywood flock to NYFW to show their support for both the industry's top names and emerging designers.
The front row was studded with just about anyone you could think of — the most spotted celebs being Ice Spice, Hayley Williams, and Avril Lavigne making their rounds at shows like Christian Siriano, Dion Lee, and more. Emma Seligman's cinematic universe — featuring Ayo Edebiri, Molly Gordon, and Rachel Sennnott — reunited for Proenza Schouler. There were also Korean celebrities at shows like Helmut Lang and COS, and when it comes to best-dressed, Julia Fox ranked at the very top for arriving at every function she attended in impeccable style.
Dove Cameron and Lil Nas X at the Coach Spring 2024 runway show.Nina Westervelt/WWD/Getty Images
Julia Fox at the Wiederhoeft Spring 2024 runway show.Paul Morigi/Getty Images Entertainment/Getty Images
Rachel Sennott, Chase Sui Wonders, and Ayo Edebiri at the Proenza Schouler Spring 2024 runway show.David M. Benett/Getty Images Entertainment/Getty Images
Tiffany Young and Young Mazino at the Helmut Lang Spring 2024 runway show.WWD/WWD/Getty Images
Peter Do's Debut Collection for Helmut Lang Was Met With Mixed Reviews
The most anticipated collection on New York's Spring 2024 calendar was Helmut Lang. Back in May, Peter Do, also at the helm of his eponymous label, was appointed the role of creative director for the fashion house. Kicking off the official schedule early morning on Sept. 8, he finally released his 47-piece line of referential silhouettes inspired by "being on the go," with many looks paying homage to NYC's busy lifestyle and Lang's 90s-era minimal designs blended in with hints of the designer's Vietnamese heritage.
While the message was clear and well-received by some showgoers, others found Do's debut to be underwhelming. The Cut's Cathy Horyn felt that the collection was "uncool," while New York Times' Vanessa Friedman called it Lang Lite, before adding, "[It was] easy to digest, but the taste doesn't linger." Do's talent doesn't go underappreciated or unnoticed, but let's just say there will be much higher stakes and expectations to meet next time.
Victor VIRGILE/Gamma-Rapho/Getty Images
Victor VIRGILE/Gamma-Rapho/Getty Images
Victor VIRGILE/Gamma-Rapho/Getty Images
WWD/WWD/Getty Images
New York's Spring 2024 Catwalks Saw Prominent Trends
Over the last few seasons, we saw a slew of trends coming onto the runway and into our closets. But unlike the bang that farm stand chic or rosettes had on our wardrobes, NYFW didn't really bring anything refreshingly new to the table. If not anything, designers drilled into what we already saw from collections before.
Of all the trends spotted for Spring 2024, there were a couple of standouts from the Spring 2024 catwalks: cool bridalwear and kidcore. When it came to bridal, brands refreshed modern-day concepts for Spring 2024 by giving potential buyers the opportunity to interject their personality and personal style into their special day as much as possible, whether it's for walking down the aisle or for post-wedding festivities. Brands like Wiederhoeft and Altuzarra proved that you don't always have to follow tradition — beads and fluffy tulle minis can easily spruce up your lookbook.
Wiederhoeft Spring 2024Photo: Courtesy of Wiederhoeft
Altuzarra Spring 2024Photo: Courtesy of Altuzarra
We're also dressing to delight the inner kid in us for Spring 2024. While we've seen microtrends come and go, youthful motifs will still remain at large all throughout the year. Aside from Sandy Liang's signature core style — frills, rosettes, and bows — you can expect to find more arts-and-crafts taking over the accessory game. Be on the lookout for anything reminiscent of your childhood playpen: Polly Pocket-inspired handbags and Lisa Frank's rainbow-hued color palette will be everywhere as shown through brands like Melke and Colin LoCascio.
Melke Spring 2024Arturo Holmes/Getty Images Entertainment/Getty Images
Colin LoCascio Spring 2024Al Zeta/WireImage/Getty Images
Coach's Stuart Vevers Rang In His 10-Year Anniversary
This season, Coach decided to showcase its Spring 2024 collection off of the official NYFW calendar on Sept. 7. Taking place at the main brand of New York Public Library right next to Bryant Park, this collection was even more special as creative director Stuart Vevers celebrated his 10-year anniversary with the brand. The American heritage label continued the theme of its previous collection by bringing out 42 too-cool designs onto the runway; huge maxi bags and playful mini bags were major hits from the show.
WWD/WWD/Getty Images
WWD/WWD/Getty Images
Attendees ranged from the star-studded front row to Vevers' family members, but there were also a few uninvited guests — PETA protestors who stormed the show baring nothing but body paint and another a "Leather Kills" sign. Don't worry — the catwalk crashers were quickly removed by security. Way to start off fashion week, am I right?
Victor VIRGILE/Gamma-Rapho/Getty Images
Gilbert Carrasquillo/GC Images/Getty Images
Legacy Names Returned to New York Fashion Week
It's no secret that in the past decade, NYFW has seen some drastic changes to its schedule with luxury houses either presenting off-calendar or switching out of the city entirely — Marc Jacobs, Thom Browne, Rodarte, and Tom Ford, to name a few — have all ditched New York for elsewhere. At the same time, this season brought back some of the biggest names in fashion to the first stop.
Ralph Lauren finally returned to the New York calendar, with his last appearance being in September 2019. Other brands also showed this time around like Rio Uribe of Gypsy Sport, who's been presenting in Los Angeles. Phillip Lim, who hasn't staged a 3.1 Phillip Lim show at all since before the pandemic, also came back to New York along with Jonathan Cohen, who's been opting for digital releases for the last few years. Perhaps we'll see even more top designers making their way back to the city by next season.
3.1 Phillip Lim Spring 2024Victor VIRGILE/Gamma-Rapho/Getty Images
Ralph Lauren Spring 2024ANGELA WEISS/AFP/Getty Images
First-Time Emerging Designers Showed Promise
There's nothing more exciting than seeing what the emerging designers have in store for fashion week. For Spring 2024, the industry newbies completely took over New York and for this being their first-ever show at NYFW, we have to admit it did not disappoint in the slightest. This season saw some familiar names hosting their debut IRL presentations, like rising designers Sami Miró and Grace Ling. Other new names brought innovative techniques to the forefront; Diotima showed off a neutral range of her signature knits, while Kozaburo introduced bold ready-to-wear styles inspired by his interpretation of utopia. Other designers on our radar opted to show digitally or via appointments, like Melitta Baumeister and Chan Chit Lo.
Kozaburo Spring 2024John Lamparski/Getty Images Entertainment/Getty Images
Sami Miró Vintage Spring 2024George Chinsee/WWD/Getty Images