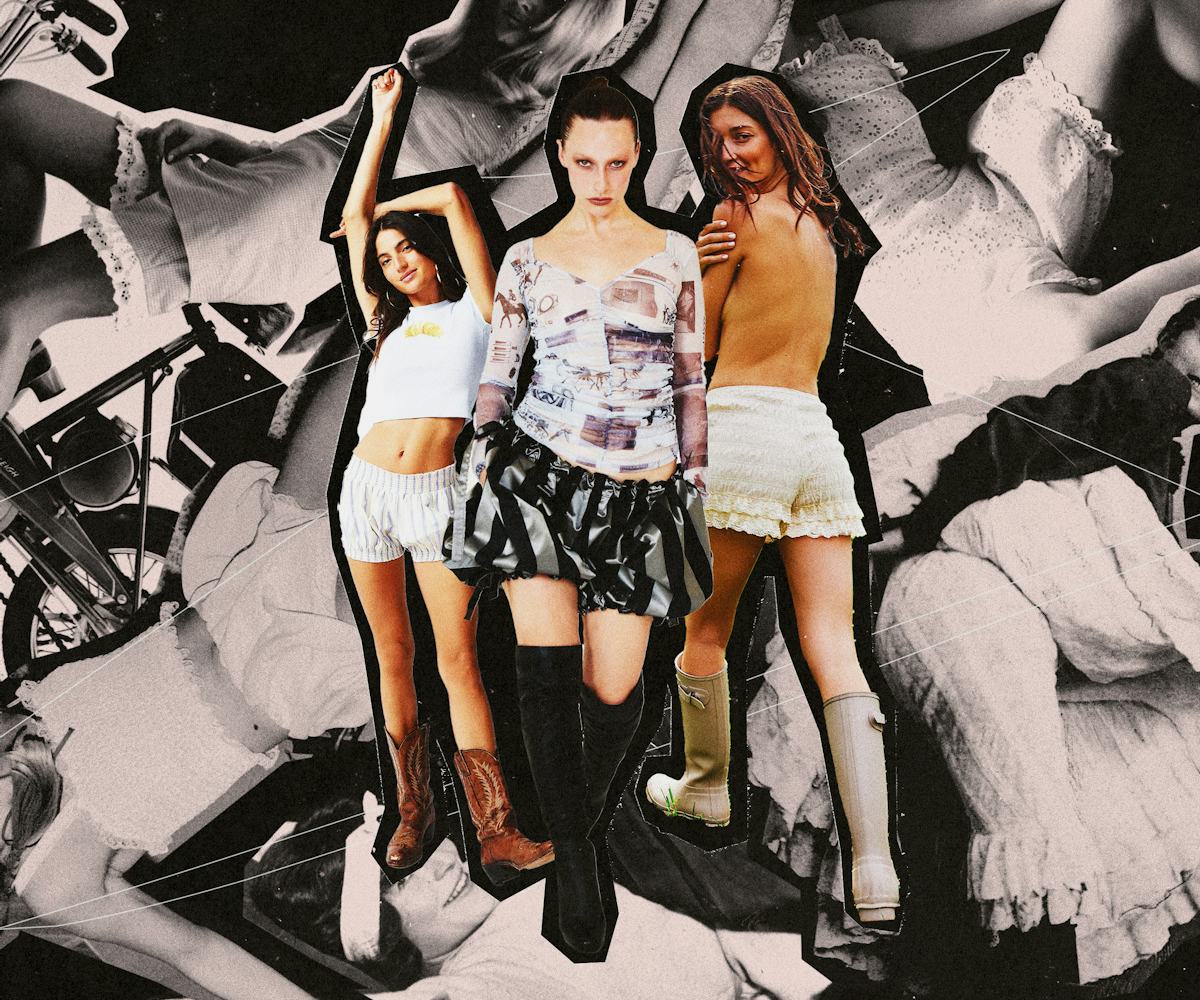 NYLON/ Getty
Bloomers Are Back: How Frilly Underpinnings Became A Summer Trend
Unpacking fashion's latest underwear-as-outerwear craze.
In August 2021, trend forecaster Mandy Lee posted a TikTok video predicting that bloomers would soon become "the new bike shorts." Fast forward to today, and Lee says she's never gotten such a response from a fashion trend prediction. "I have gotten so many death threats over bloomers," she tells NYLON. "People were so offended, for some reason!" As enraged as her audience was at the time, Lee's prediction was spot on. Over the past two years, brands like Chopova Lowena and Simone Rocha have released bloomer designs, with "It" girls like Savannah Hudson giving bloomers their own spin. With major retailers like Urban Outfitters and Free People stocking bloomers shorts, the 19th century undergarments are officially back in fashion. What caused their divisive return?
Lee says that the current rise of hyper-feminine fashion trends (think balletcore and cottagecore) made way for the great bloomer boom. "I think this hyper-femininity started last fall or winter, and it's held on for longer than some people expected because it's so versatile and there are so many avenues to explore," she explains. "There are frills and bows. Even the color pink had a crazy year. And bloomers appeal to anyone who has a more vintage sensibility." Of course, bloomers already have a long history as a symbol of women's rights, with American suffragists trading their long dresses for bloomers in the 1850s.
The return of bloomers has happened in conjunction with the underwear-as-outerwear trend, encouraged by Bella Hadid roaming New York in tighty whities last year. Lee says on account of the rise of the "skin is in, thin is in" mindset within the fashion industry currently, she's not the biggest fan of the underwear trend — but does have a soft spot for bloomers. "I think bloomers look great on larger bodies, and there's also much more variety and wearability because you can get the long capri length," she notes. "I think that's a way for people to participate in that trend without sacrificing their modesty or, honestly, their safety."
Sara Camposarcone, a content creator in Toronto, Canada, says she views bloomers as an elevated option to get that "I'm wearing underwear out" look that she'd seen on the runways of brands like Miu Miu. "I often get told I dress like a kid, and bloomers do sort of remind me of a giant baby, so I can see the comparison," she says. "But I also enjoy dressing in a way that makes my inner child happy and fulfilled, so I'll definitely keep bloomers in my wardrobe for years to come." She currently has her eye on a pair of '70s upcycled bloomers made by her friend on Etsy.
For Lea Ogunlami, a presenter in London, bloomers weren't necessarily something she searched for, but something that found her. "I was shopping for vintage Vivienne Westwood clothes on Vinted, as I do regularly, and I came across what I thought was a skirt," she recalls. "But then I was like, 'Oh my god, it seems to be a pair of bloomers'." Ogunlami has since posted her vintage find on Instagram and TikTok. "The response online has been relatively pro-bloomer, but I did get a message from one of my old school friends asking, 'What the f*ck are those'?"
Ogunlami says that while she doesn't see many other bloomers out on the streets of London, she does see an abundance of bloomer content online. "I guess every short has to have a comeback to some extent. We've gone through capris, booty shorts, and jorts," she says. "I think people are just looking for a new way to wear a short. So now we've arrived at bloomers." She is currently in the process of searching for a "long white old pair" of bloomers, after seeing a photo of Helena Bonham Carter wearing a white dress with long bloomers underneath back in 2009.
When it comes to the return of bloomers, the inherent silliness of wearing something initially designed as an undergarment means that some designers releasing them today have been surprised at the positive response. After all, even the round, diaper-like shape doesn't seem to take itself too seriously. Niamh Galea, the designer behind Ramp Tramp Tramp Stamp, says the first time she released boomers was in 2020, but people were more interested in the baby doll smock dresses. "Back then, only one person bought a pair of bloomers just by themselves," she says. Now, the bloomers in her latest collection have become the hottest item of the season. "They all sold out, and two of the colorways sold out in the first two weeks."
Galea says she took a bit of a risk investing production funds into boomers, but her leap of faith paid off. "In hindsight, when me and my interns were finishing the design, we were laughing and calling them insane," she says. "I didn't know if people were going to get it, but I love the romance of them and I find them easy to wear, comfortable, and effortless." Galea says she currently has customers reaching out to her asking for more bloomers, something she plans on delivering in her upcoming collection. As for whether the interest in bloomers will wane, Galea has faith that true boomer enthusiasts will keep the feminist statement-turned-TikTok trend alive — from the 19th century to today, and (perhaps) for years to come.