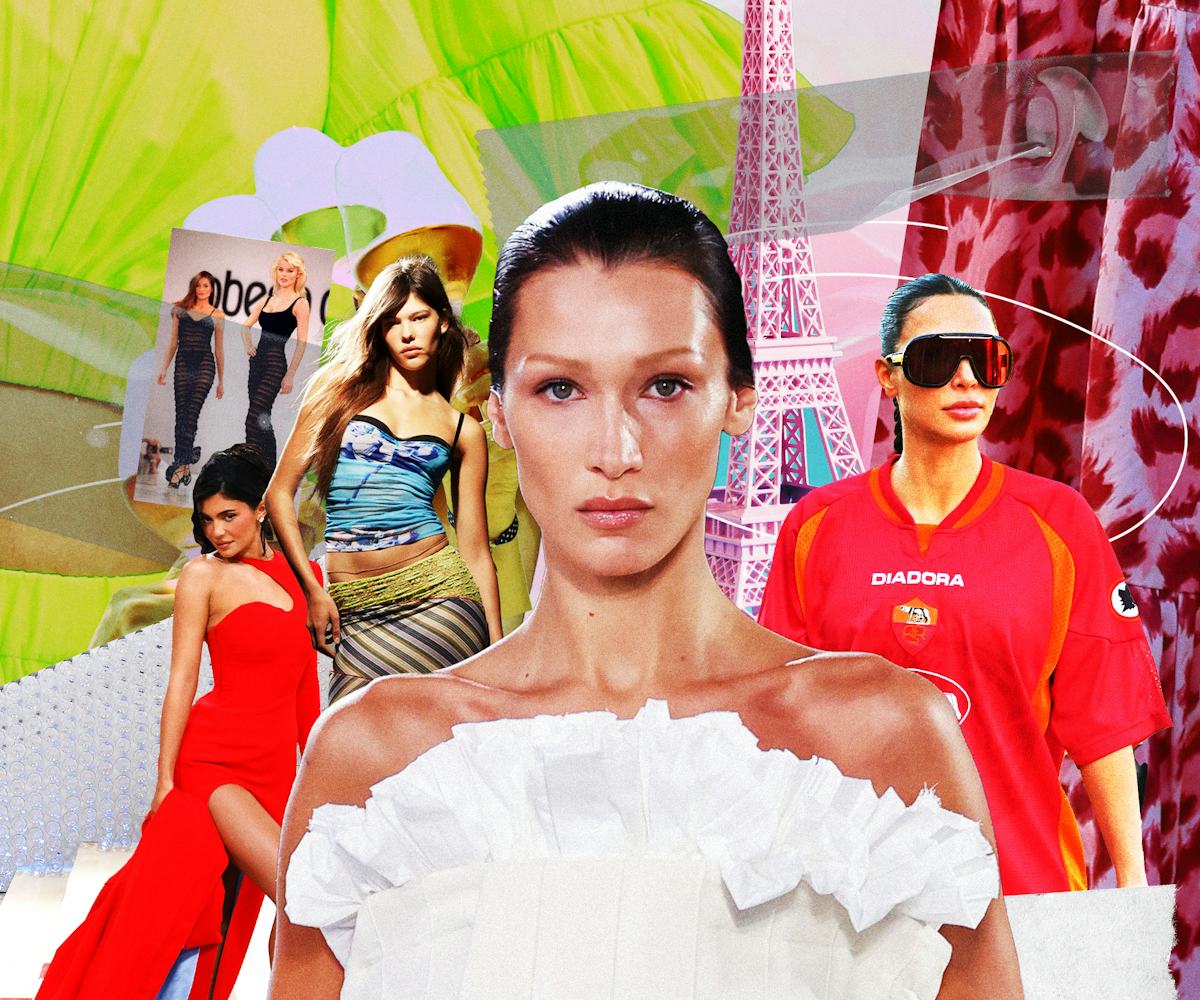 Dewey Saunders/Nylon; Getty Images
The Rise of "Europecore" Is Peak American Escapism
For U.S. fashion creators, Europe has come to represent a state of mind rather than a continent — a place to put on a flowing skirt and live a slower life.
A ceramic espresso cup on a plastic table, a Natalia Ginzburg novel resting on a volcanic black pebble beach, a flowing ruffle skirt blowing against the backdrop of a fresh flower market — when opening social media during the summer months, it's easy to feel like everyone is currently on vacation in the Mediterranean. But with the prices for flights across the Atlantic Ocean surging, fewer people will actually be planning a holiday there this year, despite what their outfits may suggest.
Enter "Europecore," the latest aesthetic that captures Americans' desire for international summer escapism; puffy sleeves are encouraged, and reading A Certain Hunger in front of the Eiffel tower is peak Instagrammable content. Participating in Europecore is all about wearing the type of flirty and frivolous clothes you feel comfortable wearing on vacation, but wouldn't usually wear at home. It's the hyper-feminine romanticization of your wardrobe, with extra lace, frills, pearls, and silk pieces that represent the idea of a European vacation more than they reflect actual European fashion trends.
You can see Europecore on TikTok, where influencers attempt "living an Italian summer in Virginia" simply by turning off their air conditioning. A silk two-piece is no longer just a going-out outfit, but rather a "Europe set"; summer style inspiration has become "Spanish summer outfit" content. People are also gearing up for (sometimes non-existent) trips abroad with "what I'm packing for Europe" videos, many of which consist of participating in TikTok micro-trends and styling fast fashion brands like I Am Gia with holiday-themed vintage pieces. It's as much Sofia Richie's "quiet luxury" looks before her wedding in the south of France as it is buying a white lace skirt at Urban Outfitters and pretending your backyard is the Dordogne. It's the Los Angeles-based fashion brand Miaou releasing their latest collection with the French title "Le Mirage" (which, ironically, translates to "the illusion" in English).
The "Europe" of this imagined glamour has very little to do with Polish industrial cities or Scottish highlands. In fact, it seems to mean different things to different creators — many of whom haven't even visited the European countries they're using for outfit inspiration. There's "Italiancore," played out by daydreaming in floaty maxi skirts, and bolstered by the fact that there's a huge surge in demand for vintage Roberto Cavalli right now. There's also "Frenchcore," which is wearing a chic, black dress while gazing out a balcony or window; vintage Jean Paul Gaultier is also having a moment among Gen Z shoppers, with searches for JPG growing 187 percent in 2019 after Bella Hadid and Kylie Jenner were seen wearing pieces by the French designer. There's even Eastern European serf core, which is not to be confused with cottagecore.
With the revolving door of "core" trends (like balletcore or barbiecore) becoming the primary source of style inspiration, Europecore has become a summer favorite, with "Scandi girl autumn" preceding it. The current obsession with Europe (at least as a concept) has also helped to welcome another key trend this summer: football jerseys. With Kim Kardashian wearing a vintage AS Roma 1997/98 home shirt earlier this year, those who don't want to look like a breezy, French fashion girl this summer may be channeling their inner Francesco Totti.
Ying Suen, the co-founder of APOC Store, sees Europecore as "gentle cosplay." This resurgence is not about mining the past, but rather breaking from the present and a form of escapism — though the limited aesthetic means many might miss out on popular European brands by being hyper-focused on only a handful of countries. "I find the very narrow idea that the videos are referencing to be very fascinating," Suen says, naming the Copenhagen brand Solitude Studios, Swedish brand Sylvie Sunkler, and Polish jewelry brand Zwyrtech as their favorite lesser-known European labels.
Eduarda Abbondanza, the founder and president of ModaLisboa Association in Lisbon, says what's currently considered "European wear" is a Mediterranean summer wardrobe: fitted dresses, loose skirts, crop tops, and strappy sandals. "It is a portrait of a sunny, glamorous, and dazzling expectation, brought by decades of fabulous images, not only in France and Italy, but Greece, Ibiza, or Formentera, places with a sea full of boats and yachts, sunny days, and historic towns," she says. This can leave some creators regretful for spending their vacation money on outfits before realizing that people in Europe dress "regular."
Beverly Mejia, a TikTok stylist based in Houston, Texas, started creating European-inspired outfit videos in early June 2022, as a way of "manifesting a Europe trip" in her near future. "I grew up in a low-income household, so realistically I knew it wasn't going to happen until I became an adult and I could make it happen for myself," she explains. "Creating outfits curated for a trip I will have one day is a way of making it more attainable for myself. If I can picture myself with these outfits on the coast of Greece or the countryside in Italy, it's only a matter of time before it happens."
Mejia says her followers have enjoyed the concept of outfits as manifestations. "Fairycore reminds me of my childhood, but Europecore touches my daydreams and goals," she says. "It's a form of me giving light to my inner child, the part of me that wasn't able to come through at the time because I didn't have the means to do so." With her signature maximalist style, Mejia's take on Europecore looks like wearing a bunch of colors, mixed with lace, leather pieces, maxi skirts, silk dresses, and blouses. "My favorite pieces that I'd pack for Europe would be my kitten heels, pointed-toe boots, vintage Levi's shorts, silk slip-on dresses, silk blouses, and lots of lace pieces," she says.
The romanticization of living in Europe by Americans is nothing new, with French and Italian designers long serving as ambassadors of culture and fashion. However, the current obsession with "Europecore" and European life seems to run a little deeper. After years of political heartbreak and a sense that American culture is vacant, many young people are rebuking being American, which is reflected in how they dress. "Why is life in Europe so much easier than in the US?" wrote one creator on TikTok. "Planning outfits for my European summer to escape current reality," another New York creator posted last month.
For many people searching for a much-needed sense of escapism from the realities of the economic issues and political unrest, Europe has come to represent not simply a continent, but also a state of mind — a place to put on a flowy skirt and live a slower life. Unfortunately, none of that exists beyond a vacation or TikTok packing video. "It shows how hard U.S. life is right now," says Suen. "What they do not realize is that it's pretty bleak over here, too."
This article was originally published on