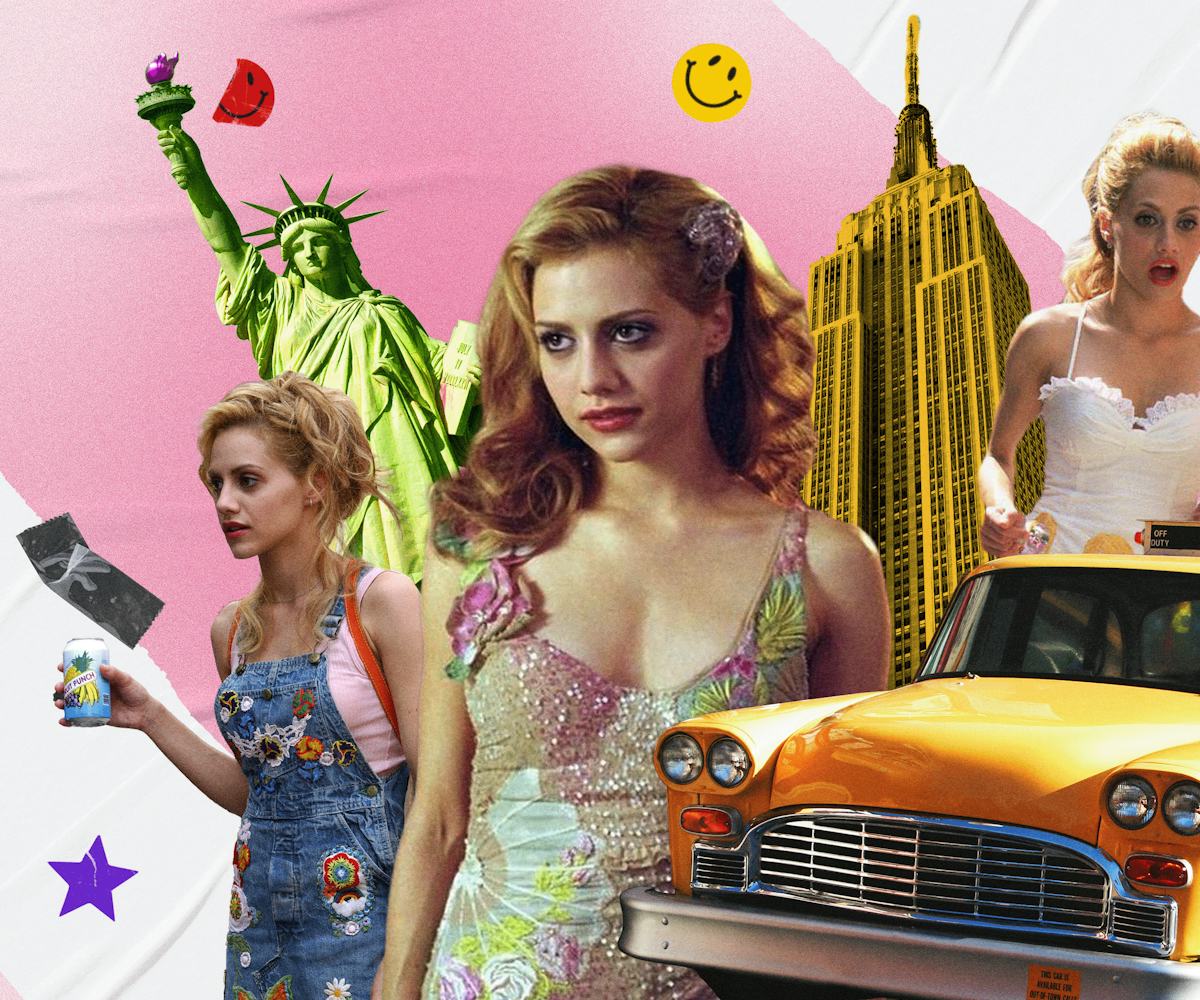 Jahné Spencer/Nylon; Getty Images
Brittany Murphy's Y2K Style in 'Uptown Girls' Is More Coveted Than Ever
To celebrate its 20th anniversary, the film's costume designer talks all things Y2K fashion and Molly Gunn's status as a style icon.
By the time Uptown Girls hit theaters on August 15, 2003, late actor Brittany Murphy had graduated from her breakout role as Tai Fraiser in Clueless and achieved legitimate leading lady status. In her role as Molly Gunn, the orphaned daughter of a rock legend, Murphy was at her finest: She made a flighty, spoiled, trust fund kid into a funny, charming, and lovable character. The film sees Molly get scammed out of her inheritance by her financial manager, so she ends up taking a job as a nanny to an extremely precocious (read: neurotic as hell) eight-year-old named Ray (Dakota Fanning). The odd couple tale may be as old as time, but the movie did get brutally panned by critics and earn a mere 13 percent on Rotten Tomatoes. However, Murphy and Fanning have a sweet, sisterly chemistry that makes it incredibly fun to watch.
Aside from Murphy's endearing turn as Molly, a major highlight of the film was the costumes. In fact, 20 years later, many of the aughts-era designer pieces that Murphy wears on-screen have become hot commodities for fashion lovers. Over on TikTok, you can easily find proof that Molly Gunn is a style icon. Users who've been lucky enough to have gotten their hands on the Uptown Girls costumes go viral with their finds, while others DIY their own homemade takes. Steph Ermer, a graphic designer from Florida, managed to find both the white and black versions of the Moschino Cheap & Chic dress that Murphy wears in one scene, as well as a pink version of Molly's Blumarine birthday dress by a British brand called Aftershock. "I collect vintage fashion, and one morning I opened up Etsy and the iconic Moschino Cheap & Cheap dolls dress that Molly wore popped up in my feed on the home page — I panicked and checked out at lightning speed," she tells NYLON.
Ivy Getty, the model and oil heiress, made jaws drop when she shared photos of her wearing the same Blumarine dress to Vogue World in 2022. "I had been searching for this dress for at least ten years, I had alerts on every vintage site," she wrote on Instagram. Luxury vintage sellers also report an interest in Molly's designer wares. "It's super popular, people do want it and I have a stylist just waiting for me to get one in so that they can use it on one of their clients," says Jennie Walker, an LA-based stylist who owns the largest collection of vintage Moschino in the United States.
Sarah Edwards, the costume designer for Uptown Girls, tells NYLON that her daughter was three when she was working on the film, and now she and her friends are really interested in the movie. "That age group in particular, like 23 to 25, seem to really love these clothes and love the movie," she says. "I find it so fascinating that it's having this second life."
Ahead, Edwards gives us the scoop on the Uptown Girls costumes, and shares her memories of working with the late, great Murphy.
Molly's Overall Style Had Meaning Behind It
Since Molly is the daughter of a legendary rock star, Edwards had to imagine what that meant for her wardrobe — like pieces she may have inherited from her parents. "We don't know a lot about them in the story, but I always felt that maybe her mom was a beautiful, free-spirited, groupie type and had some amazing vintage stuff. I felt like Molly would have had access to all of that," recalls Edwards. When Molly's in her apartment, you can see a lot of the vintage and antique pieces Edwards used. "I wanted to mix all those together, as past things she might be holding onto, having lost her parents," she adds.
The Denim Overall Dress Belonged to the Costume Designer's Sister
On Molly's first day of the job as Ray's nanny, she wears a denim overall dress that's covered in flower and butterfly patches. The piece actually belonged to Edwards' sister Kate, who is a wardrobe supervisor and also worked on the film. Funny enough, Kristina Watson, the woman who made the dress, is also a costume designer. "She used to babysit us, and she made one for me, and one for Kate, when we were 11 or 12. But the one for Kate was the one that ended up fitting Brittany," she says. (If you look closely, you can see Kate's name on the back of the dress.) Strangely, the dress has been turned into a costume that you can purchase on Amazon.
The Idea For the Lampshade Hair Clip Came From Brittany Murphy
In the beginning of the film, Murphy rushes out of bed at 10 p.m. to meet friends for her birthday. As she starts putting her outfit together, she grabs a tiny lampshade from a tea light candle and smashes it to make a hair clip. That DIY moment was in the script, but it was vague as to what size lamp it would be. Edwards begged for it to be cut because she didn't want Murphy to wear a big lampshade on her head and "look like some terrible little top hat or something." She found the tea lights and handed them to Murphy. "Brittany just kind of squished it into a flower and pinned it into her hair like a barrette. It was fantastic."
Molly's Blumarine Birthday Gown Came Straight From the Runway
The TikTok-famous Blumarine fan dress that Molly wears to her birthday party was always "the one." Edwards even kept the original Blumarine catalog, in which she circled a photo of the dress with a pen. "There was never an alternative; I saw that dress and I really wanted it," she notes. Blumarine's co-founder, Anna Molinari, who Edwards calls a "really kind and collaborative designer," ended up giving her the dress, which was the runway sample. "It was the only one in production at the time, because the collection was just coming out," she says.
The Moschino Doll Dress Had to Be Completely Taken Apart
In the scene where Molly is selling all of her old clothes, she's wearing the aforementioned Moschino Cheap & Chic dress from the Spring/Summer 2002 collection. Edwards says that the dress was sold out everywhere, so they had to take matters into their own hands by drastically tailoring it. "It was a size 12 or something, and Brittany was like a zero, and we had to completely take the whole thing apart and re-cut it to fit her," she explains. Edwards' team shortened it and repositioned it on Murphy's body, but it was worth it. "We were desperate for something for this scene, and I really wanted it to be fun."
Murphy Had a Total of 37 Changes in the Film
Edwards and Murphy had very long fittings, sometimes until 3:00 a.m. "When you have that many changes, you can't do it all in one sitting," she says. She and Murphy worked together to make it look as though the character had "put together her looks out of a closet of stuff that she had," rather than from a store. "We'd think, what could we do with this? We could give it a belt, which she might have done. It was a lot of that, those kinds of conversations. What Would Molly Do?"
Murphy Took a Lot of the Clothes Home
Sometimes stars will negotiate a deal with the studio to take their costumes home (Reese Witherspoon did it for the Legally Blonde films). Murphy also did this with a few of her movies, including Uptown Girls. Some of the pieces she had in her possession included the Blumarine dress, a Victoria's Secret nude slip, the Marc Jacobs blue denim sandals that broke in a scene, and the pink star shoes that caused Ray to remark, "I had shoes like yours once, when I was five." The clothes ended up being auctioned off in 2013, four years after Murphy passed away.
Ray's Style Evolved, But Molly's Style Stayed the Same — for Good Reason
When a character in a movie experiences personal growth, their clothing often reflects that. However, in Uptown Girls, only Ray has a sartorial evolution, as she starts to embrace being a kid, and begins wearing pink and more girly outfits. "I felt like Molly started to have an influence on Ray, as that was the first time in her life that someone had really listened to her and paid attention to her, and even if it's somewhat subconsciously, she starts to lean in towards Molly's world a little bit," says Edwards. However, Molly still kept her carefree fashion sense, which is fitting: By the end of the film, she's on her way to becoming a stylist to the stars (specifically, Dave Navarro and Mark McGrath, who both have cameos in the film). "We were trying to say that even though she was growing up on the inside, she was still who she was, to the end."
Edwards Says Murphy Would Have Loved the Reaction to Uptown Girls
The love for Uptown Girls all the years later feels a little bittersweet to the Edwards. "It makes me happy, and it makes me also a little sad because I feel like Brittany would have loved all this," she says. "She always felt like she wasn't the pretty one. After doing Clueless, I think she always felt like that character in her own mind. I think this would have really been great for her to see how much people love this movie, and love her, and want to emulate her style," says Edwards. "I mean, I won't lie. She was a giant handful, but she had a heart of gold, you know?