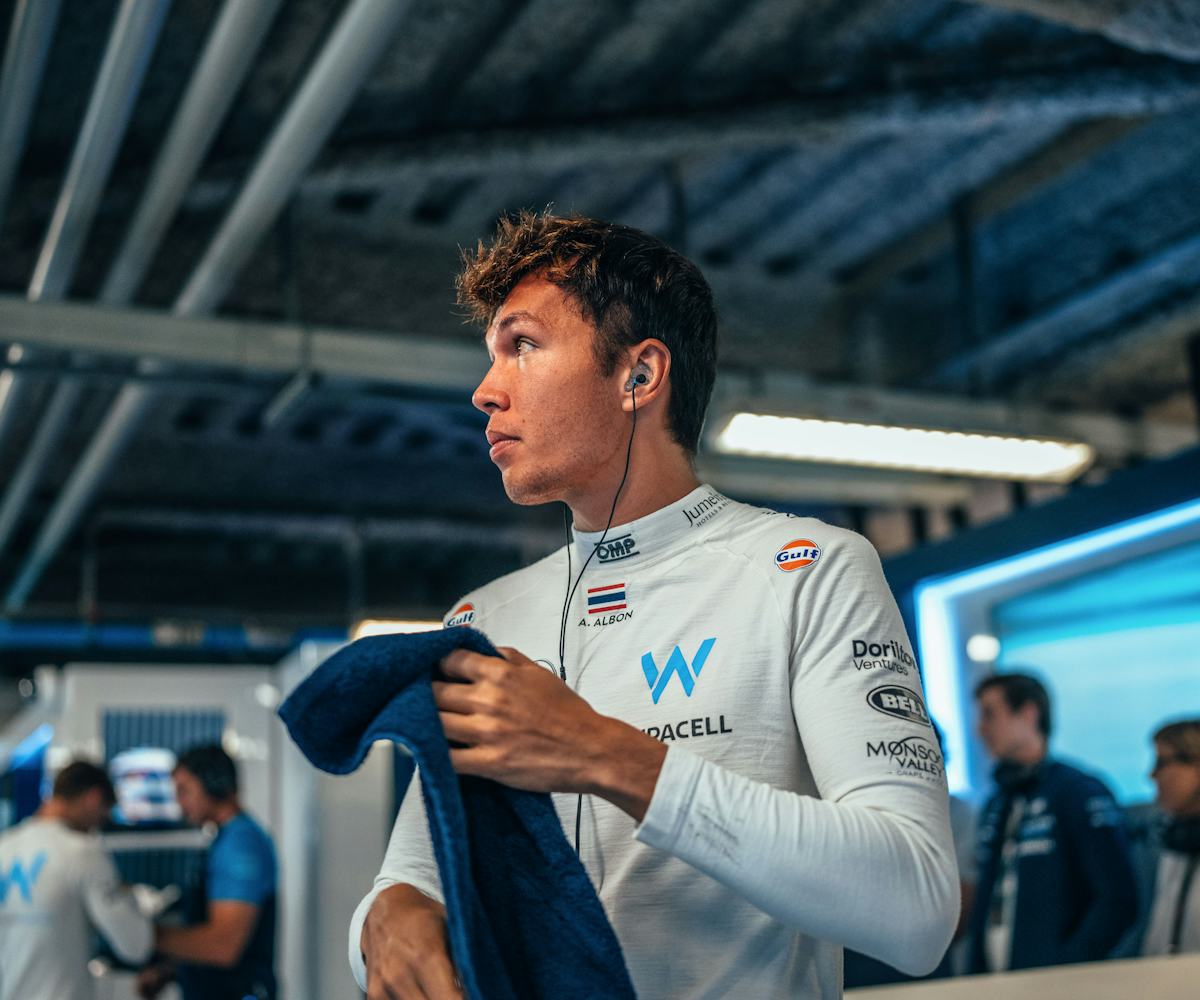 Alex Albon's New Era
NYLON caught up with the Thai-British Formula 1 Williams driver about the Singapore Grand Prix, his latest sneaker launch, and more.
Alex Albon is on the cusp of a breakout.
The Thai-British Formula 1 driver, currently racing for Williams, is no stranger to bad days, but this year, he's ushering in a new era for himself and his team. Albon first got his start in F1 driving for Toro Rosso in 2019 before being a sudden promotion to the Red Bull team through 2020. He then was left without a seat in 2021, forcing him to break from the sport and compete in another racing series, the Deutsche Tourenwagen Masters. By 2022, he made a comeback, joining the Williams team, and has since out-qualified every teammate he's had. Despite the once-reigning legacy team being on the tail end of the grid for a few seasons, this year finally showed promise, thanks in part to Albon.
With 15 out of 22 races completed so far, the 27-year-old scored a total of 21 points, ranking the team seventh out of 10th place, and leading the way ahead of his new rookie teammate Logan Sargeant. Many can agree that though arguably underrated, Albon holds a fiery talent similar to that of his competitors Lando Norris of McLaren and Yuki Tsunoda of AlphaTauri. And with only seven more chances before the end of the season, can he really prove himself?
After a week off before the Singapore Grand Prix, the driver only has 10 minutes to spare amidst the chaos of media day, a tradition ahead of the competition weekend to knock out press conferences and interviews. While on Zoom, Albon admits he's a bit tired fresh off a trip to Thailand just days before, but he's ready to see what the weekend holds — and he's confident that he and his team can bring some promising results.
"We're self-aware as a team and we know the areas we need to improve and I'm really enjoying my racing right now," Albon tells NYLON. "I'm also trying to enjoy being able to try and deliver great results for the team."
Read more ahead as Albon discusses the 2023 season so far, his first-ever sneaker launch, and more.
There was a week-long break before this upcoming race at Singapore. During that time, you visited Thailand. How was your trip?
Firstly, I'm feeling a little tired, but it's okay, we're getting through the day. It's exciting to be back in Singapore — I love coming back here. When I have to come to Singapore, it's also a chance for me to go to Thailand as well, which is always nice. I love the food, the humidity, the heat. It makes me feel weirdly like I'm back at home.
I spent my trip to Thailand visiting my family, but then I got to see the orphanage that I've been working with, which was super cool to see the progress that's being made. We also held a fan meet, which was the first one I've done and it was definitely long overdue. The turnout was amazing, which took me by surprise.
You also released your very first sneaker last week. Is this a subtle launch for an upcoming merch collection, by chance?
More than anything, I love shoes, but it wasn't so obvious at first. A friend of mine, who's also a racing driver, he has a company and we basically talked about launching something and thought to try a little bit of merch. It was nothing big because we didn't know what to expect in terms of interest. I told him I'd look after the marketing and the video, which is what you saw on Instagram. Then, he worked out how to get this thing up and running with the shop and we focused on the quality and design of the shoe, which was a lot of fun. I enjoyed getting feedback on it, and seeing how we were transforming the shoe from what it was to what it ended up being.
It was also a great test run for us to better understand things like shipping. By next year, we want to do a proper merch collection with different styles, including T-shirts. Even though I'm enjoying the process, I didn't realize how much work this really is for someone who is on the road a lot.
How do you think the race season is going for you so far?
The mentality going into every race has shifted a bit from last year, because now we've been in positions where we're going into weekends expecting to score points, which has been motivational and so much more thrilling for all of us on the team, not just myself. We're going into every race feeling like we're on a high, and we're confident. It's good vibes. We've just been in this mindset, almost like this positive spiral where we have even more confidence from it all.
It must be tough to stay strong in F1, whether you're scoring points or not. How are you staying motivated through it all?
I would say the main thing for us is our hunger. We're very lucky people to be in Formula 1 and it's easy to be motivated in our sport, because either things are going well, and you're want to keep that momentum going, or things are going badly. And to survive, you need to make sure that you're doing everything you can to not be thrown out of the loop. The passion I have for the sport is because it's been a dream of mine since I was six years old. Even when I had a year off on the sidelines, I've never been so committed and motivated. That was a year where I tried to do everything I could to get back into the sport. I know this sounds like a first-world answer, but I'm genuinely very privileged to be able to say that "motivation" has never been a problem.
This interview has been edited and condensed for clarity.