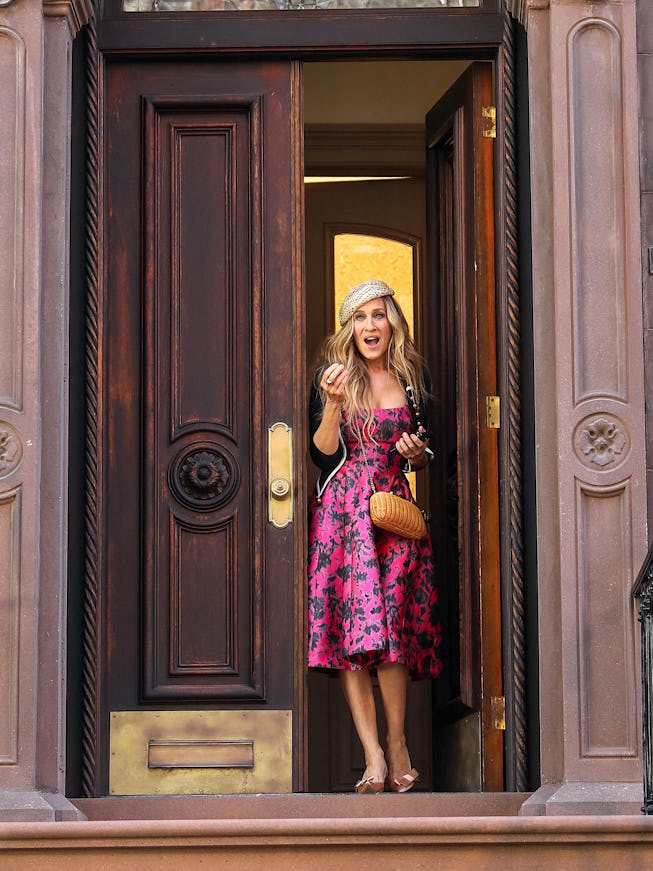 Jose Perez/Bauer-Griffin/GC Images/Getty Images
And Just Like That, There's A New 'And Just Like That' Season 2 Trailer
I couldn't help but wonder...what will Carrie's latest reign of terror unleash on Manhattan?
Cancel all summer travel plans, immediately. The highly-anticipated second season of And Just Like That, the mind-numbingly bad yet completely brilliant Sex and the City reboot series, is coming in June.
The series dropped its latest trailer and it's a time of change for the former foursome. Carrie is no longer using her over solely for storage; Charlotte is diving back into the gallery world, and getting wasted in the process, and Miranda may or may not be realizing that her love affair with Che Diaz isn't as rosy as she realized.
Back in April Sarah Jessica Parker posted a trailer on Instagram with the caption, waxing sentimental in a way we've come to know and love from the woman with a pixelated blue eye as her avatar:
"And Just Like That...Season 2. This June on Max. Thank you to the enormously talented team, both on and off camera, who spent hours and hours working on this next chapter. Making the coldest winter days feel and look like spring and always giving more and better than we could have hoped or dreamt. And to all of you, our beloved audience, who keep these stories alive. This one's for you, Part 2. X, SJ."
For awhile it felt like And Just Like That was doing nothing except staging elaborate photo shoots to drum up drama, such as the images of John Corbett's return as Aidan, arguably Carrie's least compatible relationship. But now it's confirmed that the gang, which, though devastatingly still doesn't include Kim Cattrall as Samantha Jones, but does include Sara Ramirez as the one and only Che Diaz, is in fact returning to the screen — and sooner than a lot of us predicted. It's only been a year since the first season wrapped and the second was renewed for a second season. But if there's anything that can make HBO execs empty their pockets to fast-track a show nobody asked for but everyone can't get enough of, it's this.
Judging from the original trailer, it's unclear the fate of Miranda and Steve — though there is at least one steamy make out scene between her and Che. Hey, at least she's a redhead again! Carrie, meanwhile, is having "exit out of grief sex," Charlotte wants to get on the MILF list at Rock and Lily's uppercrust school and cosmopolitans are now served in coupe glasses. But in the most shocking and least sensical surprise, it appears that Aidan does in fact return. "And just like that, I realized some things are better left in the past," Carrie says. "But maybe not everything."
But in possibly the biggest And Just Like That news, Kim Cattrall will be returning to reprise her role as Samantha Jones, the hands-down greatest character in the series — but for one scene and one scene only.
According to Variety, Cattrall shot her dialogue on March 22 in New York City, without seeing or speaking with the stars of the series, or showrunner Michael Patrick King. Samantha will reportedly have a phone conversation with Carrie from her home in London. And that's not all: Iconic Sex and the City costume designer Patricia Field, who has not been working on And Just Like That, dressed Samantha for her scene.
And Just Like That Season 2 is on the horizon (but far enough away to rewatch Season 1 if you must...) but in the meantime, you can watch the trailer, below.
This article was originally published on