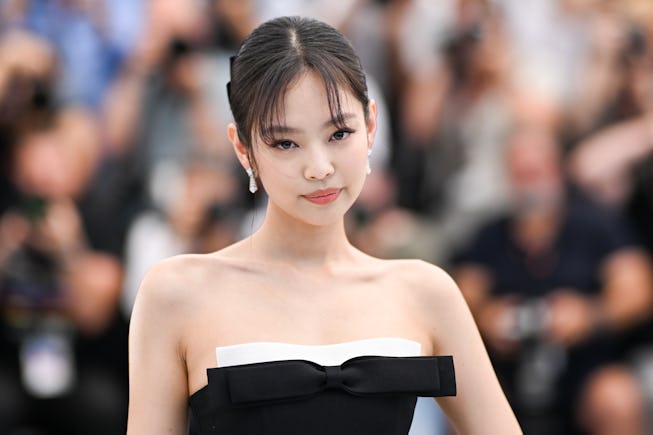 Stephane Cardinale - Corbis/Corbis Entertainment/Getty Images
BLACKPINK'S Jennie Gets Jazzy In "Killing Me Softly With His Song" Cover
Jennie's pared-back cover is yet another entry in the song's storied history.
BLACKPINK's Jennie is one of the busiest women on the planet.
Her duties as one of the most sought-after pop stars of the decade are likely enough to make the average person's head spin, but they're only one part of the 27-year-old's laundry list of responsibilities. In fact, Jennie recently made her on-screen debut in The Idol, the buzzy, moral panic-inducing Max series from "the twisted minds" of Euphoria creator Sam Levinson and Abel "The Weeknd" Tesfaye that had its premiere at Cannes in May.
Following her appearances at Cannes, Jennie headed to Tokyo for another one of her obligations: a Chanel show. Jennie attending a Chanel event is not surprising, considering how she and the French fashion house go way back; she's been a Chanel ambassador since 2017, and even earned the nickname the "human Chanel," according to her fanbase. She also recently became the face of Chanel's campaign for its new Coco Neige collection, as well as the fashion house's campaign for its handbags. But what wasn't expected was Jennie covering "Killing Me Softly With His Song" for the stylish audience at Chanel's runway show in Tokyo on Thursday.
Stripped of her typical pop star high production, Jennie kept it simple with a mic stand and a jazz band as she crooned the lyrics made famous by Lauryn Hill in 1996. Even her outfit was minimal: soft curls, a patterned mini dress, and a simple red lip.
Jennie's cover of "Killing Me Softly With His Song" is yet another in the song's storied history. The song was originally released in 1972 and composed by Charles Fox with lyrics by Norman Gimbel, in collaboration with Lori Lieberman after she was inspired by a Don McLean performance in late 1971. In 1973, "Killing Me Softly With His Song" became Roberta Flack's number-one hit in the United States, Australia, and Canada, and went on to win the 1974 Grammy for both Record of the Year and Best Female Pop Vocal Performance.
Over two decades later in 1996, Jennie was born and Fugees recorded "Killing Me Softly With His Song" with Hill on lead vocals. This version of the song exploded in popularity, becoming a number-one hit in twenty countries, going on to win the 1997 Grammy for Best R&B Performance by a Duo or Group with Vocal. All this is to say: time to get BLACKPINK back in the studio to cover the song, please.