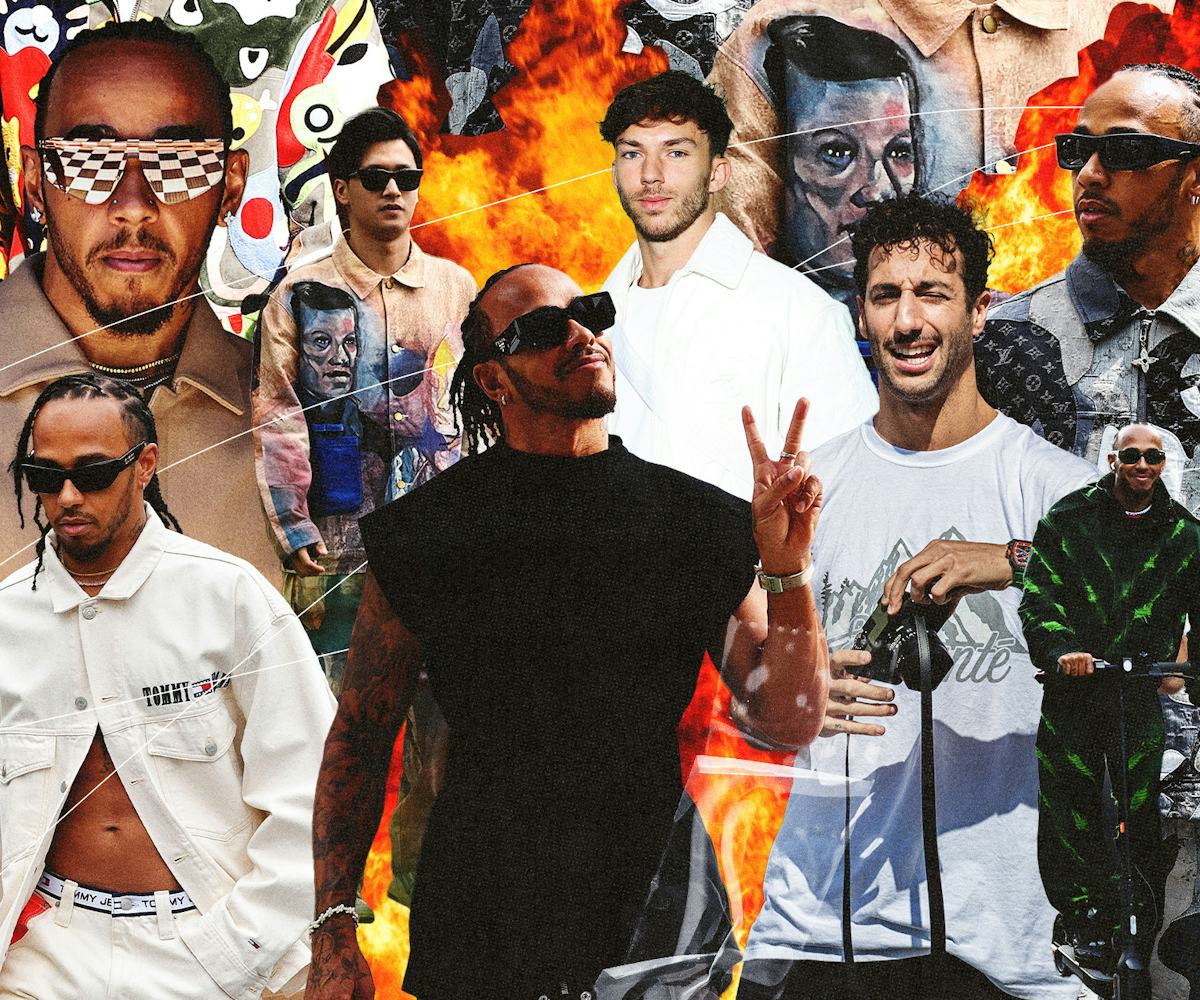 Lindsay Hattrick/Nylon; Getty Images
How Formula 1 Drivers Are Rising to Fashion Star Status
It's no longer just about who the Formula 1 drivers are or the results on the track, but what they're wearing, too.
Being a Formula 1 driver is more than simply knowing how to drive a car. Between traveling the world for more than 200 days out of a year for race competitions, press circuits, and lucrative endorsement deals, there are high expectations — and even higher stakes — involved for these daring open-wheel athletes to also navigate the industry as celebrity figures. Like many of our favorite starlets in entertainment today, F1's biggest names are making a name for themselves in the fashion world, one designer fit at a time.
It takes more to be a top athlete these days compared to decades ago. F1 was historically a side hobby for the rich and ambitious to come together and watch their favorite drivers battle it out. Fashion brands soon flocked to the European motorsport in the form of sponsorships, overtaking the rival tobacco companies in the early '00s. Now, F1 popularity is at an all-time high that has ballooned in the mainstream over the past half a decade, thanks to the acclaimed Netflix docu-series Drive to Survive, which gave fans a new glimpse into the lives of the world's fastest men — literally.
The top 20 drivers who happen to make it into the cutthroat game are challenged in over 20 cities across the globe. The rise of F1 driver fashion and the sport's adjacent motorcore trend has steered into high fashion, and every race weekend is a glamorous affair filled with so many celebrity fans and stylish attendees that they've become fashion shows in and of themselves. What are hot guys in fast cars and with lots of money if they're not seen in a few expensive outfits here and there?
For longtime fans like Molly Elizabeth Agnew, a 21-year-old fashion writer and commentator, the role of an F1 driver is definitely changing. As a self-proclaimed "lifelong Lewis Hamilton and Sebastian Vettel supporter," she recalls watching the sport growing up with her classic race car-driving father. "F1 has always been a constant in my calendar and something that I, quite literally, cannot imagine life without," she tells NYLON. "Attending the Goodwood Revival at around age 8 or so monumentally changed how I view not just F1, but the social impact of motorsports in general." Agnew notices how drivers, guests, and staff are typically dressed to the nines, solidifying that the sport is, in general, "just as much about a social experience as they are, well, the actual cars." Agnew adds that drivers are viewed as celebrities thanks to the exposure via Drive To Survive, Liberty Media's acquisition of the Formula One Group, and the increased efforts to bring the heritage sport to a younger generation.
Like other athletes from soccer and basketball, among others, F1's sartorial ascent is inevitable and it's slowly catching on to the drivers on the grid. While during competition time, the boys are seen in team-branded utility jumpsuits and decorated helmets, they're not too shabby off the track. With a stream of unfathomable amounts of cash circulating the industry, there's more room for F1 fashion to thrive — and it's well worth noting that drivers make anywhere from $1 million to $55 million on a sports salary alone.
This driver style is different yet similar in many ways depending on the person, according to Kanika Talwar, a 25-year-old business reporter at WWD. She says that most of the grid, like Red Bull's Max Verstappen, is often seen walking around the paddock in workout gear or his team's merch. Others, including Ferrari's Carlos Sainz and Mercedes' George Russell, are notorious for their preppy luxury 'fits even off-season. "During the breaks, I've noticed that many of the younger drivers who reside full-time in Monaco opt for colorful lightweight fabrics because of the mild Mediterranean climate such as linen suits and cotton pieces," she explains.
Phoebe Beirne agrees that some drivers are more "fashionable" than others. "One example is Charles Leclerc who works with reputable brands such as Giorgio Armani and Richard Mille, so he's seen in a suit often," the 21-year-old fashion student says. "George Russell, who is originally from the U.K., dresses in classic British preppy style with straight-leg chinos and polos or button-downs. Lewis Hamilton's style is completely different, as he wears more statement and high-fashion pieces like bright tracksuits and coordinated sets."
The F1 fashion-related discourse has taken to new levels online. Many fans are keeping up to date with paddock style every race weekend by stalking Getty Images and refreshing fan pages — some accounts bursting with thousands of followers who, like us, are wanting to know who and what they're wearing according to their stylists. Hamilton, dressed by Eric McNeal, is "undeniably at the heart of fashion in F1," Agnew says. "His appearances at events such as the Met Gala and sitting front row with Zendaya at Valentino runway shows remind the whole globe, and the F1 community, that athletes can be multidimensional and, most importantly, stylish."
Fashion and motorsport continue at fashion events, where drivers are treated as A-list celebrities: Ferrari's Charles Leclerc and Carlos Sainz attended the team's fashion shows in Paris; AlphaTauri's Yuki Tsunoda and Nyck De Vries unveiled their car, and a slew of new clothes, in New York; Alpine's Pierre Gasly attended the Louis Vuitton Fall 2023 Menswear show, while his teammate Esteban Ocon went to Givenchy's 2023 show; Aston Martin's Fernando Alonso has covered BOSS campaigns — and that's not even all of it.
In April 2022, Vanity Fair also did a fashion spread about the sport and the popular DTS including stars like McLaren's Lando Norris and Daniel Ricciardo. "This is one of the biggest intersections of fashion and F1 I've seen to date," Agnew says. "The article even talked to up-and-coming New York mainstay Sandy Liang who is a fan of the show. While the piece did generate some ridicule online, [the cover] was as big a sign as any that driver image is now about more than just a papaya McLaren hoodie."
But the whole "F1 fashion" umbrella doesn't necessarily cover all the drivers. "With all due respect to the majority of the F1 grid, drivers don't tend to have the best style. Realistically, why should they? They're there to drive fast cars and win races," Agnew adds. However, there is certainly something known as paddock style — drivers and team members are under regulations to wear team merchandise most of the time they are at the track, drastically limiting any sartorial flair. This paddock style, she mentions, has given fans a new aspect of the sport to keep up with and discuss on social media. "Hamilton and Alfa Romeo's Zhou Guanyu are really leading the rest of the pack, arriving on the track in colorful, oversized designer looks before changing to team-based merchandise."
Much of the drivers' fashion tastes can likely be attributed to their partners. Their jet-setting lifestyle affords them not only a hefty paycheck but plenty of high-profile opportunities to strut in style. Talwar says that with an exception of Hamilton (who notably dated Nicole Scherzinger on and off for eight years), all of the driver's WAGs — wives and girlfriends — are showing their boyfriends up in the style department. "Max Verstappen's girlfriend Kelly Piquet, daughter of retired Brazilian racecar driver Nelson Piquet, is super involved in the fashion world — as seen on the cover of Vogue Netherlands, doing campaigns with Paige and Cartier, and attending Louis Vuitton, Akris and Tod's fashion shows," she explains. "George Russell's girlfriend Carmen Montero Mundt works in finance but I think she has the most impeccable and consistently elegant style. Alex Albon's girlfriend Muni 'Lily' He is a professional golfer and she has got chic timeless looks down, on and off the golf course. Esteban Ocon's model girlfriend Elena Berri does off-duty model style super well."
As the sport rises to popularity, so will the expectations surrounding the drivers' appearances. Fans like Bierne believe that we can expect more partnerships with the sport and luxury brands as seen from retailers like PacSun, Reiss, Tommy Hilfiger, AlphaTauri, Ferrari, and more, and for people to keep an eye out on its evolution. "Driver fashion is only going to get bigger in the next few years as F1 gains more interest every day, and more merch is being produced as a result of it. I also think driver fashion will be more focused on females, as I have seen more videos of women putting a lot of thought into what they will wear to the races and showing up in fabulous outfits." She even notices people on social media are dressing in racing outfits, like vintage Ferrari and embellished Red Bull jackets. "Dedicated F1 fans hate this though because they strongly believe that only true fans of these teams should wear them and they shouldn't be worn just for the 'aesthetic' or solely for Instagram likes. It can be hard to figure out who is a real fan of F1 and who isn't, based on this."
Talwar also says she wouldn't be surprised if more luxury fashion maisons in Europe tapped into this trend, especially since a majority of the drivers originate from there. "I personally would love to see more drivers getting into the fashion lane — it makes complete sense," she explains. "There are plenty of opportunities like Lewis Hamilton has shown walking into the paddock, for fashion to be included in the conversation. The F1 fan community is huge, and especially with younger fans and women getting more involved and interested in the sport, it'd be great to even have their favorite drivers and team get dressed by them."
"There is no questioning the involvement of fashion in F1 anymore," Agnew says. "Fashion will only continue to become more integral to drivers' and teams' PR tactics and image building. A team that can market itself to the youth with trend-focused clothing items and stylish drivers will no doubt find itself with more fans, more sponsors, more profit, and, perhaps, even more wins."