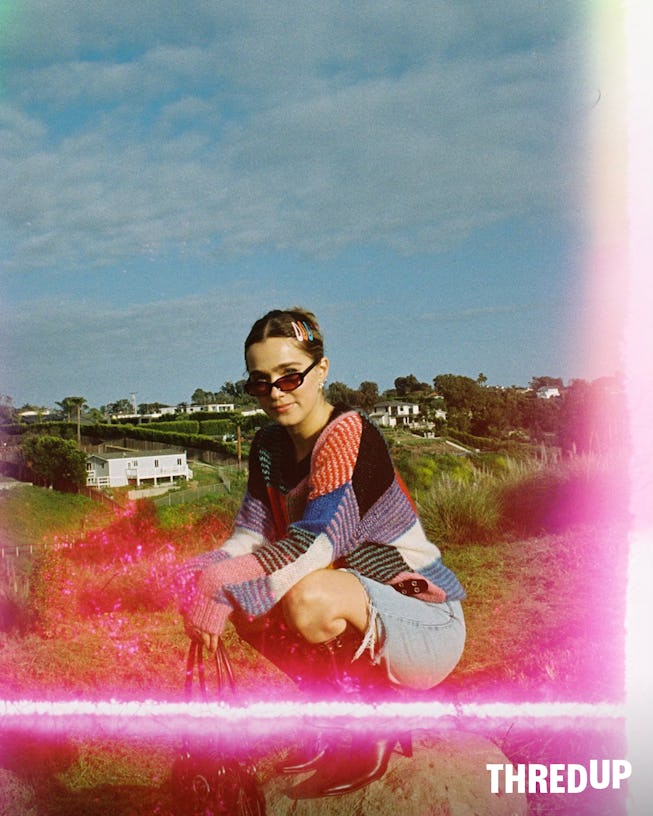 ThredUp
Step Into Haley Lu Richardson's Eclectic Grandmother Closet with thredUP
The actress and clothing obsessee is just like us: cleaning out her closet.
Earlier this year, Haley Lu Richardson became known for fashion. More specifically, for the Lisa Says Gah-inspired, see-what-sticks amalgamation of TikTok trends of her character Portia on The White Lotus, whose pattern-clashing ensembles became a bit of a running joke.
But outside of the screen, Richardson's style doesn't overlap much with Portia's — but there is one aesthetic where there may be some crossover.
"I would definitely say that I am a grandmother in my fashion sense," Richardson tells NYLON. "The grandmother with bright blue hair."
It's a style Richardson has cultivated in her years of avid thrifting. This girl is the real deal: She once bought a Valentino dress for approximately one hundred dollars and cut the bottom of it into an asymmetrical, fairy-like skirt. Now, we can all share Richardson's love of thrifting — she's selling 100 items from her own closet on thredUP, in an exclusive summer shop that launches today.
A few notable pieces from Richardson's own closet include the tourist t-shirt she wore while filming The White Lotus in Sicily, the Marc Jacobs bag she wore when she met the Jonas Brothers ("I feel like I'm going to regret it," she says), and a pair of Aldo platforms that stylist Sean Knight customized for her to wear to the Indie Spirit Awards.
The partnership comes just after thredUP released their 11th annual Resale Report, which found that 83% of Gen Z have shopped or are open to shopping for secondhand apparel. Luckily, shoppers will also be able to shop thousands of pieces inspired by the pieces Richardson hand-picked on thredUP for her own wardrobe.
NYLON caught up with Richardson ahead of her thredUP collaboration about Portia's style, meeting the Jonas Brothers at age 12, and the piece she's most excited about selling.
I would love to hear a little bit about how you like to thrift. What kind of pieces do you look for? Do you have eras or fabrics, patterns you gravitate towards?
I think the '90s will always be solid. Just the fit of a '90s dress or skirt or tank or something, I think it's just always something that I feel good in and I think is cute. But then adding, obviously all the Y2K sh*t is pretty cool these days, and I do love a lot of it.
My best friend Caitlyn, we thrift a bunch together. We always joke that I'm drawn to grandmother pieces and she's drawn to grandfather pieces, so I would definitely say that I am a grandmother in my fashion sense.
Totally. Cousin to the coastal grandmother.
Yeah, the grandmother with bright blue hair.
Your character Portia became very famous for her style on The White Lotus. Did you have any favorite outfits from that role?
I think my favorite pieces or outfits of hers would be more so like me, thinking for her as a character. I'm trying to think if there's anything that she wore that I was personally really obsessed with. I did love that, someone told me yesterday it was called a Bolero, the long-sleeved sweater that I wore to the beach club with the sleeves. It wasn't an actual top, but that I love, and I would definitely wear that in life. Again, I think it's kind of eclectic grandmother in a way.
What is your favorite piece in your thredUP collection?
Something that I'm selling that honestly, it was hard for me to say goodbye to, but realistically, I have worn it probably once or twice in my entire existence because I live in a place that's very sunny. But it's this shearling coat that I thrifted originally in Montana. I was filming this movie called Montana Story in Bozeman, Montana. And I love thrifting all the different places that my job takes me. I love seeing what kind of thrift is there and Bozeman, Montana had the best old clothes ever.
Maybe it's because of this cowgirl body or something, but all of the vintage Levis just fit me perfectly. They were all hemmed for short legs and round butts. And it's normally so hard for me to find vintage Levis. But that shearling coat is beautiful, and I hope that someone gets it and really appreciates it and lives in a place where they actually need it.
What's your favorite piece you've gotten from thredUP?
My favorite thing that I got on thredUP would be really hard to pick. You know what I did that was crazy of me that I wouldn't usually be able to do? The cool thing about thrifting is you can get stuff for so much less money. There was this Valentino dress that I got that I think was maybe under a hundred dollars. I got it and I had vision for it of cutting the bottom of it. Obviously, I would've never done that if it was new and I spent thousands and thousands of dollars on it. I cut the bottom of it to be kind of asymmetrical and a little bit funkier, and it looks so cool. And I would've never felt like I had the freedom to do that if it was a new article of clothing. I remember thinking when I was cutting this dress with scissors, I was like, "This should be illegal." But honestly, I love it. I made it kind of asymmetrical fairy skirt.
I hear that one of these pieces is tied to a childhood crush.
Oh, yes. I am selling the very purse that I had over my shoulders when I met the Jonas Brothers. I'm pretty sure Nick, Joe, and Kevin all rubbed up against this purse when I was hugging them. I first met them when I was 12 at a meet-and-greet, and I didn't have this purse then because I didn't own things quite as cool as this purse when I was 12. In fact, when I met them when I was 12, I had braces and a unibrow. So I was definitely not peaking at that time. I met them again earlier this year, and then I was in their music video and everything, which was kind of the coolest thing I've ever done in my life. So this purse was the purse I was wearing to their concert in Vegas, and then I met them before that concert.
Honestly, I feel like I'm going to regret it. It's a really cute purse. It's like sequined little ballerinas and feathers. It's really cute, but it's not fully my style now. But I just dress crazily as this concert. I was wearing this shimmery disco skirt, and I was like, "Ooh, this purse would actually go great with that." But before that, I hadn't worn it in, I don't know, a couple years. I knew that it could be getting better use somewhere else. And I do like when things are used and loved. That's why I love thrifting is because that stuff's wasting away. I'll find it and it's the best thing about life. That was dramatic, but kind of true.
This interview has been edited and condensed for clarity.