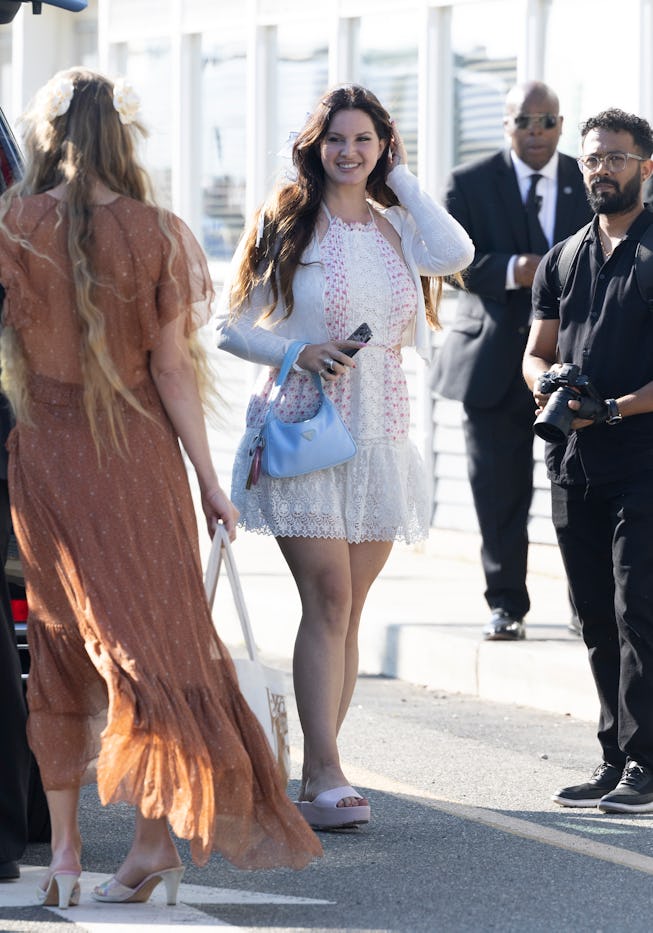 Peter Cruz / SplashNews.com
Lana Del Rey Wore A White Dress To Jack Antonoff & Margaret Qualley's Wedding
From the Men in Music business conference to an A-list wedding.
Any Lana Del Rey scholar can tell you that before she was a critically-acclaimed singer-songwriter, she was a waitress wearing a white dress. (This, of course, was down at the Men In Music business conference in Orlando. She was only 19!) These days, she's still rocking a white dress from time to time — like her friend and collaborator Jack Antonoff's wedding to her other friend, actress, and the titular Margaret from her song "Margaret," Margaret Qualley in New Jersey.
As the living embodiment of Americana pastiche, Del Rey's sartorial evolution has taken her from the old Hollywood glamour of her Born to Die days, to a dip into the neon world of "an Instagram Baddie and/or YouTube Vlogger," and to her current chapter of dressing of like the most congenial sorority girl at a mid-size southern university.
For Antonoff and Qualley's star-studded wedding, Del Rey wore a halter dress from LoveShackFancy, complete with a romantic rose motif, lace and ruffle detailing, and a summery cutout at the waist. Del Rey's wields a mastery of mixing high fashion with Amazon Prime Day couture, its latest iteration in her wedding accessories: the ubiquitous Prada Re-Edition 2005 Re-Nylon mini bag in powder blue and baby pink Lemon Jelly platform slides. In true Del Rey fashion, the singer also wore the wedding outfit during a run to a local 7-11. (She can only be herself!)
Following the Antonoff-Qualley nuptuals, Del Rey announced a tour in support of her sweeping album Did you know that there's a tunnel under Ocean Blvd? The tour is an extremely limited run, with only 10 shows in September and October. She's also unsurprisingly skipping most major cities and staying in the greater south of the country.
Del Rey has already spent a bit of time in south this summer, specifically Alabama, where she was spotted moonlighting at a Waffle House waitress. Fingers crossed that the tour stops will include more diner shifts as potential album research.