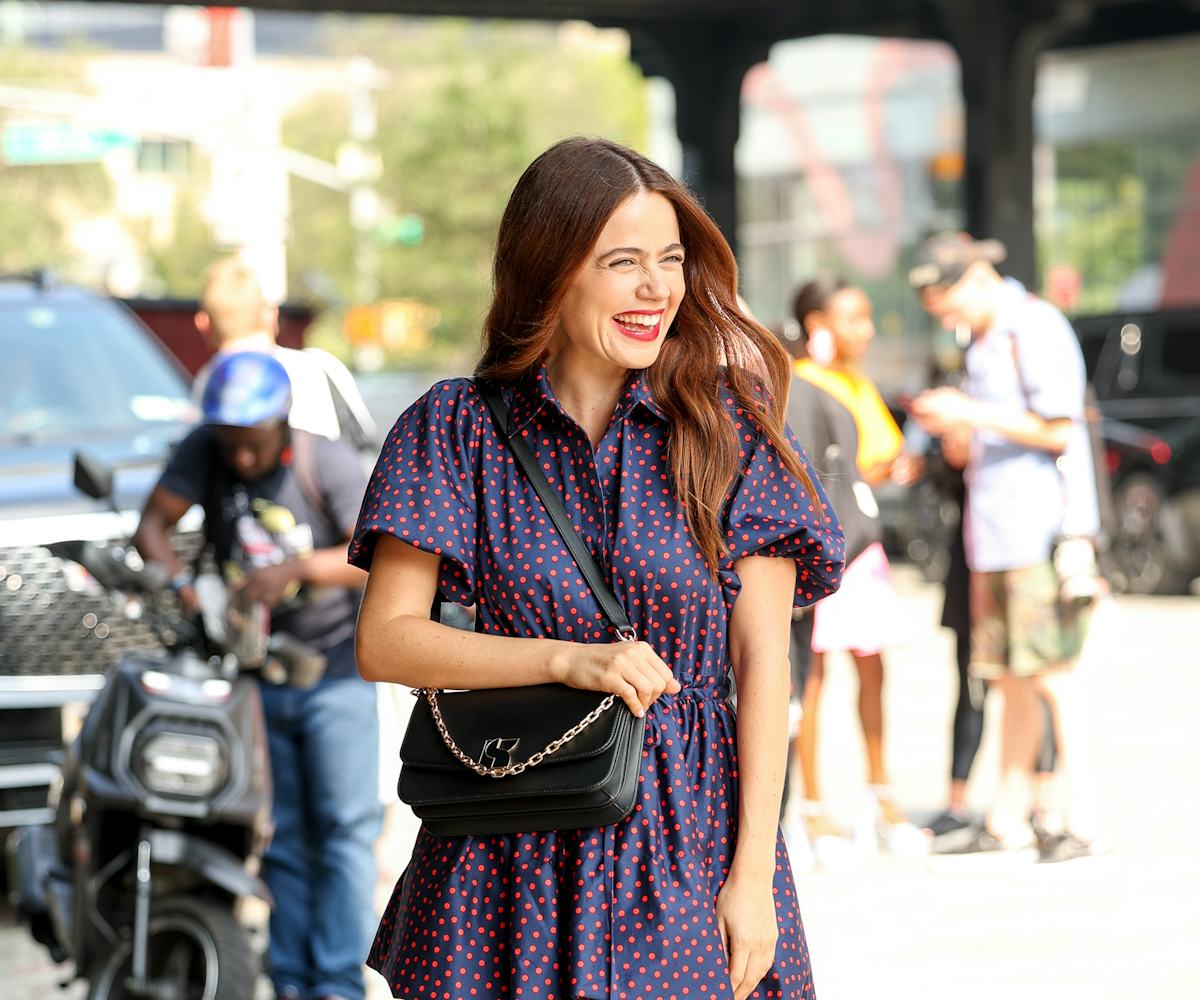 Molly Gordon Finds Polka Dot Bliss In Kate Spade Spring 2024
NYLON caught up with the actress at the Kate Spade Spring 2024 preview during New York Fashion Week.
Kate Spade unveiled its Spring 2024 collection at New York Fashion Week last Friday — revealing whimsical rosettes, drapey sequins, and eye-popping colors for a "sportif" collection that blends casual silhouettes, modern tailoring, and easy glamor.
Already rocking Kate Spade's itty bitty polka dots? Molly Gordon, NYLON's July It Girl, whose roles in The Bear and Theater Camp are cementing her as a star to watch. (And everyone's taking notice, from Kate Spade to Rodarte, who featured her in the Spring 2024 Ready-to-Wear lookbook, alongside Lili Reinhart, Ayo Edebiri, Melanie Lynskey, and more.)
NYLON caught up with Gordon at the Kate Spade Spring 2024 preview at the High Line at the start of NYFW, where she talked about her favorite pieces from the collection, her go-to pair of shoes, and her early interest in fashion.
Molly GordonBen Rosser/BFA.com
Molly Gordon and Stephanie HsuRyan Kobane/BFA.com
Molly Gordon, Christina Ricci, and Stephanie HsuBen Rosser/BFA.com
How is your Fashion Week going so far?
It's good. I just got in a day ago and I went to a lovely Chanel event and it was really cute, but very hot, and I felt bad I sweat in my Chanel. It's been nice because I get to see people that I love, like Stephanie Hsu, and that's the best part of it.
Have you always had an interest in fashion?
I had a dress up box as a kid and I would always be putting together very strange outfits. An extreme perk of this job is I get to wear amazing creations of people, so I feel really lucky and they help me take more risks with my own fashion, too.
Do you have any favorite pieces in your closet?
I have a pair of vintage loafers that I wear with everything — and then like, 15 different polka dot dresses, so this is just kind of my vibe I would say.
You're a polka dot girl?!
I'm a polka dot girl, yeah!
What's your favorite piece in the new Kate Spade collection?
I really loved what Stephanie Hsu wore. I thought it was really cute and wearable and like my dream, casual, "I'm cooking a roast chicken and inviting people over outfit" if I ever cooked. That would be the dream. That's what I would wear.
This interview has been edited and condensed for clarity.