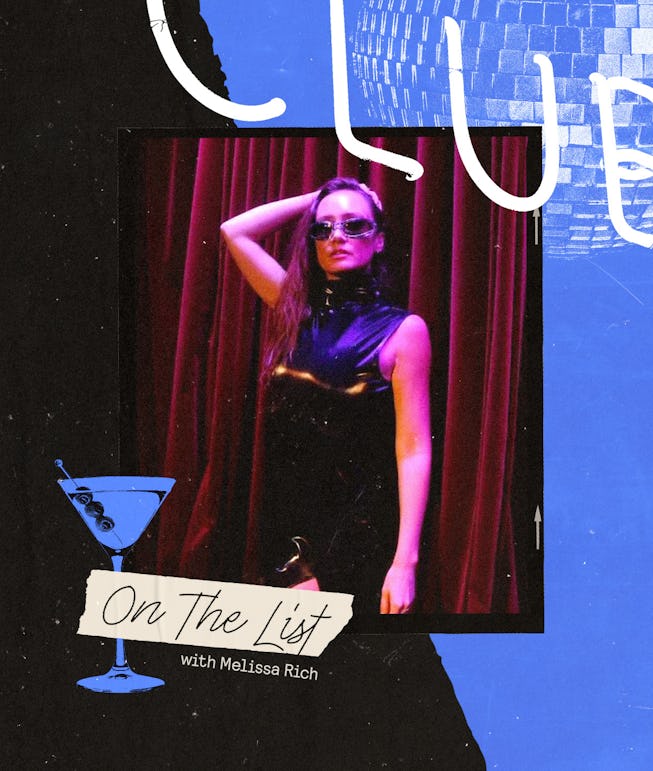 On The List (With Melissa Rich): How To Party Like The Pros
The ultimate partying handbook, brought to you by the NYC Office of Nightlife and NYLON.
Welcome to On The List (With Melissa Rich), NYLON'S column with comedian Melissa Rich, here to illuminate the state of nightlife, one party at a time.
As party girls return from trips to the Amalfi Coast or arrive in the city for classes to begin, it's an important time to revisit tips to stay safe while enjoying all that New York City nightlife offers.
Earlier this year, I looked into NYC's Office of Nightlife, a part of the mayor's office that helps to provide a "viable, safe, fair and well-managed nightlife environment," complete with resources that promote health and wellbeing and guides to taking action to prevent opioid and fentanyl overdose. There's also webinars with support groups, information about starting a nightlife business, as well as programs for anyone working in bars or clubs, or even freelance gigs. Personally, I signed up for the Naloxone training, which gives participants a (free!) Opioid Rescue Kit. It's an office that's truly looking out for New Yorkers.
As a seasoned party girl, any time I've found myself in a bit of late night trouble, there was always an easily avoidable element; my phone wasn't charged, a friend left without telling me; or, classically, I didn't have dinner for some reason. Preparing for a night out helps guarantee a great time and allows you to be ready for whatever spontaneous opportunities arise. Some things may seem obvious, like making sure you have a valid ID before a night of party hopping, but often those are the easiest to forget and ultimately the most important.
Ahead of a new season of going out, the Office of Nightlife gave NYLON ten tips to remind us all of the safety essentials that let the party keep carrying throughout the night.
Location, location, location
While sharing your location does have the potential to start drama in the friend group, it's a great way to make sure that everyone is safe. Always keep your phone's location on and tell your friends where you're going and with whom, especially when you're meeting someone for the first time. This includes first dates, new hook ups, business drinks, etc. If you're leaving the bar before the rest of the group, let them know you're going (and where) before you leave. If you can't find them, hit the group text. And, of course, never leave a soldier behind.
Your drink is your hottest accessory
A drink in your hand looks great with whatever you're wearing. Think of it as an extension of your purse; a fun clutch that deserves to be watched and protected. This goes without saying, but if a magical drink appears without seeing a bartender make it, that's a no. Drink left in the bathroom? Thank you for your service, vodka soda. Drink left sitting on the bar while your back was turned? Onto the next G&T. If a drink leaves your hand or your sight, it's time to set her free!
Work within your limit
What's a free drink that will keep your night going on the right track? That would be water, babe. Ordering a seltzer after you've had a few cocktails is not only chic, but also could be the difference between a messy night and a great one. Getting another round of shots always sounds fun, but knowing when to hold off is what makes a Party Professional.
Be a good bystander
"If you see something, say something," applies particularly in nightlife. Look out for fellow party girls and never hesitate to find a bouncer if something suspicious goes down. Getting someone out of the space who's causing problems is your civic duty! Everyone deserves to feel safe and have fun.
Preventing overdoses
Testing your party favors is crucial. Fentanyl test strips are widely available, often for free, and carrying Naloxone (NARCAN®) is easier than ever. (Don't forget about the Office of Nightlife's NARCAN Behind Every Bar campaign that does exactly that.) Approach a bartender if you see someone who might be in trouble. No questions asked!
Safe sex is good sex
Whether it's a new hook up, a situationship, or a friend who's more than a friend, giving and getting consent is the first order of business. Being prepared and having protection ready to go is the easiest way to prevent STIs and awkward conversations. Get tested regularly and know that while it may not be a blast, there's no shame in getting and disclosing STIs.
Charge your phone, babe
Duh: a charged phone is the most critical nightlife tool you can carry. Bringing a portable charger can be the difference between finding your friends quickly at a crowded rave or wandering around for two hours looking for them. It's especially important for getting transportation home. Speaking of which…
Check the license plates
It's easy to assume when a black Toyota Camry pulls up that it's your black Toyota Camry. However, there are many Toyota Camrys out there and it's important to find the one meant for you. Confirm the license plate number before you get in and always ask the driver who they're looking for, as opposed to announcing your name when you enter. This proves they have the rideshare app and that you're in the correct vehicle. Never put a friend who's had too much to drink in a car alone. You can always add a stop once they're home safe and sound! And most crucially: Don't accept a stranger's ride.
Have a travel plan
We might not be getting on a plane, but going out in a group is still a trip we're taking together. Move as a unit! If the group arrives together, have a plan of where the night might go and how everyone will get home. Will there be twists and turns? Of course. But make sure that if and when new locations are introduced, no one is left behind. New characters will enter; if they're strangers, make sure to know their names and tell the group before leaving with one.
Be aware
Unless there's another mission for the night, for example, getting some light revenge, making an ex jealous, or finally securing a longtime crush, having fun is the first priority. To do that, it's important to have your wits about you. Use your intuition when interacting with people. If the vibe is off, leave the conversation. Make sure to know where the bouncers and exits are in case you need one or both. Trust yourself to know if you feel unsafe and never hesitate to leave when you do. There's always another party — or pizza rolls at home.