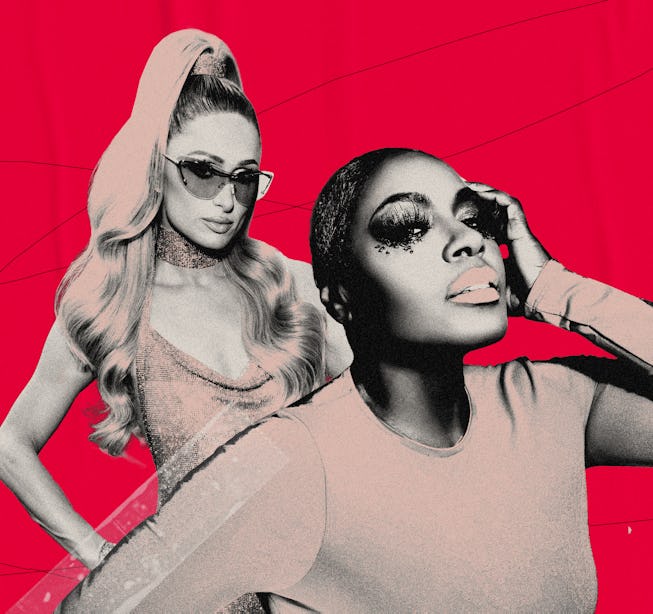 Paris Hilton/Ultra Naté
Paris Hilton & Ultra Naté Are Ready To School You On Nightclub History
Lifelong club kids Paris Hilton and Ultra Naté discuss the beauty of the club world, their podcast The History Of The World's Greatest Nightclubs, and more.
Paris Hilton is so many things: a chef, a DJ, an author, a fashion icon, a mother. But for most of her life, at the center of her big heart, she's been a club kid.
Now, on The History of the World's Greatest Nightclubs, the new podcast from Hilton's media company 11:11 and iHeartPodcasts, she and DJ, musician, and nightlife legend Ultra Naté are helping to tell the stories of the clubs that changed nightlife forever.
"I feel like I am who I am because of the clubs," Hilton tells NYLON.
HIlton became famous, or infamous, in the mid-2000s for partying. In the last few years, there's been somewhat of a cultural reckoning around the villainization of young, beautiful women who wanted to simply live their lives. But at the heart of partying is a self-expression, an urge to be free. The club isn't about getting drunk or doing drugs; the club, for many, is a life-saving, necessary force, a place to let go, a place to give yourself over to something bigger. For Hilton, the club is where she's always felt most at home.
In fact, it was one of Naté's songs that gave Paris this feeling. In the late '90s, she was at a club in New York. She had just gotten out of the Troubled Teen Industry, where she experienced mental and physical abuse, and heard Naté's song "Free." The song, she says in the first episode of the podcast, filled her with "an unimaginable amount of hope." It became her anthem; Hilton has gone on to be the most highly-paid female DJ in the world, and the song still brings her to tears when she plays it in her sets.
History of the World's Greatest Nightclubs is a love letter written by those who were there, and Naté interviews people like the club-going downstairs neighbor of Alton Miller and George Baker, the founders of techno who opened The Music Institute in Detroit, a short-lived, Black-owned club that was the birthplace of the genre. Or the bartender who, along with Sade, slung drinks at Danceteria, the Chelsea club where the Beastie Boys were bussers, Keith Haring painted the walls, and where Madonna first performed.
NYLON caught up with Hilton and Naté to talk about their first and favorite club experiences, (including Hilton's long-running Foam and Diamonds party in Ibiza), her upcoming album, and more.
Can you tell me about your first nightclub experiences or early club experiences?
Paris Hilton: The first time I went into a real nightclub was when I was 14, maybe 13. And it was after a New Kids on the Block concert and my mom's friend Adora took myself, her daughter, and then my sister Nikki backstage after the show. The boys were like, we're going to this place called Bar One, which is now this place in LA called Bootsy Bellows. But back then it was Bar One. I still remember walking in and feeling the energy, the vibe, the music, and it was so cool. All of a sudden my Aunt Kyle was there on the dance floor and saw my sister and I who were children at this point. She was on a date, like dancing on the dance floor, saw me and Nikki and was like, "What are you guys doing here?" That was my first experience in the nightlife and I was like, "I need to come back here." I feel like the nightlife has just always been such an important backdrop to my life and my love of music and DJing. I feel like I am who I am because of the clubs.
Ultra Naté: My first first time going in a club was actually going into Odells, which was a huge club in the inner city of Baltimore where I grew up. It was pretty much built on the template of what Paradise Garage was, so it was like our version of a garage in that it also had a Richard Long sound system. The music format programming was pretty much what was coming out of New York, what was coming out of Chicago, it was danceable R&B. A friend of mine, a young lady I had just met, had invited me to go. I was still in high school. I remember it was a Thanksgiving holiday weekend, so we had a long weekend and when I went to the club, because it was a holiday weekend, it was crammed. I remember clearly just dancing shoulder to shoulder with perfect strangers and we were packed in there like sardines and it was hot, but the energy was on 1000: the music, the sound system, that was my first baptism into real sound system culture and the appreciation of that. It made me really appreciate what good sound brings to a party experience because it was really immersive. I was instantly addicted. I had to be there every weekend for every party for everything.
What is the role of the club in your lives now?
UN: I'm still a club kid, actually. I don't get the opportunities to go out and dance the way I used to, but I do still make a point to go to other events and have that moment to get lost in music. I think it's very important for my psyche. It is just part of my DNA to dance and to have that sort of spiritual release that clubland brings. You know, obviously wrapped around my business as well, so I'm kind of involved in it from all sides as a party promoter, as an artist, as a DJ, I'm living it from all sides of the coin and as a club kid on the dance floor, which I think kind of gives me a little bit of an edge to bring a great party experience because I'm still a club kid at heart. It's still very, very important to me in that way.
PH: I will always be a club kid at heart as well. I feel like it's all about sliving, and music has been such an important part of my life. There's nothing like being on stage, playing in front of hundreds of thousands of people and seeing everybody light up and smile and dance and sing and be so happy.
I really see DJing as an art form and I've been so lucky to DJ all around the world at the most incredible clubs and music festivals and really take my fans on a journey through the music. I was so excited to create a podcast like this, to be able to honor and pay homage to all these legendary DJs, like Carl Cox with his residency at Space and Tony De Vit who played at Trade in London, Kevin Sanderson at Music Institute, and other legends like Larry Levan and Frankie Knuckles, Victor Calderone, and so many more. It's amazing to be able to tell all these really incredible stories that people need to hear.I'm so proud of this podcast and how it turned out.
Do you have a favorite club of all time?
UN: That one's hard. I mean, I've been in clubland now for 30 years and experienced all sides of it, from small clubs to mega super clubs. Seeing the evolution of clubs over the years, it's really about the experience and the people, the energy that people give off, the love that's in the room and then all of the technical things that go along with it and just the amazing talent that you find in that space, the relationships you build in that space. For me, it's really hard to narrow down to one in particular, which makes the podcast itself so great because as soon as people hear it, they're gonna be like, "Well what about this one? And what about that?" People are automatically engaged because they have such personal relationships with so many clubs around the world. I think the ones that were chosen for this first season are really marquee clubs or club nights that will resonate with a lot of people. Even people who weren't a part of those scenes, they're finding it really engaging and educational, and they're living vicariously through these stories in that way.
PH: One of my favorite clubs in the world is Amnesia in Ibiza. I had my DJ residency there for seven years straight and I had my party called Paris Hilton's Foam and Diamonds party, and it was so incredible. Then I would do it once a month for the children and everything would go to charity and we would have like hundreds of kids coming and dancing to really fun sets. I put together Katy Perry music and Britney and all the icons and it was so cute to see all these little kids dancing.
My favorite club now is Zoo at Resorts World. I think that venue is just epic, everything about it: the sound system, the lasers, the light, the visuals, the setup of it. Playing there, the energy is so amazing and I feel like they really took the best parts from all the best clubs in the world and put it into one space and it's just epic. That's my favorite hotel in Vegas.
Paris, I would love to hear a little bit about the inspiration behind "Hot One" and what we can kind of expect for the album.
PH: That song was produced by Alex Chapman and the response has been so incredible. We've been in the studio and I really want this album to be very eclectic, like me. We have so many incredible producers and writers and so many really brilliant and talented people. That song I thought was perfect for the summertime. And then also I just did my whole Taco Bell campaign, so "Hot One" obviously worked with that perfectly as well. It was so much fun to release a song with one of my favorite iconic brands. I was in the studio last night and it's been so much fun to get back in the studio and record. I am so proud of this new album. It's turning out to be so incredible.
You recently performed for Pride in LA and New York. What was that like?
PH: I did my first ever live concert at the Fonda Theater for Pride and it was literally one of the best nights of my life, just feeling all the love in the room. It was such a magical and special feeling and performing all my songs in front of all my little Hiltons. It was this really special memory that I will cherish forever. And then going and performing at Dreamland, which was the first ever Pride in Central Park New York, and that was just epic. Having Aqua join me on stage for their first US performance of "Barbie Girl" in 25 years to celebrate the iconicness of that song. Kim Petras came out for both of my shows and did a surprise performance with me for "Stars are Blind" and everybody was having the time of their life. It was the perfect way to celebrate pride and the community that I love so much.
This interview has been edited and condensed for clarity.
The History of the World's Greatest Nightclubs is distributed by iHeartPodcasts and is available on the iHeartRadio app and everywhere podcasts are heard. New episodes are released every Thursday.