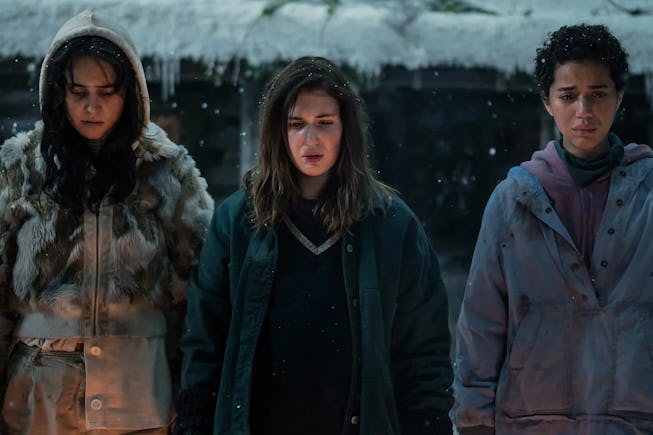 Kailey Schwerman / Showtime
10 Shows Like Yellowjackets To Add To Your Watch-List
The best projects that share the thrill of Yellowjackets.
When it comes to Yellowjackets, there's truly something for everyone. Maybe seeing Christina Ricci in a crazed wig really does it for you; perhaps you're lured in by the show's stellar soundtrack of the most seminal alt-rock the '90s had to offer, or the messiness of teenage girlhood; maybe it's the supernatural thrills and prospects of cannibalism.
The drama, which follows a girls' varsity soccer team as they survive in harrowing wilderness conditions, as well as their adult selves decades later, is finally back for its highly anticipated second season, with seasoned stars like Ricci, Melanie Lynskey, and Juliette Lewis reprising their roles. But for those who are still ravenous for more than the two seasons have to offer, there's hope yet. From classics like Buffy the Vampire Slayer to newer thrillers like Riverdale, find the best shows to watch to scratch that Yellowjackets itch, below.
Buffy the Vampire Slayer
In every generation there is a Chosen One, and starting in the '90s, her name was Buffy Summers. Across seven spectacular seasons, the titular vampire slayer balances her fated duties with being a modern girl, all while falling in and out of love and fighting supernatural beasties. Much like Yellowjackets, Buffy the Vampire Slayer comes with serious acting power and some of the most moving, heartbreaking storylines ever seen in a "teen girl show." But let it be known: There's no way Buffy, Willow, and Anya would stay trapped in the Canadian wilderness in the dead of winter, let alone consider cannibalism. Yuck! (Hulu)
Sharp Objects
Based off the novel of the same name, Sharp Objects brought Amy Adams, Patricia Clarkson, Eliza Scanlen, and Sydney Sweeney together in a sleepy southern town that's rocked by murder. The rollerblading teen girls in this show are somehow equally as terrifying as whatever supernatural spirit is tapped into the woods in Yellowjackets. (HBO Max)
The 100
Is The 100, a show about 100 hottie juvenile delinquents returning to to a post-apocalyptic Earth, a little on the nose as a suggestion? Sure! The 100 is much frothier than Yellowjackets will ever be, and the stakes, though thoroughly unbelievable, are much higher: These teens must test the planet's habitability in order to save humanity, all while being sexually frustrated! (Netflix)
Lost
There's no conversation about people stranded under mysterious circumstances without a mention of Lost. To put it simply, Lost walked so that Yellowjackets could crash its plane and derail the lives of a New Jersey varsity soccer team. (Hulu)
Twin Peaks
David Lynch's quintessentially '90s, moody, and bizarre series is a cult darling in a way that the suits at Showtime would never allow for Yellowjackets, but at the end of the day, both shows are kinda about weird things going down in the woods. (Prime)
Severance
The sinister happenings in Severance take place in stark-white offices rather than wide open spaces. The show, which follows a group of office workers whose memories have been surgically divided between their work and personal lives, is more clinical and exacting in its fear than the primal nature of Yellowjackets, but chilling nonetheless. (Apple TV+)
Riverdale
This is not a 1-to-1 comparison by any means. Yellowjackets is without a doubt in a different league than Riverdale — better actors, writers, soundtrack, you name it. But both shows require a suspension of disbelief, and in all honesty, the supernatural and cult-y points of Yellowjackets are only mildly more believable than Riverdale's beautifully deranged storylines. (Netflix)
Locke & Key
Locke & Key exists in a much more fantastical world than Yellowjackets, and while there's no cannibalism, there are magical keys that bend reality and an interdimensional demon who lives in a well. (Netflix)
The Leftovers
After 140 million people suddenly disappear without a trace, the ones who are left behind are forced to pick up the pieces through confusion, grief, and a rising cult with promises of answers. (Yellowjackets' resident priestess would of course be leading the charge if the two universes ever collided.) (HBO Max)
Hannibal
If a group of teenagers being forced into cannibalism is your thing, perhaps look into Hannibal, the backstory of culture's most celebrated cannibal? (Hulu)