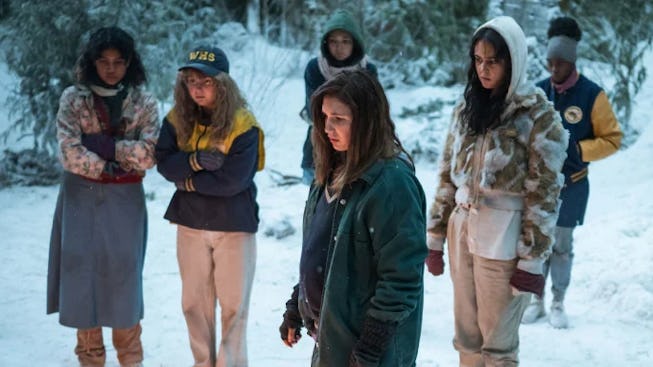 Kailey Schwerman/Showtime
Yellowjackets Season 2 Soundtrack Is A '90s Rock Time Machine
Yellowjackets, Showtime's hit drama about a varsity girls' soccer team that gets trapped in the Canadian wilderness and may or not have to resort to cannibalism, also has one of the best soundtracks on television right now. The nostalgia industrial machine never stops grinding its gears, but when music supervisor Nora Felder is involved, along with a Florence Welch cover of No Doubt, it's decidedly for the betterment of culture.
Yellowjackets Season 2's soundtrack follows the lead of its inaugural season, bringing even more celebrated '90s alt-rock tracks to the screen. (Elder Millennials can reminisce, Gen Z can expand their music knowledge while making the songs viral on TikTok, and everybody — especially advertisers and Showtime executives — wins!)
Felder told Variety that she and showrunners wanted the music to be its own main character throughout the series, and that for Season 2, the soundtrack would go beyond the confines of the '90s. "We agreed that moments that weren't coming from within the world of the characters could be stamped musically with music from any era, just as a song from yesterday can accent a current moment," she said. "We also agreed that it could be the reverse case with a current song resonating with past events, and that's what audiences hear this season."
Felder's vision is seen from the jump; Season 2's premiere opens with "Seventeen" by Sharon Van Etten, includes a wacky car freakout to "Last Resort" by Papa Roach, and wraps with the fraught and thematically on-point "Cornflake Girl" by Tori Amos.
As the season continues, NYLON will keep track of every song that's been played in each episode so far, updating the list weekly. Read on for the full soundtrack of Yellowjackets Season 2.
Season 2, Episode 1: "Friends, Romans, Countrymen"
"Seventeen" - Sharon Van Etten
"Drown" - Smashing Pumpkins
"A Night in Rio" - Graham Francis de Wilde
"#1 Crush" - Garbage
"Last Resort" - Papa Roach
"Cornflake Girl" - Tori Amos
Season 2, Episode 2: "Edible Complex"
"No Room for a Nihilist in Hollywood" – Peachy!
"Inertia Creeps" - Massive Attack
"Climbing up the Walls" - Radiohead
Season 2, Episode 3: "Digestif"
"When I Go Walkin'" - Popecoke
"Seether" - Veruca Salt
"Take Me Down" - Sonica Disturbia
"Full Time Jack Move" - Larry Thomas West
"Bells for Her" - Tori Amos
Season 2, Episode 4: "Old Wounds"
"No Return" - Alanis Morissette
"Rainbow Tour" - Andrew Lloyd Webber, Original "Evita" Cast
"Just Get Over It" - James Donald Davies & Martin Jackson
"Won't Waste a Day" - James Donald Davies & Martin Jackson
"Angst in My Pants" - Sparks
Season 2, Episode 5: "Two Truths and a Lie"
"What's Up?" - 4 Non Blondes
"Big Mouth" - Necking
"Stayin' Alive" – Tropical F*ck Storm
"Mother" - Danzig
Season 2, Episode 6: "Qui"
"Song 2" – Blur
"Your Woman" – White Town
"Pitseleh" – Elliott Smith
"Fuk Da Police" – N.W.A
Season 2, Episode 7: "Burial
"Something In the Way" - Nirvana
"Free" - Florence + the Machine
"Sneaker Pimps" - 6 Underground
"Lightning Crashes" - Sneaker Pimps
"Dream Girl Evil" - Florence + the Machine
Season 2, Episode 8: "It Chooses"
"Not While I'm Around" – Barbra Streisand
"The Music of the Night" - The Phantom of the Opera)
"Bullet with Butterfly Wings" – The Smashing Pumpkins
Season 2, Episode 9: "Storytelling"
"Zombie" – The Cranberries
"Sad But True" – St. Vincent
"God is Alive, Magic is Afoot" – Buffy Sainte Marie
"Street Spirit (Fade Out)" – Radiohead
"The Killing Moon" (Cover) – Nouvelle Vague
"The Killing Moon" – Echo and the Bunnymen
This article was originally published on