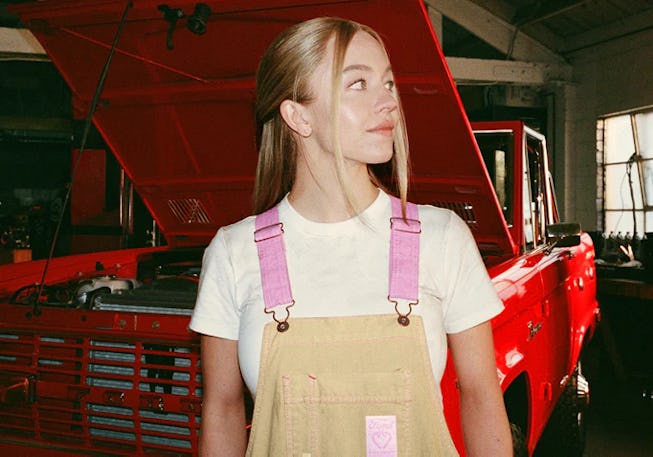 Ford / Dickies
Sydney Sweeney Goes Full Mechanic For Ford & Dickies Collection
Sweeney's love for vintage Ford cars laid the groundwork for her new collection with the automobile manufacturer and Dickies.
Sydney Sweeney is one of the busiest girls in Tinseltown. There's Euphoria's looming third season, a steady stream of film roles, and the growing list of brands she's come to work with. (She has a Los Angeles mortgage and publicist to pay!) Now, Sweeney's taking a bit of a departure from her Hollywood glamour and linking up with one of the pillars of Americana: a Ford Motors workwear line made with Dickies.
Real heads know that Sweeney isn't simply cutting a check; the actress is passionate about vintage cars, and has been chronicling the restoration of her dream car, a vintage Ford Bronco, over on her TikTok account @syds_garage. Sweeney's work in the auto shop inspired the collection, which includes functional workwear staples like overalls, pants, bandanas, and baseball caps — complete with sweet baby pink details and illustrated screws coming together to form hearts. But don't be fooled by the gentle touches: the collection remains true to the Dickies legacy and is designed to get dirty.
"I come from a family of mechanics," notes Sweeney. "It's in my blood." Ford and the actress go way back, it turns out; in a promotional video for the collection, Sweeney talks about how she learned to drive with her grandfather's F150 truck, and her determination to work on her dream car despite being the only girl in the shop. And when she wrapped up her restoration on the Ford Bronco? She obviously had to get herself the next best thing: a vintage Ford Mustang.
See more photos from Sweeney's collection with Ford and Dickies, below.