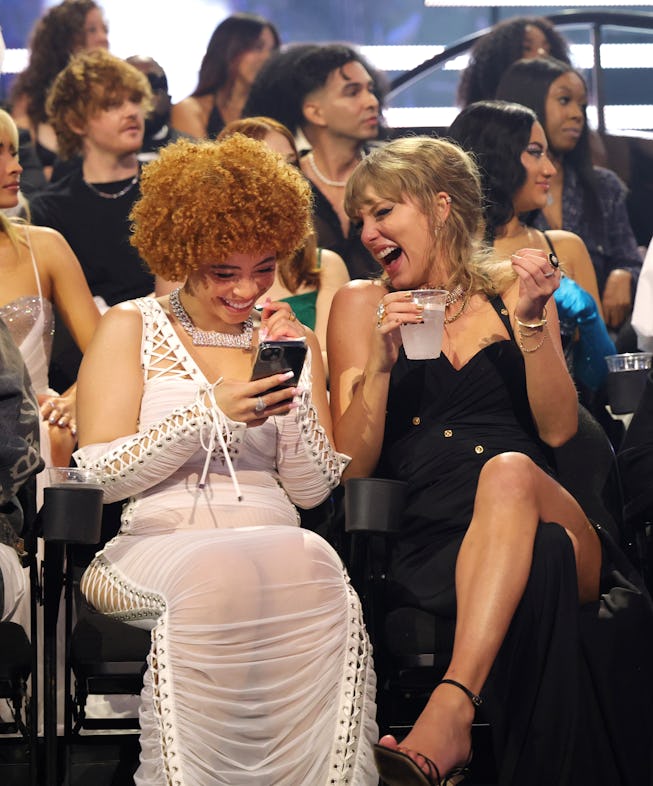 Kevin Mazur/Getty Images Entertainment/Getty Images
Taylor Swift Had The Time Of Her Life At The 2023 VMAs
Everyone deserves to let loose in Newark, New Jersey on a Tuesday night.
It's safe to say Taylor Swift needs a break.
This calendar year alone, the pop star has embarked on her 146-date Eras world tour; released two albums with one more coming next month, dropped three music videos; and went through a public breakup along with a whirlwind rebound press cycle. The woman never stops working!
Everyone deserves a night off, and while the MTV Video Music Awards is hardly considered a night off (last I checked, Newark, New Jersey was hardly a vacation spot), Swift took the opportunity to blow off some steam and have a little thing called fun.
Swift's presence as an audience member is always well-documented; and the obsession with her every reaction reached new heights on Tuesday, as an entire camera feed was devoted exclusively to Swift (and by proxy, Ice Spice, who was seated next to her.) Swift was certainly working: She won a whopping 11 VMAs, but she also allowed herself to get down on Tuesday night — dancing with abandon to Nicki Minaj, Demi Lovato, Megan Thee Stallion, and *NYSNC while throwing back what appears to be a number of vodka sodas and red wine. Stars: They really are just like us!
Below, find our favorite memes and clips of Swift letting loose at the VMAs.