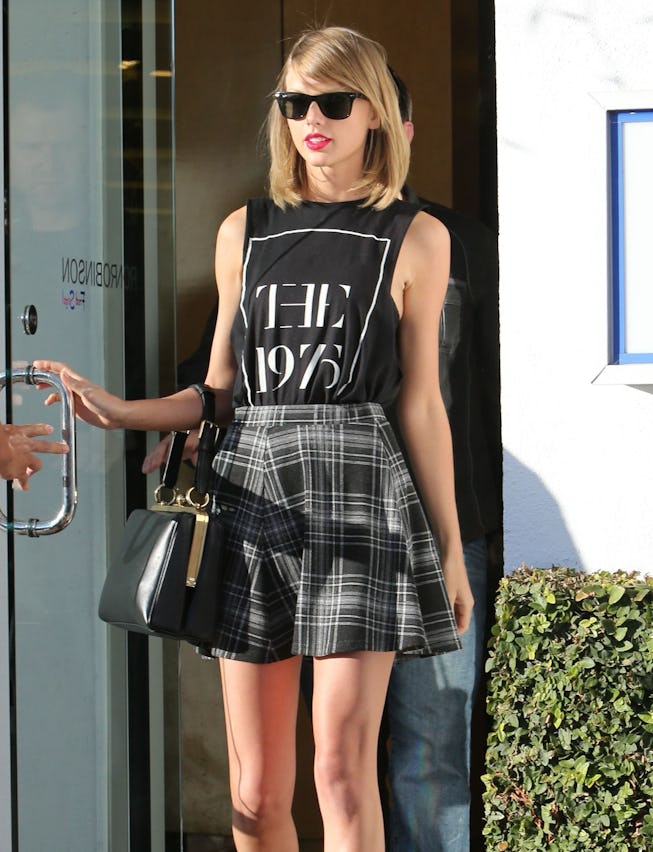 Backgrid
An Exhaustive Timeline Of Taylor Swift & Matty Healy's Relationship
Like it or not, Taylor Swift's new beau might be the 1975's Matty Healy. Here's everything we know about the relationship so far.
Fresh off the heels of her breakup with Joe Alwyn and what appeared to be a single night out (or just a well-staged pap moment) with her girls, Taylor Swift might be in a new relationship. Her new alleged man is Matty Healy of The 1975, who is most famous for his contrived stage antics like eating raw meat, which of course has become popular on many a FYP on TikTok. (And also for his music.)
Celebrity relationships, like TikTok stars, seem like they come out of thin air, but like with anything, there's usually a history, albeit a short or shrouded one. Ahead, we break down what we know of the timeline of Swift and Healy's relationship — which actually sparked a decade ago.
November 2014: Swift and Healy meet
Healy and Swift meet after she attends one of his band's shows. "We exchanged numbers," he tells the Australian radio show Shazam Top 20. "I mean, bloody hell, what am I going to do? Go out with Taylor Swift? She's a sensation; I wouldn't say no!" Days later, she's seen wearing a 1975 shirt and he's seen wearing 1989 merch. Gaylor fans will also note that the photo of Swift and Karlie Kloss allegedly kissing was at a 1975 concert in December 2014.
March 2016: Healy says it would have been "emasculating to date Taylor Swift"
First of all, get a life! In an interview with the apparently now-defunct magazine Q, Healy said it would have been "emasculating" to date Swift: "She wasn't a big impact on my life. If I had [properly] gone out with Taylor Swift, I would've been, 'Fucking hell, I am not being Taylor Swift's boyfriend. You know, 'F*ck. That.' That's also a man thing, a demasculinating, emasculating thing."
March 2016: He clears his name and says he would date Swift
Shortly after the interview, Healy spoke to Elle to clarify his comments and assure that he "is not a misogynist."
"I have said on countless occasions that I found her to be one of the most gracious, hard working, creatively gifted, and beautiful women that I have had the pleasure to meet," he said. "I personally have a lot of respect and admiration for her. Why would I not?"
May 3, 2023: The Sun enters the chat
The tabloid The Sun is the first to report of a possible Healy-Swift relationship. Per a source, "[Swift] and Matty are madly in love...It's super-early days, but it feels right."
"Both Matty and Taylor have been touring over the past few weeks, so it's been a lot of Face-Timing and texting," a source said. "But she cannot wait to see him again."
May 4, 2023: The 1975 adds the song "She's American" back into their set
Healy plays "She's American" during a performance in the Philippines, telling the crowd: "She sure is!" before launching into the song. As we said, he's known for contrived stage antics. Apparently during one of the shows in the Philippines, fans report he mouthed something like, "This one's about you, you know who you are. I love you."
May 5, 2023: Healy attends Swift's Nashville show
Everyone and their mother is attending Taylor's Eras tour. That's not the weird part; the weird part is that she appears to be mouthing the same words he mouthed in the Philippines.
May 6, 2023: They're photographed in the back of a car
When dating rumors are afoot, even the most innocuous of activities become fodder. Following Taylor's Nashville show, which Healy performed in with Phoebe Bridgers and Boygenius, Swift and Healy are photographed in the back of a car reportedly on their way to her Nashville condo, according to The Daily Mail.
May 8, 2023: They "like" each other
Okay middle school crush-speak! Entertainment Tonight reported that sources confirm that they "like each other." Apparently, they were also "reconnected" Jack Antonoff, Hollywood's busiest man.
May 11, 2023: Swift and Healy are spotted holding hands in New York City
The two singers were spotted holdings hands at Casa Cipriani, People reported. "They're hanging out and having a good time," noted a source. "It's not just platonic."
May 15, 2023: Swift and Healy leave Electric Lady Studios together
In the photo that launched 1,000 memes, Swift and Healy left the Greenwich Village studio together hand in hand.
May 19, 2023: Swift has been "swept off her feet"
As Healy continues to be Swift's groupie on her Eras tour, there are reports that "things moved very quickly and she was swept off her feet. They have been inseparable."
May 22, 2023: Swift says she's "never been happier"
As Swift's romance with Healy continues to make headlines, the singer shared how she's in a good place in her life during her Foxsborough Eras tour show.
"I don't know, I've just never been this happy in my life in all aspects of my life ever before," she said before playing "Question...?" "And I just want to thank you for being a part of that. I don't know. It's not just the tour. My life finally feels like it makes sense."
May 25, 2023: Swift and Healy are spotted kissing in New York City
Breaking news: Adult couple kisses in public.
May 29, 2023: The New Yorker kinda, sorta confirms the relationship
"Neither of their representatives would comment on the record, but I kept getting texts from people who knew them, and who insisted: this time, it's real," writes Jia Tolentino.
June 5, 2023: TMZ reports it's over
As quickly as it started, TMZ reports Swift and Healy have allegedly called it quits, and that Swift is Taylor "single" again, according to an unnamed source. Time to move over for the Speak Now (Taylor's Version) release news cycle!
Stay tuned for more Swift-Healy updates.
This article was originally published on