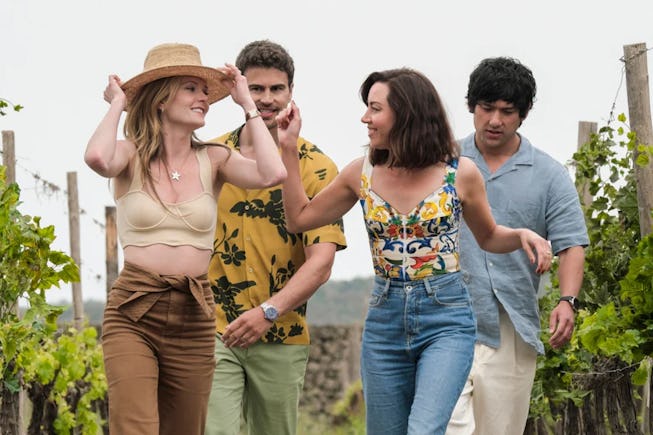 Fabio Lovino/HBO
The White Lotus Is Off To Thailand For Season 3
The White Lotus creator Mike White has hinted that season three will explore "death and eastern religion."
This article contains White Lotus spoilers.
Long before our Italian sojourn was over, it was already time to start thinking about our next stay at The White Lotus. Mike White's addictive, critically-acclaimed HBO show The White Lotus only aired three of the seven episodes in its second season before being renewed for a third.
Like its previous seasons, the third installment of The White Lotus will follow a new group of guests checking into a White Lotus resort in a new, luxury locale. Season 1, which starred Jennifer Coolidge, Sydney Sweeney, Jake Lacey, and Lukas Gage, followed a group of criminally bizarre high-rollers visiting Hawaii, while Season 2, which featured Coolidge, Aubrey Plaza, Michael Imperioli, and Meghann Fahy followed the escapades of the wealthy in Sicily.
The Season 3 pickup comes after The White Lotus won 10 Emmys — the most of any program of the year. It's also worth mentioning that the show was renewed for its second season even before its first was complete — something they also did with Big Little Lies. When you find a good hotel, you hold onto it!
"I feel so lucky to get this opportunity again and am excited to reunite with my amazingly talented collaborators on The White Lotus," White said. Read on for everything we know so far about The White Lotus Season 3.
Jennifer Coolidge will sadly not return, but we are praying
Coolidge was one of two cast members from Season 1 to reprise her role in Season 2, playing the effortlessly charming, out-of-touch, prone to emotional outbursts socialite Tanya McQuoid. The other was Jon Gries, who played McQuoid's secretive Bureau of Land Management employee lover. Unfortunately, after the riveting Season 2 finale, we can safely say that Coolidge will not be reprising her role.
It's possible more actors could return
White hinted for Season 2 that "some" of the characters could come back. Though only Tanya McQuoid and her lover returned for Season 2, perhaps more characters could return for Season 3...that is, the ones who live. "I don't think you can credibly have [all the Season 1 guests] on the same vacation again," White told TV Line last year. "But maybe it could be a Marvel Universe type thing, where some of them would come back."
Season 3 will take place in Thailand
In a "Unpacking S2 E7" clip that aired on HBO following The White Lotus Season 2 finale, White hinted that Season 3 could take place in Asia. Portia's abysmal outfits on the streets of South Korea? This could work...but in March, Variety reported that Season 3 will be set in Thailand.
Production on Season 3 has yet to begin, but sources say White has been spending time in Thailand scoping out sites. A winter spent sunbathing in various Four Seasons hotels? This man has cracked the code not only on television, but on life!
"The first season kind of highlighted money, and then the second season is sex," White said. "I think the third season would be maybe a satirical and funny look at death and Eastern religion and spirituality. It feels like it could be a rich tapestry to do another round at White Lotus."
White also previously hinted that he wanted the next season to take place on another continent, telling Deadline before the Season 2 premiere: "I think it'd be fun to maybe go to a whole different continent. You know, we did Europe, and maybe Asia, something crazy like that, that would be fun."
This article was originally published on