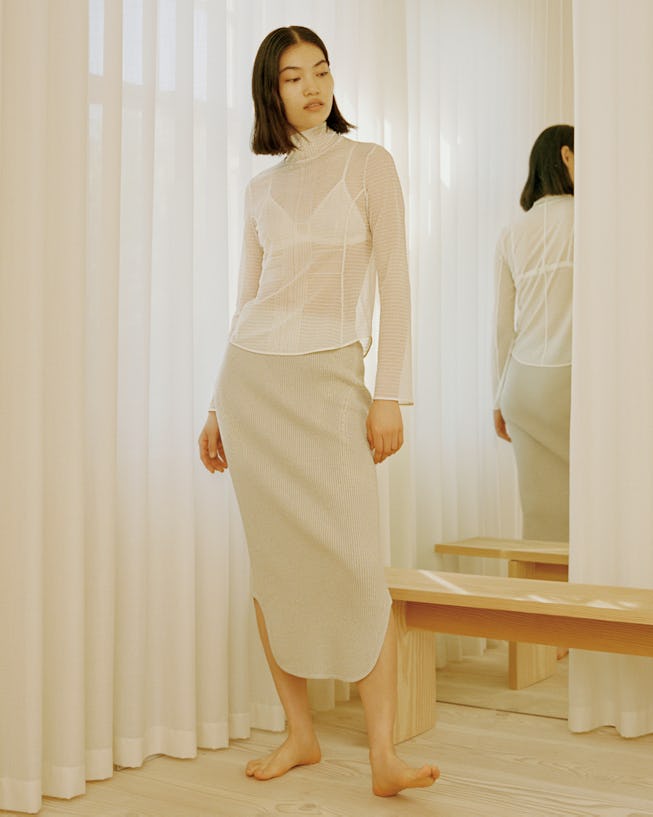 Uniqlo x Mame Kurogouchi's FW23 Collection Is Cozy and Elegant
Sheer turtlenecks for winter? Yes, please.
Uniqlo may be known for its minimalist style, but it's collaborations — whether it be Sofia Coppola t-shirts or Keith Haring totes — are what turns its closet staples into collectibles.
Back in the spring, Uniqlo released a notable collaboration with Mame Kurogouchi, featuring airy, sheer items for the spring and summer. This fall, the partnership continues for a sixth installment, with Uniqlo partnering once again with the Japanese fashion label for a new, cozy collection, out Thursday.
The collection includes Mame Kurogouchi's signature sheer designs, along with cozy knits, which have been outfitted for even the coldest of winters with Uniqlo Heattech UNIQLO's 3D knitting technology.
Courtesy of Uniqlo
Courtesy of Uniqlo
Courtesy of Uniqlo
Courtesy of Uniqlo
The innerwear collection fuses intentional Japanese tailoring and luxurious, sheer fabric in colors inspired by the natural world: golden ears of rice, autumn leaves, and overcast days. Our favorites include a mesh high-neck T-shirt and a mesh bra bodysuit, which add a sensual flair to a winter wardrobe.
Mame Kurogouchi uses refined materials to achieve a kind of elevated comfort. It's a natural partnership for both brands, which both want to fill your closet with elegant, timeless pieces.
"Whenever I design clothes, I seek to create items that quietly help women stand tall," Maiko Kurogouchi, the designer behind Mame Kurogouchi, told NYLON last spring. "My aim is clothing that brings out the positive elements in the women who wear it, giving them a commanding air and confidence."
You can shop the Uniqlo x Mame Kurogouchi FW23 collection here.