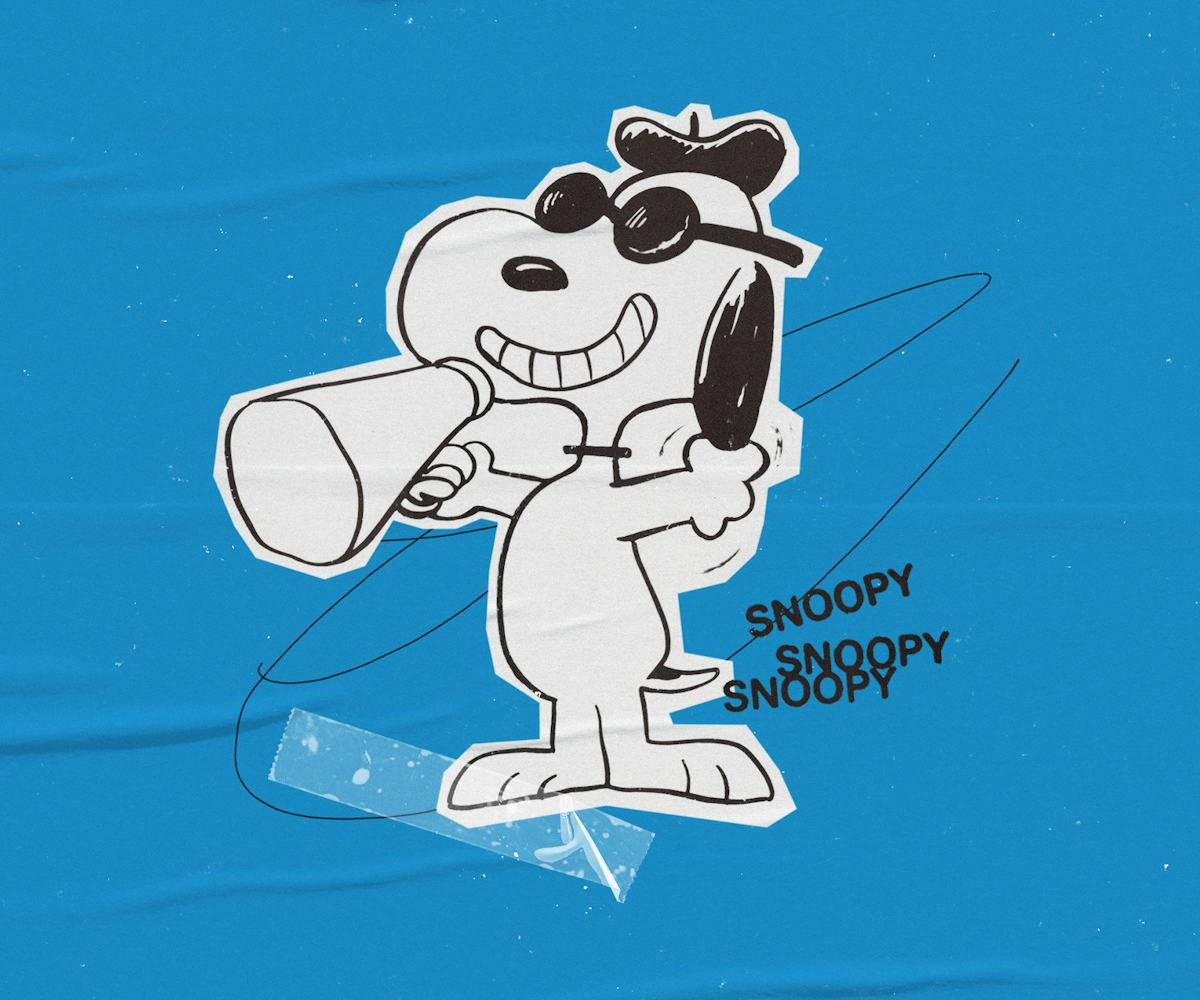 Why Is Snoopy Suddenly Everywhere?
How Snoopy took over the internet.
In early 2023, 20-year-old Ella saw a TikTok of Snoopy, the cherished beagle from Charles M. Schulz's Peanuts comic strip, that made her emotional. "It was a TikTok edit of Snoopy with a Boy Genius song, 'Me & My Dog.' I saw that, and it made me cry," she tells NYLON. "I felt touched by it." Ella decided to make her own Snoopy content, this time with her beloved Snoopy plushie overlayed with the song "Cool About It" by Boy Genius. The video went viral overnight. "When I woke up, it had completely blown up," she says. "After that point, every single video I was putting out was gaining so much nonstop traction."
Ella is not alone in her adoration of Snoopy online; her account @Snoopylistens has garnered over 280,000 followers on TikTok since May 2023, by posting videos of a Snoopy plushie in somewhat relatable, definitely silly situations, like listening to Radiohead's "Creep" in the shower. On TikTok, #Snoopy currently has 1.3 billion uploads. Even Kim Kardashian shared a framed Snoopy poster to her Instagram stories. According to Ella, it wasn't always like this: "I used to go on TikTok, and in the search bar, I typed, 'Snoopy,' trying to find Snoopy content. It wasn't that easy. It would just be clips from the original show." In recent months, however, Ella has noticed a resurgence of Snoopy content across all platforms — especially Twitter and TikTok — where the beagle's presence has become a mainstay across FYPs.
Madison Baber, the 27-year-old creator of @SnoopyEdits on TikTok, says her viral account, where she edited fan-cam-style montages of Snoopy, felt like rekindling a relationship with a childhood friend. "I have always been a really big fan of Snoopy," she explains. "I have a Snoopy tattoo." She began editing her viral videos, many with millions of views, as a "fun, weird hobby to get to watch cartoons again." While she was always a fan, she describes her current relationship as "a newfound, weird-hyper fixation adult thing now," and now, thanks to her viral TikToks, she's connected with a larger community of Snoopy fans online. "There's a big community of Snoopy lovers," she says. "It's this fun community online who also have similar interests."
The Snoopy fandom online extends far beyond fan-cams and memes. Some Snoopy accounts are dedicated to scouring stores for Snoopy merchandise, Snoopy-shaped food, and limited-edition Snoopy items. Claudia Segovia, 25, uses her TikTok to post Snoopy hauls for other Snoopy fans and trade information about which stores are stocked with Snoopy merchandise. She explains that the Snoopy resurgence has given her and her friends a sense of joy: "Everybody is reconnecting. I love [Snoopy memes] and share them with my sister, boyfriend, mom, and everybody who knows Snoopy."
Segovia thinks that reembracing Snoopy feels specific to Gen Z. "Gen Z is very aware of their inner child, and they're spending money on these items. Like, they have adult money now," she says. "Snoopy is becoming more popular. I've seen Snoopy in TJ Maxx, HomeGoods, or even Baggu and Miniso collaborations."
The hunt for Snoopy memorabilia has even become international — and hyper-competitive. "On TikTok, I've noticed people being like, 'Look at this cute Snoopy thing at this store. Get it!' And it'll have, like, 50,000 likes," notes Ella. "I would never see that before." She mentions that American Eagle recently put out pajamas emblazoned with Snoopy's image, which was received with enthusiasm: "They're completely sold out, and people are reselling them for $100 when they're just pajama sets."
Comedian and vocal Snoopy fan Amy Silverberg attributes the rise of Snoopy to a collective nostalgia. "He represents a definite nostalgia because he's a cartoon from our childhood," she says. "But he doesn't speak, wears sunglasses, and is called Joe Cool. He's symbolic of a kind of coolness and silence you could project anything onto."
Segovia agrees that Snoopy provides sentimental comfort. "I grew up watching all the holiday specials with my family. It's reminiscent of growing up and being young during the holiday season," she explains. "[Snoopy] is a way to connect with your inner child and your family. It's timeless."
Silverberg also notes that people have rediscovered Snoopy as adults for the same reason they loved him as a child: as a balm for loneliness. If Charlie Brown exists as the pinnacle of adolescent loneliness and longing, Snoopy is the antidote. "Snoopy is this weird dichotomy of having humanlike qualities, like guilt and obligation and all of these things, and yet he still lives the life of a dog." The cleanly drawn, cute cartoon offers a wholesome and playful alternative to an increasingly polarizing internet. "He manages to be sweet and cute. And yet he manages to have a little edge," she adds. "I've always liked animals doing humanlike activities. That's the basis of comedy for me: a dog piloting a plane."
Max Loparco, a curator of Snoopy memes on Instagram, argues that Snoopy's universal appeal is his versatility: "He's a man of the people. He's a jack of all trades. You can see him surfing. You can see him golfing." Loparco notes that he exists as an avatar for anyone to use across the internet. "There's some Christian Snoopy accounts. There are long, wordy ones with no clear connection to the Snoopy universe," he explains. "Those are the ones I take to the most because it's interesting to see someone project on Snoopy like that." Loparco contends that the Snoopy trend points to a collective fatigue of cynicism on the internet and an embrace of earnest fun. "We just want to have fun. We don't want to be Charlie anymore. We want to help the Charlies in our lives," he says. The 30-year-old also notes that posting Snoopy can be flirtatious, a charming opener on Instagram: "If I'm ever single again, God forbid, I'll be posting Snoopy to main."
Currently Gen Z's mischievous best friend, the internet's fascination with Snoopy seems to be only beginning. For Ella, her Snoopy plushie and its TikTok account have given her an outlet for her emotions. "I do project a lot of how I'm feeling onto my Snoopy plushie," she says. "I have been more in touch with my creativity and imagination through this account than I have in a long time, and with it being so close to my childhood, it really does mean a lot to me."