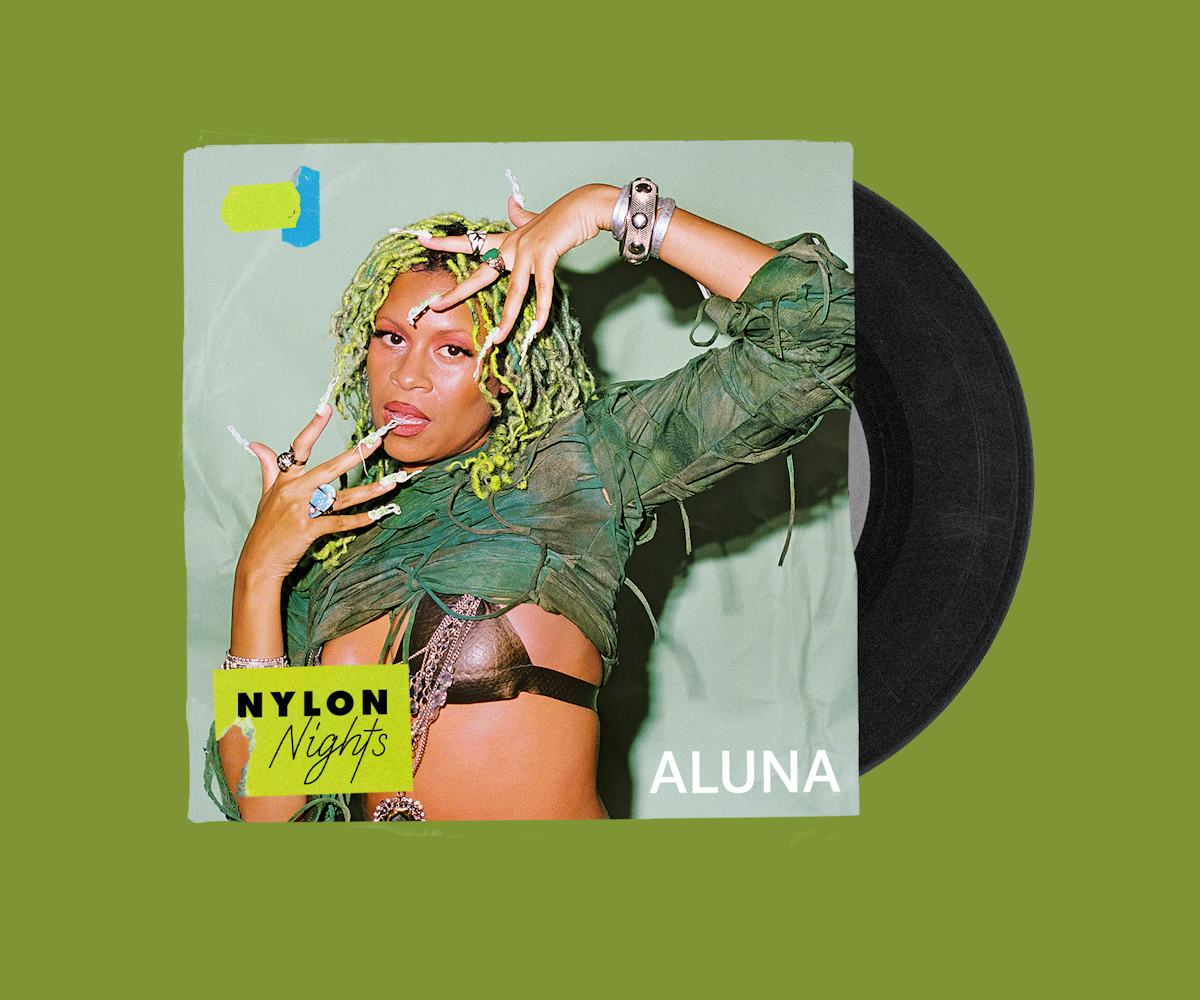 Jahné Spencer/Nylon; Photo by Maya Fuhr
Aluna's Essential Dance Songs Can Start A Club Anywhere
The DJ shares an exclusive playlist, and talks her sophomore album MYCELiUM.
Going out? Need a playlist? Then NYLON's NYLON Nights playlist is here for you. Each month we invite a guest DJ to curate an exclusive playlist that will keep you going from pre- to post-game. For August 2023, DJ Aluna shares the songs that her essential dance songs.
In Aluna's version of the future, dance music is a community building exercise. It is a mode of deep interior connection. It is intentional communication with the Black American origins of the genre. It is a place where diverse perspectives are welcomed and thrive. It might sound a little like her sophomore album MYCELiUM, a pulsing homage to '90s house music bolstered by a diverse slate of collaborators from the now.
The album, out now, is Aluna's strongest artistic statement to date, stemming directly from her personal experience as often the lone Black DJ in a room predominantly full of white dancers, DJs, and staff. As one-half of the electronic duo AlunaGeorge since 2012, the London native wondered what it would be like — and sound like — if the club spaces she found herself in were instead ones where she felt fully at home and comfortable. She corralled a wide pool of friends and allies, largely Black and queer, as her collaborators, and channeled the branching and connecting spirit of fungi's mycellium as the foundation of the record. These songs are not only jams of energy and joy, but acts of nurturing and network building.
"When you look at the list of collaborators, nobody has been left out. We are as diverse as you can get at this point, and I think we can go further," she tells NYLON of track list, which features everyone from EDM titan Chris Lake to Jayda G, Pabllo Vittar, TSHA, MNEK, and more. "You can hear what happens when you work with talented, diverse people like this.‌"
Aluna's mission-filled artistic philosophy stems from her career of living out these qualities herself. For NYLON, she curated a playlist of the essential songs that have informed her way of thinking and moving — songs that "have been in the fabric of music for me since the dawn of time." This as much includes house pioneer Kevin Knapp and the enigmantic and hotly tipped Sudanese DJ Skin On Skin as it does Diana Ross and Nez.
"[This playlist] is definitely designed for the high point of a club experience, but that club can really be anywhere," Aluna says. "That can be in your kitchen, it can be in the gym. I know a lot of people listen to my music in the gym. This is no exception."
Hear the playlist below, and read on for Aluna's personal thoughts about each of the songs.‌
"Underwater Love" - Smoke City
When I was writing with Route94, we started with this theme of being underwater. I remembered that there was an eerie beautiful song that I love by Smoke City which was really inspiring.
"Mr Vain" - Culture Beat
This iconic vocal from Tania Evans has always stuck in my head, an inspiration behind some of my fiercer deliveries, the sass is just so powerful to me.
"Look Right Through (MK Remix)" - Storm Queen
MK is one of the most unique producers in dance music in that you can discover him now with his new records and he can take you back all the way to the pioneering of this genre.
"Running Blind" - Aluna, Tchami, Kareen Lomax
Freedom is something I've always had to work for and fight for and strive for and music has always helped me do that.
"Worldwide" - Kevin Knapp
When I came back outside and started deejaying in clubs in 2021/2022, I would start my set with this track. It's anthemic and totally original and I love it.
"Playin Wit Ya" - Aluna, Walker & Royce
"I'm not playin' wit ya" is basically my mood this year. I'm really out here doing real shit, making real change and having it all. Periodt.
"Pop That" - Shermanology
Every time I play this it somehow centers me right into myself … like if I'm in front of an audience of white frat bros, which I often am, I'll slam this on, and I feel at home in my DJ booth.
"Who Is Themba?" - THEMBA
I discovered this during the pandemic and it was really exciting when I finally got to play it out in the club. It straddles many worlds but still feels very much like home.
"Burn Dem Bridges" - Skin On Skin
If it wasn't weird, I would play at least six Skin On Skin tracks in a set, I'm a big fan. They're a total enigma and I like it but I wanna know more!
"I'm Coming Out" - Diana Ross
Not that I was conscious of it, but this has to have been an inspiration when I was writing "supernova."
"Supernova" - Aluna, Picard Brothers
I feel like after the pandemic I came back outside as a whole new person, and this is the anthem for that. I am always so inspired by anyone who has actually had to "come out" and I wanted this anthem to bring us all together in that transitional moment. Kaleena Zanders is someone who goes around having that effect on people, she'll be the one gassing you up to do something you're afraid to do so she had to jump on with me for this one.
"Wild Youngster" - NEZ, ScHoolboy Q
Nez had been a real inspiration both musically and from the stories he has from his family who were instrumental in the birth of house and techno. Those stories really helped me to build a working process for this album of using Analog gear to jam out the songs and then move digital at a later stage.