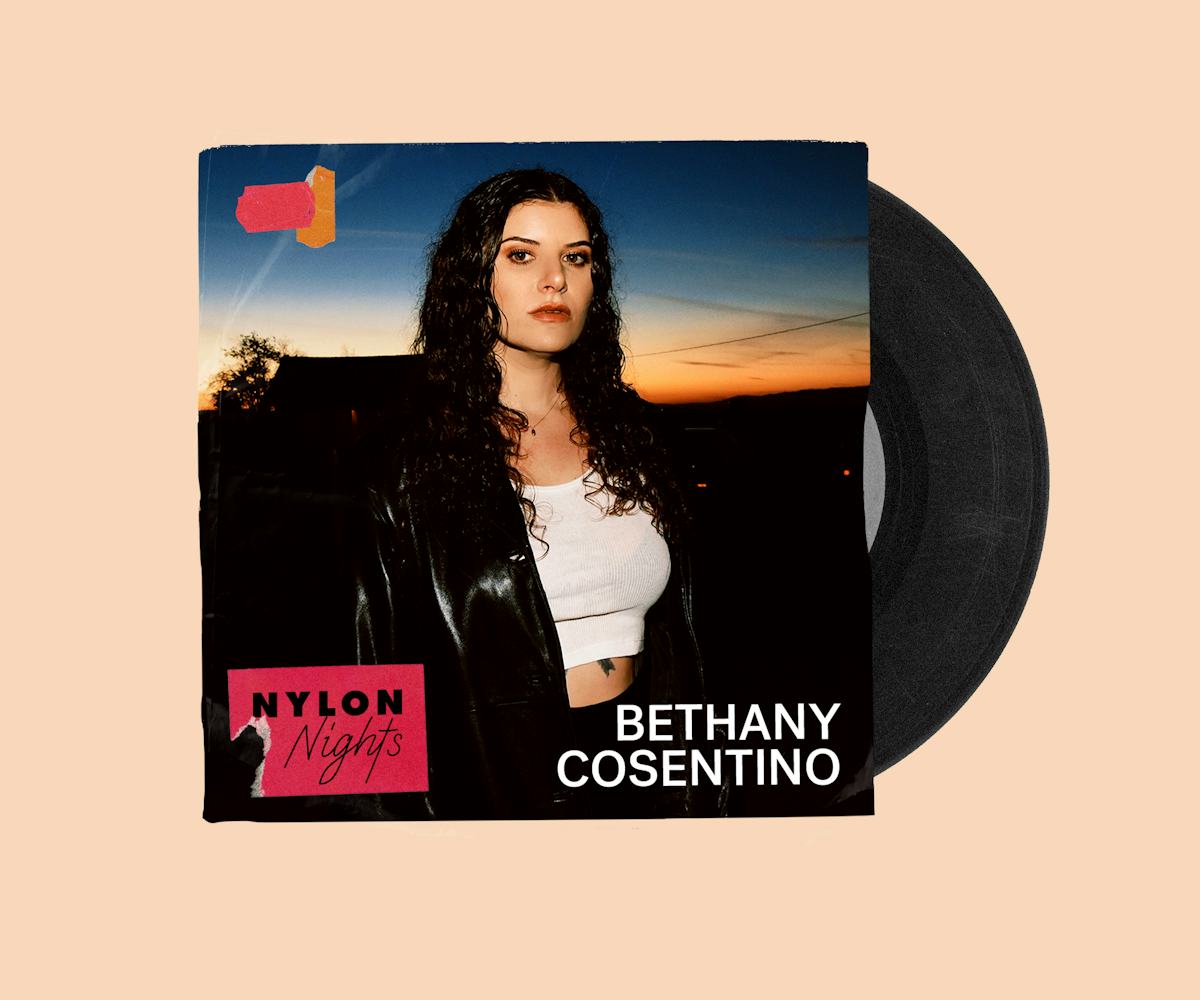 Nylon/Shervin Lainez
Bethany Cosentino Shares The Songs That Inform Her Debut Album
Hear an exclusive playlist from the Best Coast frontwoman.
Going out? Need a playlist? Then NYLON's NYLON Nights playlist is here for you. Each month we invite a guest DJ to curate an exclusive playlist that will keep you going from pre- to post-game. For July 2023, Bethany Cosentino shares the musicians who inspired her forthcoming debut solo album.
When Bethany Cosentino was working on her upcoming debut solo album, Natural Disaster, she surrounded herself with voices.
Linda Rondstadt's voice. Sheryl Crow's. Lucinda Williams'. The earth-shattering, inimitable voices of singers "that stop you dead in your tracks and you're like, 'What is going on here?'" Cosentino says. "How is this so good?"
Over the last 14 years as the lead singer of punky, surf rock outfit Best Coast, Cosentino — who's opera trained — says she felt she could never stretch into the full range and capabilities of her own voice. Now, with the opportunity to redefine herself with a solo album, she wanted to give it a try, with these legendary women as her guides. "I really was able to sing like I've never sung before," she says.
Cosentino's Natural Disaster is a project of revelation and rebirth. Set to arrive July 28 via Concord Records, the 12-track project is Cosentino like you've never heard her: belting over piano ballads, crooning over wistful guitar, harnessing the singer-songwriter spirit in herself, qualities that can already be heard on early singles "Easy" and "For A Moment."
Its title stems from the themes of climate change, political upheaval, and other occasions of societal "disaster" that Cosentino writes about on the album. But it also speaks to the internal reckoning she faced to make the album. "[I was] really feeling like I [couldn't] make another Best Coast record, but I was scared to go out on my own and release music under just my own name with nothing to hide behind," she explains — though, ultimately, she did. "So it was also kind of a commentary on that."
For many Best Coast fans, the album will be a stark departure from how they're used to hearing Cosentino, but for her that's the point (though she hopes they'll still connect with it). "I think the goal is to reach a new audience of people that are like, 'Who is this person? What is this?,'" she says. "Because I was doing something for the first time, I was just like, 'F*ck it. What do I have to lose?'"
Ahead of Natural Disaster's release, Cosentino curated an exclusive playlist for NYLON that collects all of the singers and songs she listened to throughout its creation, from Rondstadt to Williams, to Bonnie Raitt and R.E.M. Hear it below, and read on for Cosentino's thoughts on each of the songs.
"Satellite" - Courtney Marie Andrews
I love Courtney Marie's voice so much. There is such a light, breeziness to her songwriting — this song in particular. I just want to put it on in my car, roll down the window, and stick my hand out in the wind.
"It Don't Hurt" — Sheryl Crow
Sheryl is my ultimate hero and inspiration. I have been a fan since I was a kid, but I was listening to so much of her catalogue while working on my album Natural Disaster. This is one of my favorite songs of hers — the vocal delivery is so snotty and cool!! She's just the coolest.
"In From Japan" - Madison Cunningham
This is my favorite album from last year. Madison is like prodigy level talented. One of those artists who you see perform and you're just like … what?!?! Her songwriting is unlike any other contemporary artist out there, her guitar playing is on some mind blowing Joni Mitchell shit. The melody of this song is just so gorgeous and feels timeless. Her lyrics are incredible too.
"Rain King" - Counting Crows
Counting Crows are one of my favorite bands, and probably a band that people would expect me to call a "guilty pleasure," but I don't believe in guilty pleasures! Like what you like! Adam Duritz is an incredible singer and songwriter. This song is infectious from the moment it starts.
"A Wonderful Life" - Bully
This new Bully album is incredible. Alicia has been a friend of mine for a long time and I am so proud of her evolution on this new album. She wrote this song about her dog Mezzi who passed away last year, shortly after I lost my cat, Snacks. She also rips a harmonica solo in this song which feels unheard of in indie musician 2023, but she crushes it and it's so good. I remember when she played this song for me, I was like, "Oh hell yeah, turn that harmonica up babe!!"
"Love Looks Different" - Madi Diaz
Madi is one of my favorite singers out there right now. Her voice is incredible, and her delivery feels so effortless. She's become a good friend over the last year or so and we a wrote a song on my album called "For A Moment" together. I love this song so much, and love really looks different to me now, too.
"Achin' To Be" - The Replacements
The Replacements are one of my favorite bands of all time. They are like a perfect blend of my love for punk and my love for country music. This song in particular, there is some slide guitar, and a little twangy groove.
"Not The Only One" - Bonnie Raitt
My mom listened to so much Bonnie Raitt when I was a kid, this album was on repeat in my house growing up. Bonnie's voice is absolutely incredible, like crystal clear with so much soul. And don't get me started on her guitar playing. This song was a huge inspiration for me when I was writing for my album. Such a good groove!
"Half A World Away" - R.E.M.
I only recently got deeply into R.E.M. They were a band I never really explored when I was younger because I thought the music wasn't for me. But while I was in Nashville working on my album, I started digging into their catalogue and quickly realized their music is 100 percent for me! Michael Stipe has one of my favorite male voices ever and the emotion in this performance in particular is so incredible.
"Willin'" - Linda Ronstadt
Linda is my favorite singer of all time. I love that she never wrote her own music — she just covered other artist's songs, but they belonged to her because of her f*cking voice. There is just no other voice out there like hers. I could literally listen to Linda Ronstadt sing the ABCs and I would be like, yep, that's an incredible Linda Ronstadt song! Everything she ever touched she just made it her very own.
"I Just Wanted to See You So Bad" - Lucinda Williams
Lucinda is one of my all time favorite songwriters. I love that she so perfectly toes the line between rock 'n' roll and country. Her songwriting is both so simple and so incredibly poetic and deep. The guitar solo in this song is one of my favorite guitar solos.
"Cigarette Daydreams" - Cage The Elephant
I love this song so much. It reminds me of "Kiss Me" by Sixpence None The Richer, aka the best song ever. The arrangement is just perfect — so simple but so full feeling. Incredible melody. Nick Bocrath, the guitar player in CTE, actually played guitar on a few songs on my album, which was super cool.
"Heading For The Light" - Traveling Wilburys
Before there was boygenius there was the ultimate supergroup of boys, Traveling Wilburys. Tom Petty. Bob Dylan. Roy Orbison. Jeff Lynne. George Harrison. Like … what? The backup vocals on this song are so incredible. It's just a perfect song. And it feels like all of the best parts of those incredible artists blended into one genius song.
"Blue" - Zach Bryan
I don't usually listen to a lot of modern country music, but Zach Bryan is too good to overlook. I first heard about him while watching Yellowstone (lol) and quickly dug into his catalog. He's such an amazing songwriter, his story is so interesting and his lyrics just punch you in the gut. This is such a sweet love song.
"Still The Same" - Bob Seger
This is probably the most "mom" song I could include on here, haha, but I love it so much. I listen to this song in my car all the time and sing along at the top of my lungs. The lyrics are so good. The background vocals. The piano. The drama! It's just incredible.