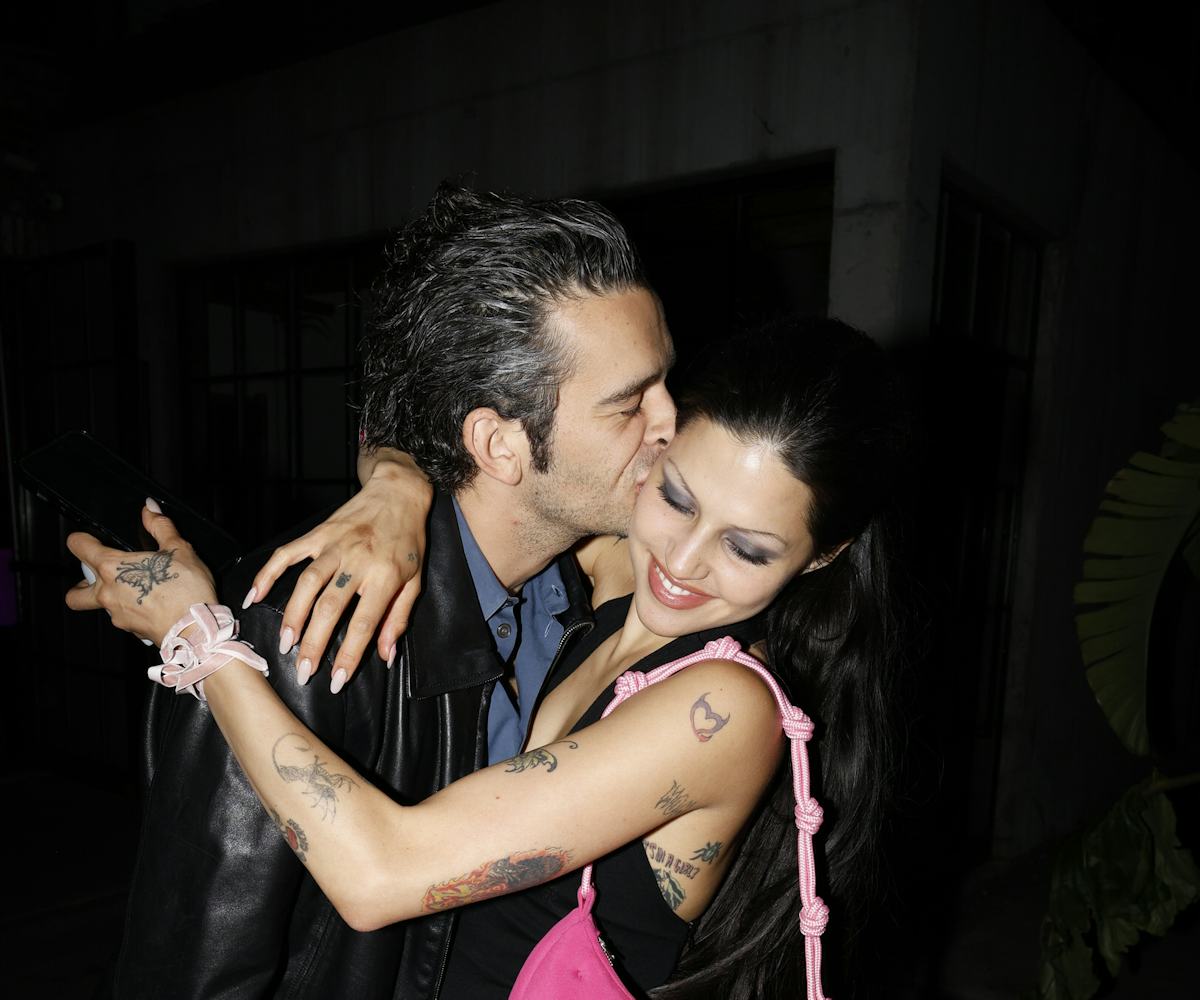 NYLON Party Report Card: Marshall Columbia & Cash App's Pink Party
A very pink, very fun NYFW night to remember.
Welcome to NYLON's Party Report Card, where we give you the Who, What, Where, Why, and When on this week's hottest parties — plus all the gossip you missed. It's the inside scoop you need to feel like you were on the invite list. Sorry in advance for the FOMO.
WHAT: Marshall Columbia and Cash App's Pink Dinner and Party
WHEN: Thursday, September 7
WHO: Ethel Cain, Hari Nef, The Clermont Twins, Gabbriette Bechtel, Julia Fox, Matty Healy, and more.
WHERE: 99 Scott, in the heart of Bushwick, Brooklyn
WHY: To celebrate the release of Marshall Columbia and Cash App's Pink Collection
THE VIBE: Under the soft glow of a bow ice sculpture, Marshall Columbia and Cash App hosted an intimate dinner (steps away from the dance floor) just before the party got started. The menu and cocktail list — curated by model and rising culinary talent Gabbriette Bechtel — was pink and bow-themed, including cotton candy cocktails with bow-adorned drink stirrers and prawns topped with a with a bow delicately crafted from a peeled apple. As guests arrived, Gabbriette's date, The 1975 frontman Matty Healy, stood awkwardly outside the venue door in a leather jacket, so I mistakenly greeted him, assuming he was the security guard. (He was very nice about it.)
The dinner was a celebration of all things Marshall Columbia. Bringing together Julia Fox, Alex Consani, Jazzelle Zanaughtti, Hari Nef, Yves Tumor, and more, people shared stories at the table about reconnecting with childhood hobbies and using dress (and, you guessed it, bows) as a form of play. Ella Emhoff even gave me some tips on the importance of financial literacy (with some additional pointers from the CashApp team). But the true highlight of the night was trying Gabbriette's grain-free vegan blackout cake, straight out of one of her signature Instagram recipe videos, in the shape of a star topped with pink gelato.
- Laura Pitcher, NYLON beauty writer
Much like the dinner, the party had no shortage of bows, pinks, and absolute gags. 99 Scott was transformed into a girly fever dream from top to bottom — even the toilet paper was hot pink, and I spotted a person who shall remain anonymous out of the kindness of my heart taking a roll home as a souvenir. Good for her! Fueled by an endless supply of Cosmos from the open bar (a fabulous drink in the most fabulous hue, I must say) party goers danced for hours to captivating sets from Bapari, Club Eat, Bambii, VTSS, and my personal favorite of the night, Memphy.
It was one of those unbearably dreamy, balmy nights that I know I'll think about when the sun starts to set at 3 PM in a few months, and outside, surrounded by some of my prettiest Twitter mutuals, I got an airbrush tattoo of a pink bow on my neck. Beside me, East Village performance artist and musician Dexter Driscoll got a tasteful airbrush tramp stamp of — what else? — a glittery pink bow, while across the patio, people attempted the perfect photo with an enormous inflatable pink bow, one that would guarantee a few hundred likes and a fleeting hit of euphoria.
Back inside, word of Matty Healy and Gabbriette making a mad dash through the dance floor to escape God knows what was met with playful eye-rolls; they were old news by the time Slayyyter closed out the night, singing about her favorite pastimes: poppin' bottles, f*cking models, and feeling daddy as f*ck. The first drops of rain began gently plopping on the concrete soon after, which was my cue to protect my new airbrush bow and get in my Uber, before a brief, but mighty deluge washed the streets of Bushwick clean.
- Layla Halabian, NYLON culture editor
BEST DRESSED: Julia Fox, in a black Marshall Columbia minidress with cascading, multicolored beadwork, and matching opera gloves
OVERHEARD: "That's the model who's always screaming in public on TikTok, I love her!" — on Alex Consani's burgeoning short film talents
Courtesy of Mark Hunter / Cobrasnake