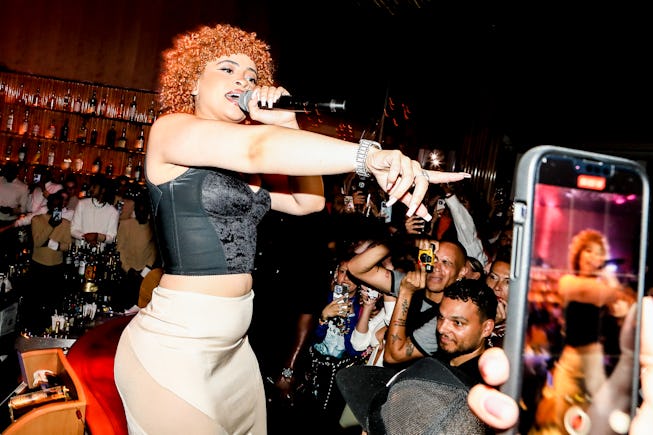 NYLON Party Report Card: Inside NYFW Hottest Parties
NYLON party reporter Melissa Rich hit the town for a week straight to bring you the best parties New York Fashion Week had to offer.
Welcome to NYLON's Party Report Card, where we give you the Who, What, Where, Why, and When on this week's hottest parties — plus all the gossip you missed. It's the inside scoop you need to feel like you were on the invite list. Sorry in advance for the FOMO.
WHAT: NYFW Spring 2024 Parties
WHEN: September 7-13
WHO: A-listers like Doja Cat, Ice Spice, and Avril Lavigne; fashion elite like Matthew Williams, Naomi Campbell, and Julia Fox; all those skilled enough to sneak in
WHERE: In clubs, bars, and warehouses in the greatest city in the world
WHY: Celebrating SS24 collections, gossiping, and getting free drinks
THE VIBE: A nightlife triathlon in weather that makes your face consistently shiny
"It's been real… and a little bit fake," The Strokes frontman Julian Casablancas posed to the J. Crew 40th anniversary crowd on September 5, which included fashion icons like Diane Keaton and Real Housewives of New York star and former J. Crew president Jenna Lyons. What's a better statement to summarize New York Fashion Week?
WEDNESDAY
The week kicked off with weather that felt like the equivalent of wearing makeup in the Equinox steam room. It was hot, nearly 90 degrees, and humid. Nevertheless, fashion girls cannot be stopped! Wednesday began with an unexpected poetry reading from OG Victoria's Secret Angel Naomi Campbell at the brand's first "show" since 2018. Pandora, formerly your aunt's favorite charm bracelet and now a fashion favorite, welcomed Pamela Anderson (you may also know her by her as Mother) and a performance by the always sublime Caroline Polachek in an empty lot on Lafayette Street. In Soho, Mary J. Blige hosted at MCM, encouraging the crowd to, "eat, drink, and be 'Mary.'" The mood was warm and I'd brought a bestie with me, Abbott Elementary actor Larry Owens, who, as I anticipated, was a smash hit with the room. We drank Blige's Sungoddess wine, and threw a bit of ass for good measure.
I checked my makeup, destroyed by the humidity, and headed to Midtown for the highly-anticipated NYLON Nights party. Every time I've trekked to Nebula, a massive club close to the heart of Times Square, it's been totally iconic and more than worth the trip. We walked in, with no drama at the door, to the two-story space, lit up with green neon. Mia Moretti was running the DJ booth and I linked with the girlies to dance. I was chatting with stylist and vintage dealer Gabriel Held when the crowd parted for surprise guest Avril Lavigne (!) surrounded by gagging sk8er bois and girls alike. Later on, reggaeton ensued — an obvious choice considering the prince himself, J. Balvin, hosted the night. A little after midnight, confetti exploded over the tireless crowd and I somehow found a remaining slice of the provided pizza for my exit. Does it get any better?
THURSDAY
It was still insanely hot on Thursday when I started the night in Soho at the Leisure Centre vintage surf pop-up at Saturdays, conveniently near the Neu York Highsnobiety party on Greene Street. This was the first I attended of the magazine's nearly daily events, always providing a gorgeous natural wine selection and dance-y hip hop. I ran into friends from various publications and attempted to figure out logistics for my next move. This is one of the most challenging parts of the week: maximizing your time to get to all of the events you'd like to attend while only being in one place at a time. Eventually I went by ESSX where Nick Hadad was DJing for a chic crowd, including Ella Emhoff and her secret service detail.
Marshall Columbia and Cash App turned it out in Bushwick.
Courtesy of The Cobrasnake
Meanwhile in Bushwick, Marshall Columbia and Cash App hosted a full-blown hot girl convention where Julia Fox, Hari Nef, and The Clermont Twins ate Gabbriette Bechtel's grain-free vegan blackout cake with the 1975's Matt Healy. Back downtown, I predictably found drama at the door of The Blond, the club at Anna Delvey's 11 Howard. I joined the mob attempting the Poster Girl party, where being on the list was completely irrelevant. Was it worth it to finally fully shake ass? Yes. This crowd was hot, the best dressed I'd seen, and the music was absolutely right — as it should be when hosted by City Girls' rapper JT. The only thorn? A cash bar…
FRIDAY
Friday night was a jam packed scheduling nightmare with Anna Bolina in Brooklyn, Richerette by Club Kid Richie Rich in Midtown, and Tia Adeola in TriBeCa. Following Peter Do's first show with Helmut Lang, he hosted an after party at The Standard Highline's Boom Boom Room, and after dinner at Pastis with a few designer friends, I headed over. The fun really began after a couple glasses of Moët, when I ran into drag artists West Dakota and Kiko Soirée; we danced among trays of Samsung phones, the party's sponsor and purveyor of green texts.
I was once again debating my next move when my friend, photographer Lumia Nocito, messaged me to come downstairs. She pulled up cinematically in a limo filled with certified hot girls like Lucy McFadin, Lindsay Vrckovnik, Anaa Saber, Maria Alia, and Noor Elkhaldi. It was the ultimate slay. The driver handed me a Truly as he opened the door; we danced to Black Eyed Peas while we drove around, only to be dropped off moments away from where I was picked up. There wasn't much promise of getting into Offset's party considering the substantial crowd waiting outside, but I had a plan B: Teksupport was throwing a party at The Blond with UK fan favorite rapper Skepta DJing. I arrived just after 3 AM and walked into an intimate, enthusiastic crowd that provided a perfect end to the night. There were no free drinks, but by that point, I absolutely did not need them.
Skepta behind the DJ booth.Courtesy of Art by Goldie
Moses Sumney celebrates Helmut Lang at Boom Boom Room.Courtesy of Helmut Lang
SATURDAY
Following their runway at Georgia Room, Dauphinette threw a gorgeous birthday party at No Bar in the East Village. From there, I caught a cab to Soho where I witnessed the most people I'd seen trying to get into a single party. It was another birthday: True Religion's 21st with Highsnobiety. As my friends, a guy who was trying to deliver ice, and I stood in the mob, complete with two cop cars, we watched the store barricades come down over the windows. According to a friend inside, the party was great and everyone was kiki'ing, but at one point, no one was allowed to leave. That being said, "trapped inside a Fashion Week party" is a horror movie premise I would absolutely watch.
As with every fashion week, tensions get high over the weekend. Scheduling and logistics become complicated; there's desperation in the air. You'll see sides of people you wish you could unsee! Thankfully, I found sanctuary at Georgia Room for Kim Shui, where the DJ was hitting and the June Shine was flowing, before heading back to Boom Boom Room once again for Dion Lee's afterparty. Around 2 AM, security caused an electric stir as they cleared part of the bar, adding a small staircase for a petite rapper to take the "stage." Ice Spice performed "Deli" and "In Ha Mood," Coyote Ugly-style, to a feverish crowd. The energy carried through the rest of the night, making it another late one for me!
Courtesy of Miguel McSongwe
SUNDAY
The rain was incessant and extremely rude. On Saturday it sprinkled; on Sunday it ruined your outfit. I arrived, half shielded by an umbrella, to The Box on Chrystie Street for the Maison Blanche show, only to hear a familiar voice that sent me right to the backseat of a yellow cab: It was Sandy Kenyon, of Eyewitness News and Taxi TV fame. Huge fan! Further downtown, the massive FiDi venue for the SSENSE x Jean Paul Gaultier party was my favorite of the week: an office building with an only partially completed interior. Walking into a concrete space to techno music with Fashion in the DJ booth was the closest thing to underground partying you'll get at NYFW.
I snagged a VIP wristband, a specialty cocktail (gin and tonic with cracked pepper) and clocked Caroline Polachek, who fit the industrial theme exquisitely; Gabbriette appeared, her mom and Matty Healy in tow; Doja Cat, Ice Spice, and Central Cee caused a small excited mob in the corner. I chatted with Amanda Lepore in line for the VIP bathroom and mentioned the fire alarm that had been sounding off for 10 minutes. She thought it was part of the music at first, but now it was driving her a bit crazy. Within moments, it ceased; her power!
MONDAY
Gypsy Sport brought the party to Gitano on Governor's Island as Anna Delvey and Kelly Cutrone, newly united as the pop-up agency OutLaw, brought 50 people to the roof of Delvey's East Village walk-up for the NYFW debut Shao Yang show. Why there? Delvey's under house arrest, of course. The streets (and me, I guess) felt a bit tired by Monday, sensing the light at the end of the NYFW tunnel. While I was blessed by many chill doors, a solid few were absolute chaos. The peak? My boyfriend being physically pushed by a PR girl! Nevertheless, I found fun at the Ganni party, held at one of the East Village's finest karaoke bars, Planet Rose. Eartheater and Paloma Elesser vibed while chic guests performed Nickelback to a supportive crowd. I had a dirty martini and declined to perform. I can only give so much!
TUESDAY
Following the show, Wiederhoeft had a gorgeous party at the Walker Hotel rooftop in TriBeCa where the designer himself DJ'd. I found myself at the VMAs in New Jersey, but got a cab back downtown to the Bowery Hotel where Interview hosted a party with Emporio Armani. The crowd was huge and the door was tight. So tight, in fact, that playwright Jeremy O. Harris left upon being told to wait. He didn't have to be there! The theatrics continued when a woman in green began a full-on screaming match with the door person, who in turn, had an amazing retort about genetics. While I was fully On The List, my patience waned; when the opportunity arose to sneak in through the side door, I took it! That satisfaction made my last glass of free Fashion Week champagne taste even better.